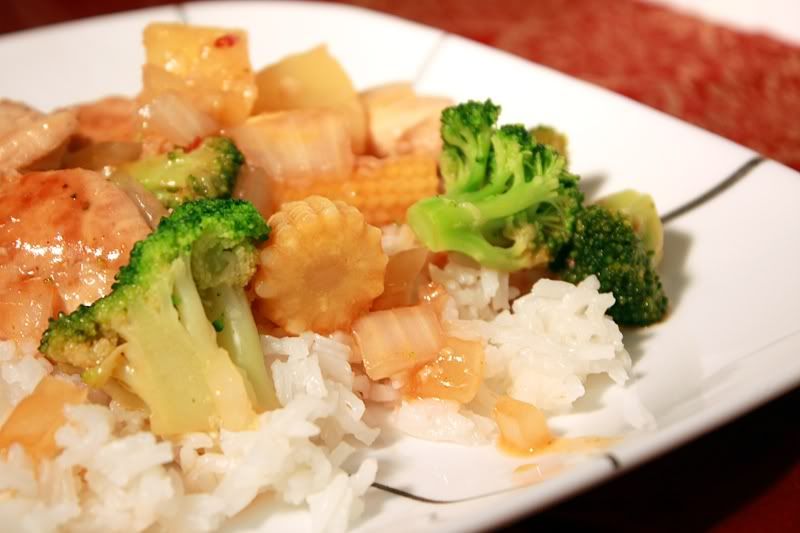 I have a food rut problem at restaurants. And we're not just talking about Taco Bell here. It's lots of restaurants. Chick-Fil-A it's always the 8 count chicken nuggets with a fruit cup in place of the fries. Qdoba it's always a queso burrito -- hold the meat (I mean, seriously, why let something so trivial prevent me from taking down something so good?). Wendy's it's usually some form or other of a bacon cheeseburger. Like I said, I have rut issues. Especially when it comes to Asian restaurants. Mongolian beef, General Tsao's, or Kung Pao Chicken get placed in top rotation status (except if it's Thai, and then it's either Pad Thai or my all time favorite Pad Kee Mao).
I figured it might be time to branch out. In the safety of my own home, away from fatty chicken from who knows what part of the bird. So, we went for some Spicy Sweet and Sour Chicken. Not bad, but I think I'll keep searching before bumping one of my regulars from it's place in line.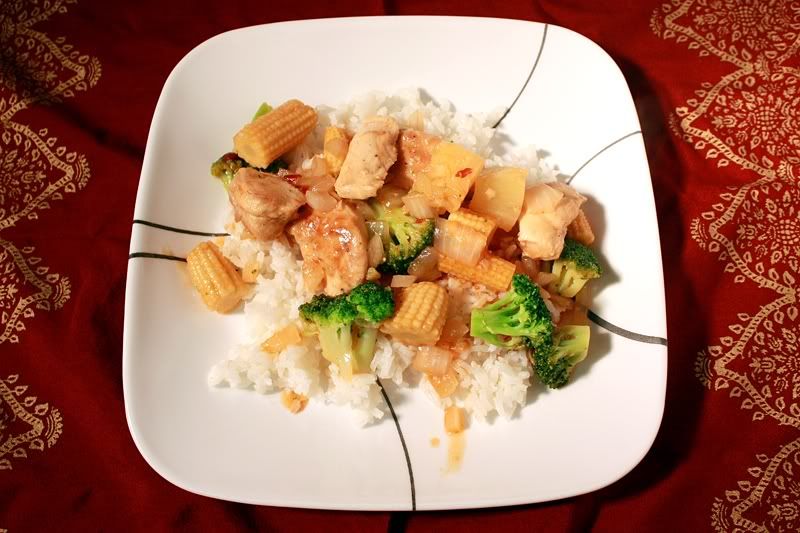 Spicy Sweet and Sour Chicken
Adapted From:
Cooking Light
, January 2009
4 teaspoons cornstarch, divided
5 teaspoons soy sauce, divided
1/3 teaspoon ground ginger
1 teaspoon soy sauce
1 teaspoon sherry
1/8 teaspoon black pepper
2 garlic cloves, minced
1 pound skinless, boneless chicken breast, cut into 2 x 1/2–inch-thick pieces
1/2 cup fat-free, less-sodium chicken broth
1 tablespoon brown sugar
3 tablespoons ketchup
2 1/2 tablespoons rice vinegar
2 teaspoons chile paste
1 teaspoon sesame oil
1 tablespoon canola oil, divided
1 (15 ounce) can baby corn, cut
1/2 pound frozen broccoli
1 cup (1/2-inch) diced fresh pineapple
Combine 2 teaspoons cornstarch, 2 teaspoons low-sodium soy sauce, and next 5 ingredients (through garlic) in a medium bowl. Add chicken; stir well to coat. Set aside.
Combine chicken broth, remaining 2 teaspoons cornstarch, brown sugar, remaining 1 tablespoon low-sodium soy sauce, ketchup, vinegar, chile paste, and sesame oil.
Heat 1/2 teaspoon canola oil in a large skillet over medium-high heat. Add diced onion, bell peppers, and green onions to pan; sauté 4 minutes or until crisp-tender. Transfer to a bowl.
Heat remaining 2 1/2 teaspoons canola oil in pan. Add chicken mixture to pan, and spread in an even layer; cook, without stirring, 1 minute. Sauté an additional 3 minutes or until chicken is done.
Return vegetable mixture to pan. Add soy sauce mixture and pineapple, stirring well to combine. Bring to a boil; cook 1 minute or until thickened, stirring constantly. Serve over hot rice.
Serves: 8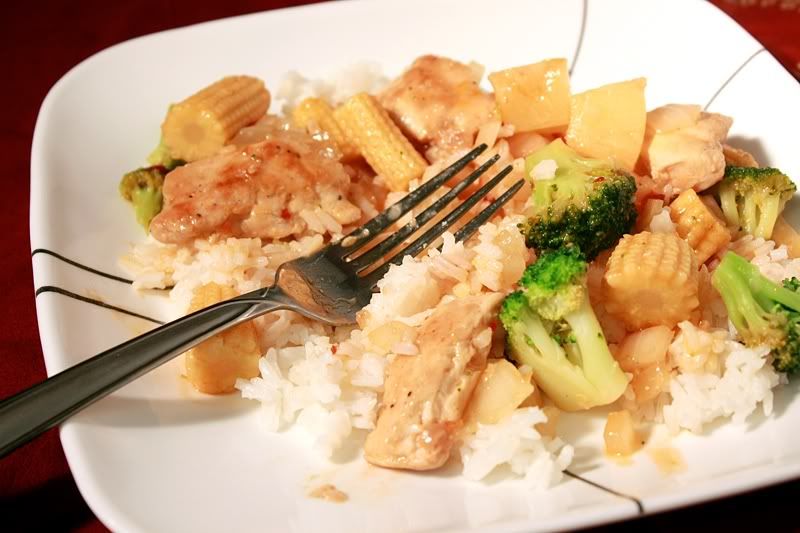 Like I said, it was alright. Nothing really to write home about. Nothing that gets me all worked up and craving more (like a huge plate of Drunken Noodles from
Green Mango
).
Nutrition Facts - Rice Not Included
Amount per serving
Calories 164
Calories from fat 39
% Daily Value


Total Fat 4.4g
7%


Saturated Fat 0.6g
3%


Trans Fat 0.0g


Cholesterol 33mg
11%


Sodium 432mg
18%


Total Carbs 19.0g
6%


Dietary Fiber 2.6g
10%


Sugars 6.6g


Protein 14.7g


Vitamin A 7%
Vitamin C 66%


Calcium 2%
Iron 4%