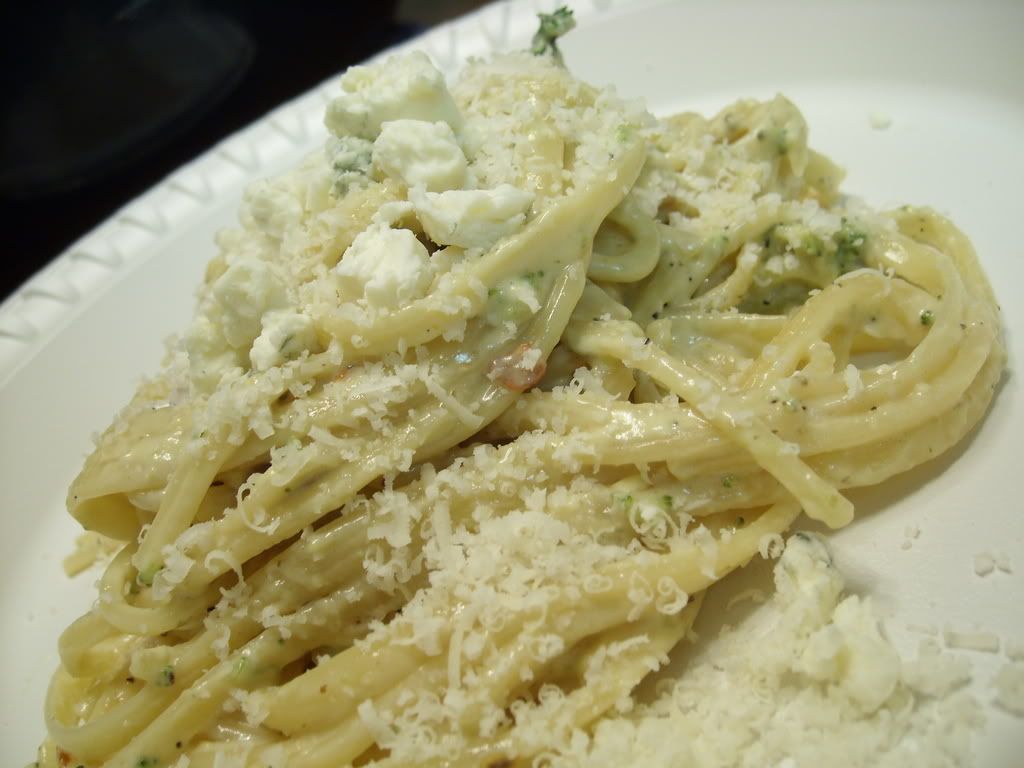 Can I just say that this was one of the most frustrating meals I have made in a long time? First off, Adam generously gave me his cold that he caught at work, and when I made this meal, it was in full swing. I couldn't taste or smell
anything
. Not really the best thing when you're trying to cook.
Then, I didn't prep well for this at all. Well, I prepped just fine for the first step, but after that... it all went downhill.
I forgot to cook the bacon, so there ended up being less in the final product than was supposed to be since I got impatient. I didn't grate enough cheese, forgot to chop the parsley, blah blah blah... just not good overall.
Well, I guess it turned out alright. According to Adam. And he apparently finished it off the following night (I had left for Kentucky by that point) and said it was super good. Looks like I'll be making it again soon -- maybe when I don't have a cold.
Fettuccine Carbonara with Gorgonzola Cheese
1 pound fettuccine
1/4 cup olive oil2 garlic cloves, minced
2 1/2 8-ounce packages frozen artichoke hearts, thawed, quartered (
I used broccoli
)
1 1/2 cups crumbled Gorgonzola cheese (about 6 ounces)
1 cup whipping cream
1 cup half and half
1 teaspoon dried crushed red pepper
1 teaspoon freshly ground black pepper
1/2 teaspoon salt
3 large eggs, beaten to blend
8 slices cooked bacon, cut into 1-inch pieces
1 cup grated Parmesan cheese (about 3 ounces)
1/4 cup chopped fresh parsley
Cook pasta in heavy large pot of boiling salted water until tender but still firm to bite. Drain well, reserving 1/2 cup pasta cooking liquid.
Meanwhile, heat olive oil in heavy large pot over medium-high heat. Add garlic and sauté 2 minutes. Add artichoke hearts; sauté 5 minutes. Add 1/2 cup Gorgonzola cheese, cream, half and half, crushed red pepper, black pepper and salt and simmer until sauce thickens, about 5 minutes.
Add hot pasta to sauce and toss to coat. Remove from heat. Add eggs to pasta and toss well. Add bacon, 1/2 cup Gorgonzola, 1/2 cup Parmesan cheese and parsley and toss to incorporate. Add reserved pasta cooking liquid to thin sauce, if desired. Sprinkle remaining 1/2 cup Gorgonzola and 1/2 cup Parmesan cheese over pasta and serve.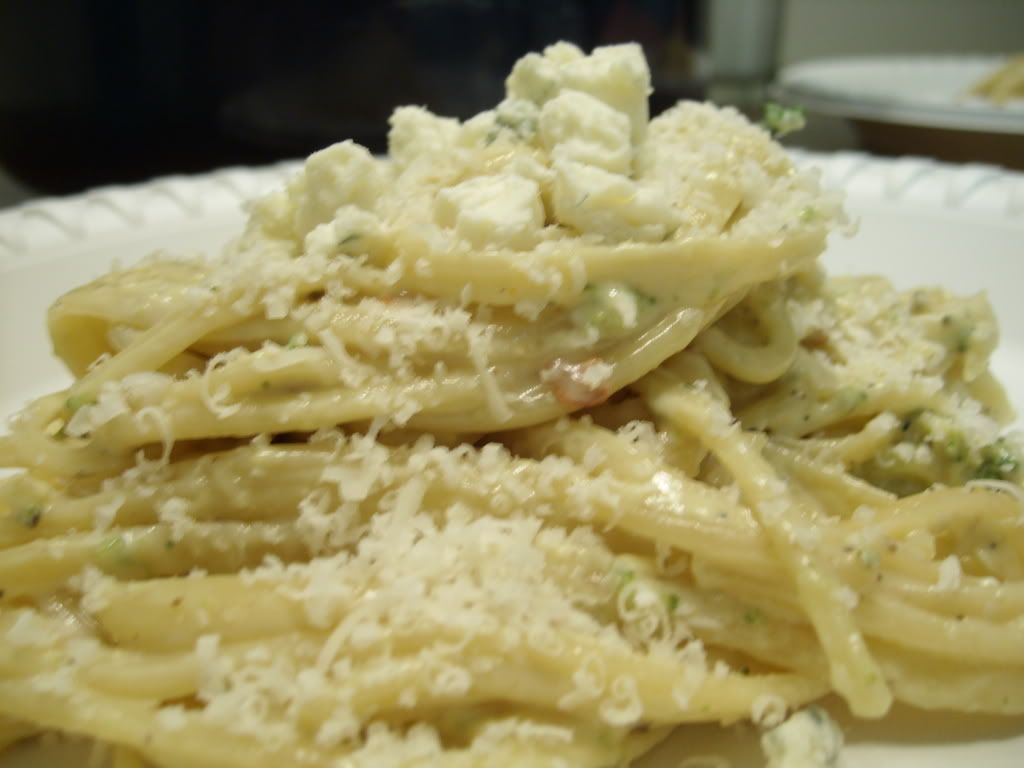 Nutrition Facts
Amount per serving
Calories 687
Calories from fat 384
% Daily Value


Total Fat 42.6g
66%


Saturated Fat 18.9g
94%


Trans Fat 0.0g


Cholesterol 221mg
74%


Sodium 1520mg
63%


Total Carbs 43.9g
15%


Dietary Fiber 5.0g
20%


Sugars 1.1g


Protein 34.8g


Vitamin A 22%
Vitamin C 19%


Calcium 39%
Iron 22%