I'm not going to lie. The first thing on my "to-do" list once we got home from our Thanksgiving vacation was to get out all the Christmas decorations. Well, right after I took care of mounds and mounds of laundry. And after I put away my measly little box of fall decor. But
then
it was time to bust out the stockings, and advent calendar, and oh yes, the tree.
In the process, I may have rearranged our living room in order for the tree to go in front of the window. Maybe. By myself. Joy.
Though trying to program the fancy pants timer while upside down to turn on at different times of day... well, I left that one for the hubby to figure out. And the ornaments. I was good this year and only put the lights on the tree until he got home.
I wrapped the few presents we already had and stuck them under the tree.
It was a busy Monday.
And I'm still itching to get the lights up outside. Too bad we won't be able to borrow a ladder for another couple days.
Don't hate. I like to enjoy my Christmas decorations for more than a week before packing them all away for another year.
If you can't tell, I'm a huge fan of the Christmas season. Especially Christmas baked goods. In my book, there can never be too many goodies on the cookie plate. Which, of course, is absolutely required. No ifs, ands, or buts.
Although hot chocolate might not go on the cookie plate, it sure is tasty while you're busy making all those cookies. Or sitting in front of the tree enjoying your handy work. Or after going outside and having a snowball fight. I mean really, it's pretty much a winter staple. But adding that extra little bit of peppermint flavor totally swings it into the holiday season. Yum.
Peppermint Hot Chocolate
Adapted from:
9 ounces
Hershey's Candy Cane Kisses
3 cups
nonfat dry milk powder
2 cups
powdered sugar
1 1/2 cups
Hershey's Special Dark cocoa powder
1/4 teaspoon
salt
Unwrap the candy cane kisses; place in a quart-sized ziploc bag. Place bag in the freezer for at least 30 minutes.

Meanwhile, pour the powdered milk into the bowl of a food processor. Pulse until any lumps are gone, and milk is ground very fine. Pour into a gallon-sized ziploc bag. Add the powdered sugar and cocoa to the same food processor bowl (no need to clean). Pulse until sugar and cocoa are mixed thoroughly. Transfer mix to the gallon-sized bag. Add the frozen candy cane kisses to the food processor. Grind kisses until a powder forms; pour into the gallon-sized bag. Seal bag and shake well until all the ingredients are thoroughly combined. Store in an airtight container.

To make hot chocolate: combine 1/3 cup of the cocoa mixture with 1 cup of hot milk in a coffee mug. Serve topped with whipped cream or marshmallows.
Makes:
1 3/4 pound
(about 16 servings)
Even though you're adding almost an entire bag of candy cane kisses to the batch, the peppermint flavor, while definitely present, isn't overwhelming. And chocolate and peppermint? Such a perfect chilly day combo. Now I just need to work on making some homemade marshmallows to go with them...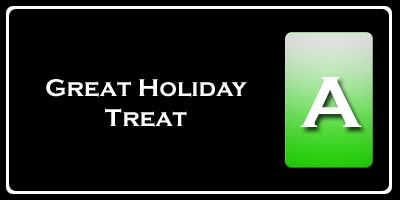 Nutrition Facts - Mix only
Serving Size 61g
Amount per serving
Calories

234

Calories from fat 51
% Daily Value
Total Fat

5.7g

9%
Saturated Fat

2.9g

14%
Cholesterol

6mg

2%
Sodium 275mg
11%
Total Carbs

41.4g

14%
Fiber

3.0g

12%
Sugars 34.7g
Protein

10.8g

Vitamin A 0%
Vitamin C 3%
Calcium 32%
Iron 15%