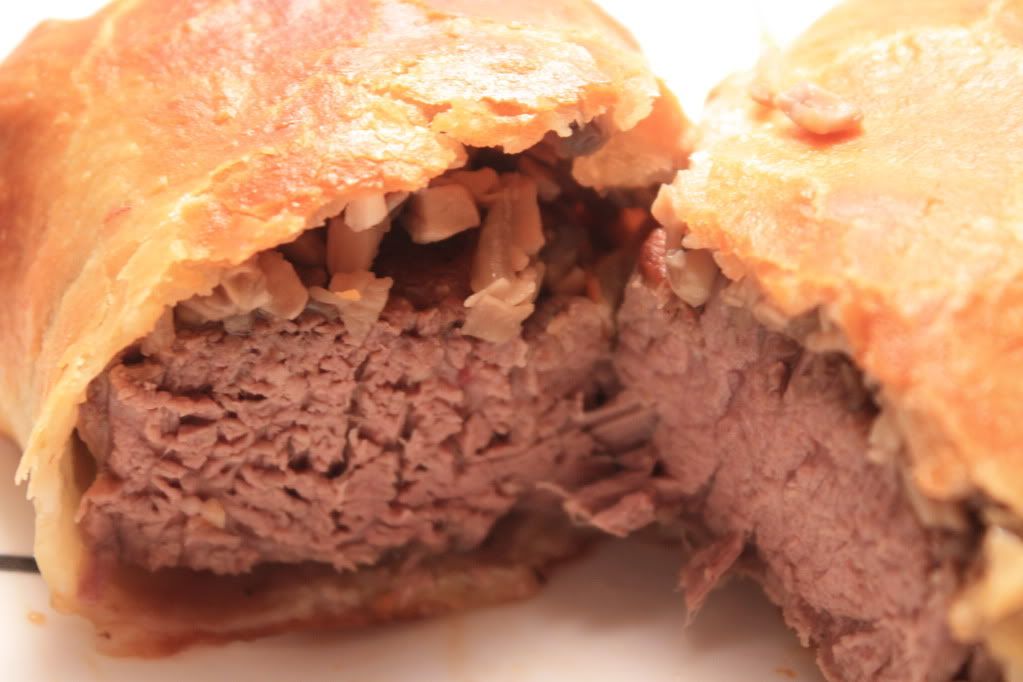 About a month or so ago, Jen and Marion decided to stop through Pittsburgh on their way back to Dayton from house hunting in New Jersey. While I'm at work texting my sister before their arrival, she jokingly tells me I have to cook her a "gourmet" meal when they get there. I, of course, gave her an "insert eyeroll here" text back, but it got me thinking -- why not?
I remembered that I had starred a version of Beef Wellington on my google reader almost a year ago from
Brown Eyed Baker
, and thought this might be the perfect time to try it out. (Jen and Marion work as good guinea pigs.) So after realizing they were going to beat me to my apartment, I gave Adam a call and told him what to pick up on his way home from work.
I did end up enlisting my sister to help me chop up the mushrooms (which takes about 5 years) and she gratefully let me attempt to cook the filet mignons. (We actually both tried to worm our way out of cooking the meat, and she finally won...)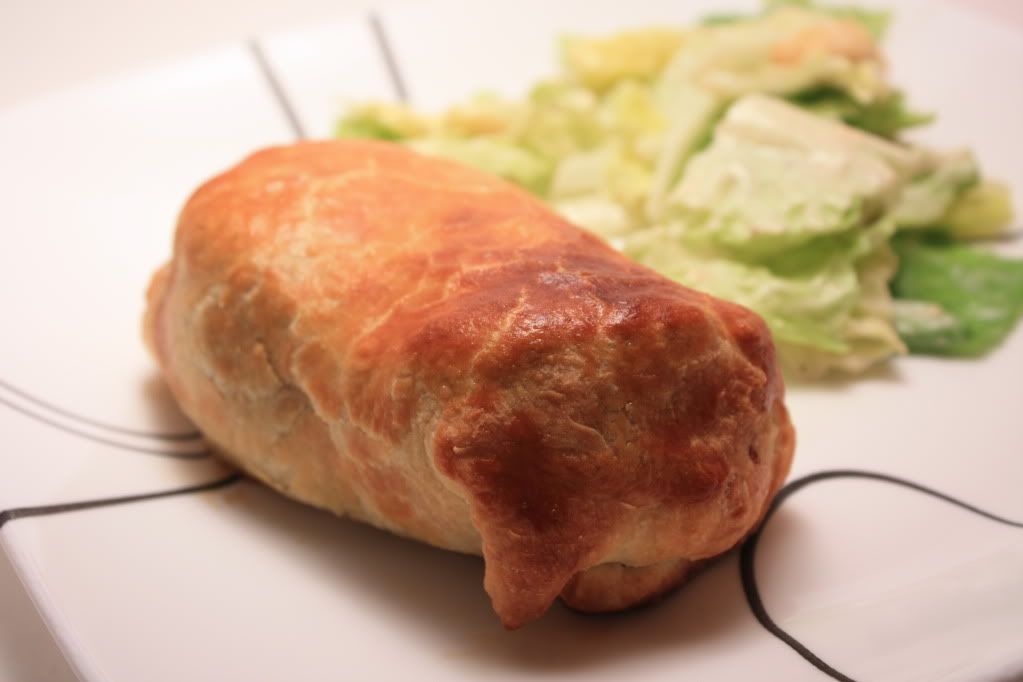 4 (6-ounce) thickly cut filet mignons
1 teaspoon salt
½ teaspoon freshly ground black pepper
1 tablespoon olive oil
4 (1-ounce) slices goose or duck liver, or pork country-style pate (
I omitted
)
One-half (17 1/4-ounce package) frozen puff pastry (1 sheet), thawed
Mushroom Duxelles, recipe follows
1 large egg beaten with 2 teaspoons water to make an egg wash
Preheat the oven to 425 degrees F. Line a baking sheet with parchment paper and set aside.
Season both sides of each filet with ¼ teaspoon of the salt and 1/8 teaspoon of the pepper.
Heat the oil in a large heavy skillet over medium-high heat. Add the filets and sear for 1 minute on each side for medium-rare. Transfer to a plate to cool completely.
Roll out the puff pastry on a lightly floured surface to a 14-inch square, and cut into 4 (7-inch) squares.
Spread one-quarter of the mushroom duxelles on top of each filet and top each with 1 slice of the pate, pressing to flatten. Place one filet, mushroom side down, in the center of a puff pastry square. Using a pastry brush or your finger, paint the inside edges of the pastry with egg wash. Fold the pastry over the filet as though wrapping a package and press the edges to seal. Place the packages seam-side down on the prepared baking sheet. Brush the egg wash over the tops and sides of each package and bake until the pastry is golden brown and an instant-read thermometer registers 140 degrees F for medium-rare, about 20 minutes.
Remove from the oven and let rest for 10 minutes before serving.
Mushroom Duxelles:
1 tablespoon unsalted butter
2 tablespoons minced shallots
½ teaspoon minced garlic
10 ounces button mushrooms, wiped clean, stemmed, and finely chopped
¼ teaspoon salt
1/8 teaspoon freshly ground white pepper
2½ tablespoons dry white wine
Heat the butter in a medium skillet over medium-high heat. Add the shallots and garlic and cook, stirring, for 30 seconds. Add the mushrooms, salt, and white pepper, reduce the heat to medium, and cook, stirring, until all the liquid has evaporated and the mushrooms begin to caramelize, about 12 minutes. Add the wine and cook, stirring to deglaze the pan, until all the liquid has evaporated. Remove from the heat and let cool before using.
Serves: 4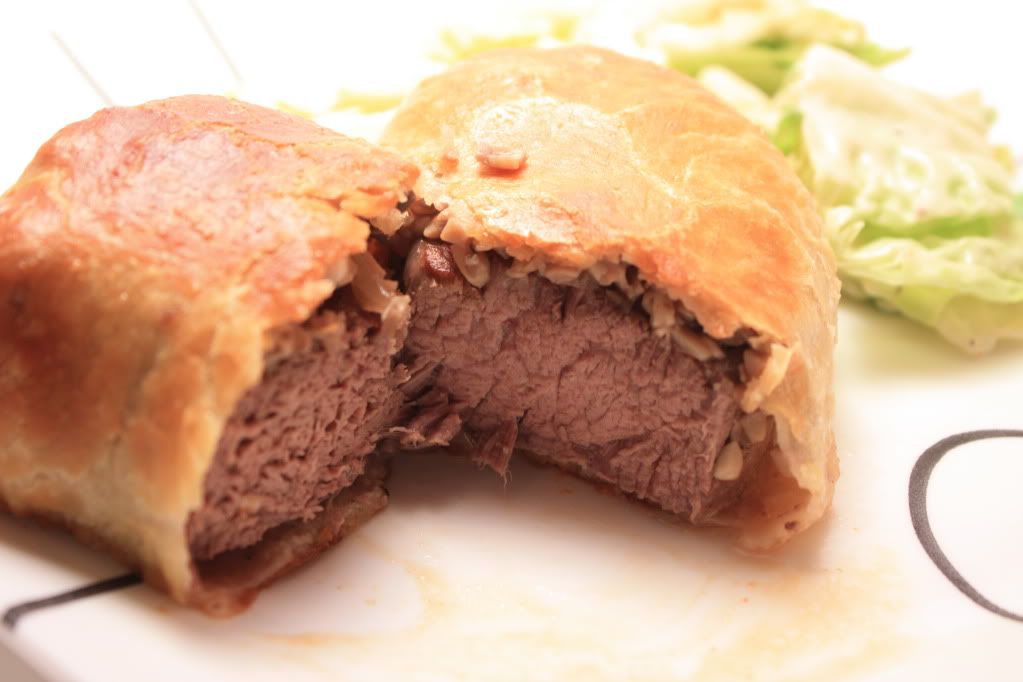 I opted for this recipe because at first glance it seems easy and like it would come together quickly. Which for the most part it did -- minus chopping the mushrooms. And it didn't hurt to have two people working on it, too.
As with Brown Eyed Baker, my filet mignon turned out pretty well done, but still pretty juicy. Everyone really enjoyed it, even without the pate -- sorry I draw the line at some things, and organs are one of them.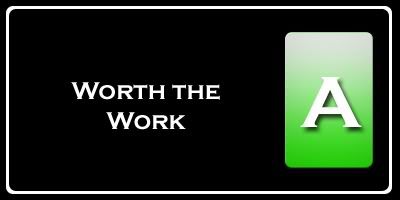 Nutrition Facts
Amount per serving
Calories 1080
Calories from fat 590
% Daily Value


Total Fat 65.5g
101%


Saturated Fat 18.8g
94%


Trans Fat 0.0g


Cholesterol 173mg
58%


Sodium 1176mg
49%


Total Carbs 59.0g
20%


Dietary Fiber 2.6g
11%


Sugars 2.2g


Protein 60.7g


Vitamin A 4%
Vitamin C 3%


Calcium 6%
Iron 38%