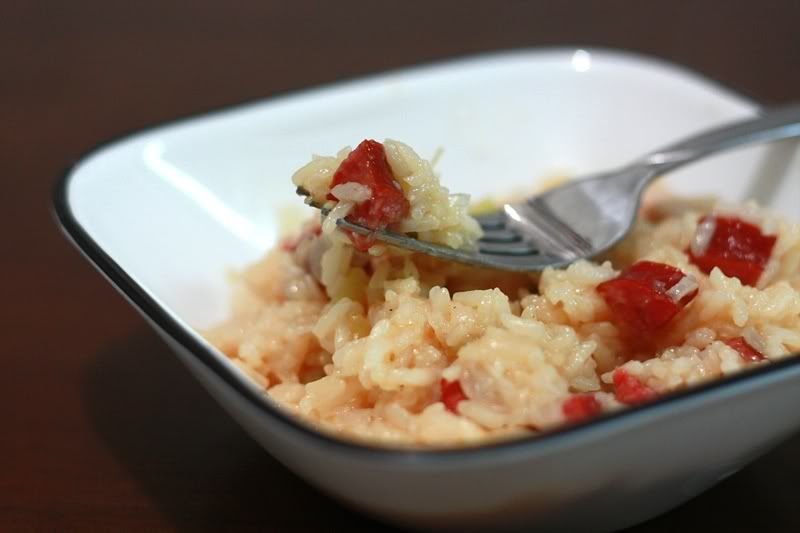 For as many years as I lived in the south (oh... about 9 or so years) I don't think I have ever had jambalaya. Okay, so maybe I didn't live all
that
far south, but I still find it weird that I have never eaten this dish, regardless of my state of residence. If you had asked me what all was in a jambalaya I really couldn't have told you. Rice? Beans? Shrimp? Right. Wrong. Depends.
While searching around the internet for some new recipe ideas, I happened upon this
Easy Cajun Jambalaya
. Easy? Sounds good to me. A quick scan of the ingredient list and reviews showed this recipe to have some promise. And one paragraph for directions? Count me in.
Um, yeah. Sooo tasty. I think how good this dish was going to be hit me when I walked by during the rice cooking stage -- all I could smell was the kielbasa and banana pepper melding with the garlic and cayenne pepper. And I started drooling. Maybe a little bit. It's been a while since a meal made me do that. I'm pretty sure we each gained 5 pounds after that meal, and we were fighting for leftovers for the next couple of days as well. Yes, I did in fact get the sad look from Adam when he found out I ate some of the leftovers for lunch the following day. He had evil plans to keep it all for himself. Yeah, nice try on that one.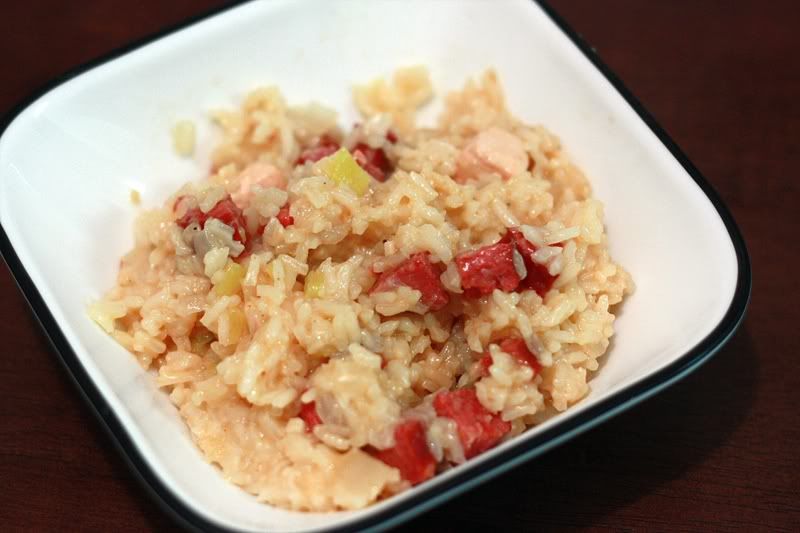 2 teaspoons olive oil
2 (4 ounce) boneless skinless chicken breasts, cut into bite-size pieces
8 ounces kielbasa, diced
1 cup onion, diced
1 banana pepper, diced
2 tablespoons chopped garlic
1/4 teaspoon cayenne pepper
1/2 teaspoon onion powder
1/2 teaspoon salt
1/4 teaspoon ground black pepper
2 cups uncooked white (long grain) rice
4 cups low-sodium, fat-free chicken broth
3 bay leaves
2 teaspoons Worcestershire sauce
1 teaspoon hot pepper sauce
Heat oil in a large pot over medium high heat. Sauté chicken and kielbasa until lightly browned, about 5 minutes. Add onion and next six ingredients (through black pepper). Cook 5 minutes, or until onion is tender and translucent. Add rice. Stir in chicken broth and bay leaves; bring to a boil. Reduce heat, cover, and simmer 20 minutes, or until rice is tender. Stir in Worcestershire sauce and hot pepper sauce. Remove bay leaves prior to serving.
Serves: 6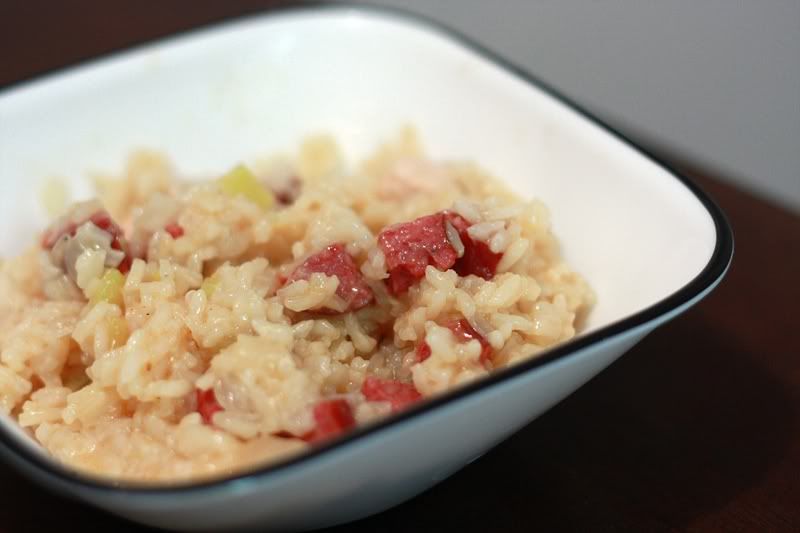 Not only is this dish super easy to throw together, but it only uses one dish to get it all done (well, and a cutting board). That's my kind of cooking.
The original recipe calls for bell peppers, but we all know how Adam feels about those -- they had to go. This is not supposed to be a super spicy dish, so I decided to replace the bell peppers with a banana pepper to kick up the heat a little bit. It also called for celery, but, ew. No thanks. Skipped that one. This is what I love about cooking at home... I get what I want. :)
Nutrition Facts
Amount per serving
Calories 443
Calories from fat 112
% Daily Value


Total Fat 12.4g
19%


Saturated Fat 3.7g
19%


Cholesterol 60mg
20%


Sodium 1216mg
51%


Total Carbs 56.1g
19%


Dietary Fiber 1.7g
7%


Sugars 2.6g


Protein 24.2g


Vitamin A 14%
Vitamin C 56%


Calcium 4%
Iron 24%