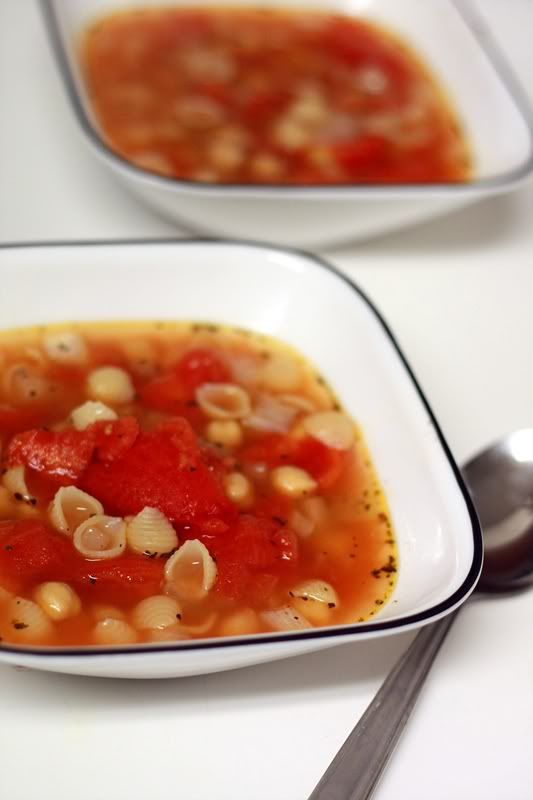 Fall is coming. I can feel it every night as the sun goes down and the temperature drops. I love summer nights that stay warm and muggy long after the sun has set. When tank tops and shorts are still appropriate while trying to catch fireflies in the dark. Not anymore. Now I have to remember to bring long sleeves and maybe a blanket with me any time we're out at night. Seriously, it's supposed to get down to 59 degrees tonight. Not fair. Summer needs to stick around a little while longer.
Despite my love of summer, it does occasionally rain every once in a while. And what better to enjoy than a nice bowl of soup? This soup is light enough for summer eating, but still hearty enough to keep Adam happy. :)
3 (14.5 ounce) cans vegetable broth
3/4 cup (6 ounces) small shell pasta
1 tablespoon olive oil
1 cup onion, chopped
2 cloves garlic, minced
1 (15 ounce) can garbanzo beans, drained and rinsed
1 (28 ounce) can whole peeled tomatoes, chopped, juice reserved
1/2 teaspoon dried basil
1/2 teaspoon dried thyme
salt and pepper to taste
Bring vegetable broth to a boil in a large pot (cover with a lid to hurry it along if needed). Add pasta and cook for 8 to 10 minutes, or until al dente.
Meanwhile, heat oil in a small skillet over medium heat. Sauté onions and garlic until translucent, about 5 minutes. Stir into pasta. Add garbanzo beans, tomatoes, basil, thyme, salt and pepper. Heat through and serve.
Nice, easy, and tasty. Perfect for those lazy rainy days.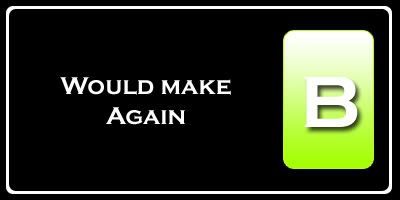 Nutrition Facts
Amount per serving
Calories 638
Calories from fat 117
% Daily Value


Total Fat 13.0g
20%


Saturated Fat 1.8g
9%


Cholesterol 31mg
10%


Sodium 1028mg
43%


Total Carbs 99.9g
33%


Dietary Fiber 21.4g
86%


Sugars 18.7g


Protein 33.7g


Vitamin A 35%
Vitamin C 53%


Calcium 16%
Iron 53%