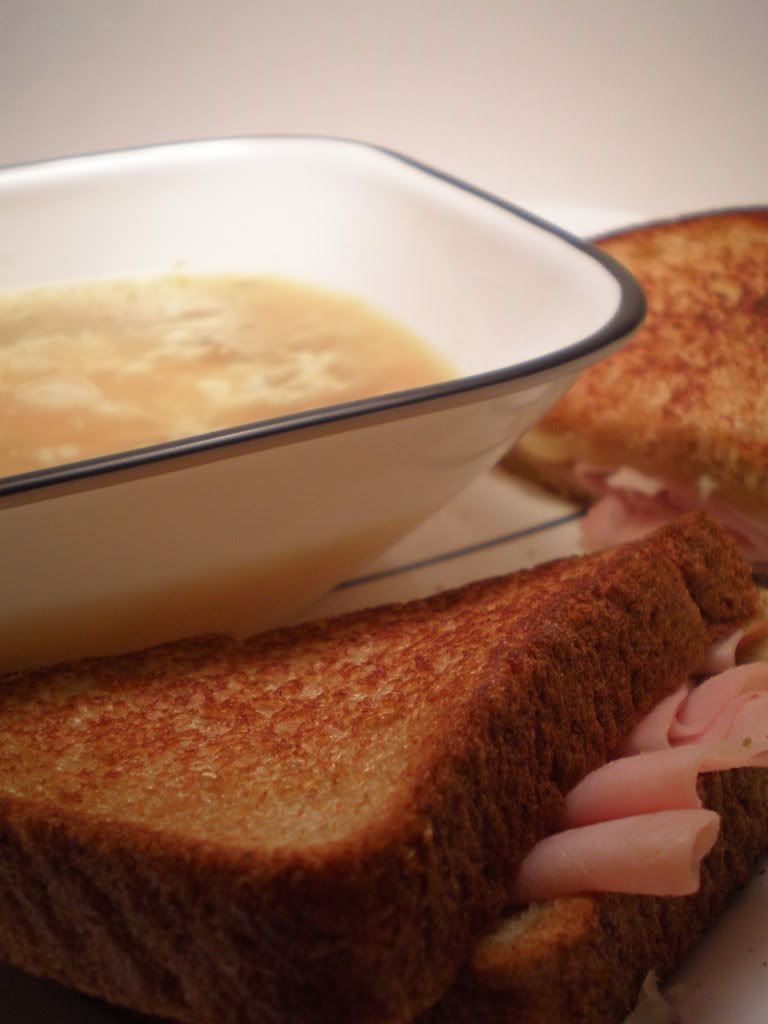 Onions. We used to not get along so well. I think it was a texture thing. Actually, I'm still not a fan of the raw crunchy onions. It's the crunch, and the super potent onion flavor that gets me. Over the past year, I've slowly been giving onions a chance, but I really think it was the
Smoked Gouda and Caramelized Onion Quesadillas
that really won me over.
While dining at one of the "in-house" restaurants at the resort during our honeymoon, I decided to be brave and try some French Onion Soup. I was surprised by the sweeter onion flavor -- something I wasn't expecting. But I liked it.
Months later, someone on the message board I frequent raved about a French Onion Soup recipe from Epicurious.com. And naturally, it peaked my curiosity. I wondered if I would be able to replicate the tasty soup I had before.
French Onion Soup

1/4 cup (1/2 stick) butter
6 onions (about 3 pounds), sliced
6 garlic cloves, sliced
1/2 cup dry white wine
3 cups canned low-salt chicken broth
3 cups canned beef broth
1 teaspoon Dijon mustard
2 sprigs thyme
2 bay leaves
dash of balsamic vinegar

6 sourdough bread slices, toasted
1 cup grated Swiss cheese
1/2 cup grated Parmesan
Melt butter in heavy large saucepan over medium heat. Add onions and garlic and sauté until very tender and brown, about 45 minutes. Add wine and simmer until reduced to glaze, about 3 minutes. Stir in chicken broth, beef broth and mustard. Simmer 20 minutes. Season to taste with salt and pepper. (Can be prepared 1 day ahead. Refrigerate. Return soup to simmer before continuing.)

Preheat broiler. Ladle soup into broilerproof bowls. Top each with slice of toast and grated cheeses. Broil until cheeses melt and bubble.

Serves: 6

I am glad we tried it out. It was definitely tasty and worth cutting up 5 million onions (or so it seemed). We did omit the last part (broiling the bread and cheese), opting for grilled ham and swiss sandwiches instead, but it was still delicious.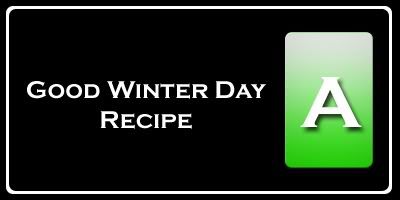 Nutrition Facts
Amount per serving
Calories 358
Calories from fat 149
% Daily Value


Total Fat 16.5g
25%


Saturated Fat 9.9g
50%


Trans Fat 0.0g


Cholesterol 44mg
15%


Sodium 856mg
36%


Total Carbs 32.4g
11%


Dietary Fiber 2.9g
11%


Sugars 6.4g


Protein 16.8g


Vitamin A 9%
Vitamin C 16%


Calcium 29%
Iron 13%