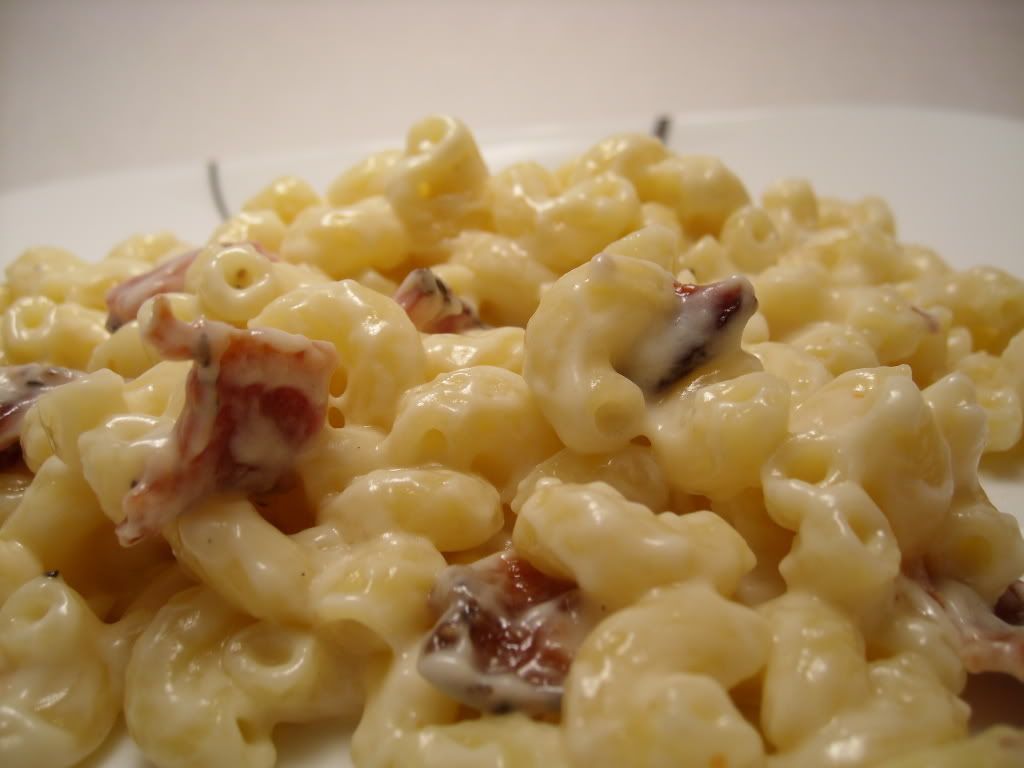 I am absolutely in love with my Google Reader as of late. (As if you couldn't tell, the last few recipes have been found on it.) But the way I look at it, if someone else liked it, then there's a pretty good chance that I will too. :)
Adam and I love macaroni and cheese. He is still very partial to the blue box, but after a little experimenting, I think these new recipes are pulling me away from the Kraft version. I found this on
Elizabeth's Cooking Experiments
-- and it's actually one she come up with herself, which is pretty cool.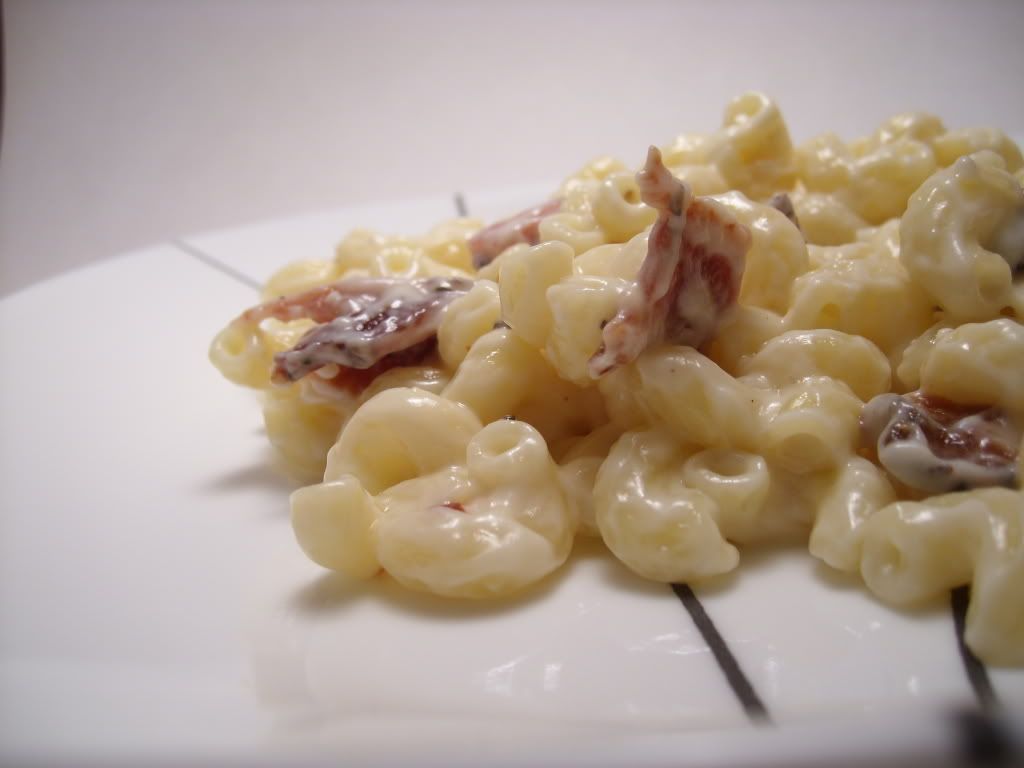 Mascarpone Mac & cheese
From: Elizabeth's Cooking Experiments
3/4 lb elbow macaroni
2 TBSP butter
8 oz mascarpone cheese, softened
3/4 cup grated Fontina cheese (I used Fontinella)
Peppered bacon, cooked and crumbled
Béchamel
3 TBP butter
3/4 cup milk
3/4 cup heavy cream
1/8 tsp pepper
1/2 - 3/4 tsp salt
3 TBSP flour
Boil noodles to al dente. Drain & set aside.
Meanwhile, prepare the béchamel by melting the butter in a medium saucepan. Add milk & cream. Whisk in remaining ingredients and simmer until slightly thickened.
In another saucepan or medium skillet, melt 2 TBSP butter. Once melted, add mascarpone cheese and whisk until melted and smooth. Add the fontina and mix until smooth.
Add the noodles to the cheese mixture and stir until well mixed. Add the béchamel and mix until it reaches your desired level of creaminess. Season to taste with salt & pepper.

Serves: 6
Once again, I threw in a little bit of bacon to satiate Adam, but in this case it worked out really really well. I ended up using most of the bechamel sauce as I like my stuff pretty creamy, although I feel like it took away a little bit from the cheese flavor.
Irregardless, this recipe was still really good!

Nutrition Facts
Amount per serving
Calories 597
Calories from fat 303
% Daily Value


Total Fat 33.7g
52%


Saturated Fat 18.4g
92%


Trans Fat 0.0g


Cholesterol 104mg
35%


Sodium 860mg
36%


Total Carbs 48.8g
16%


Dietary Fiber 1.9g
8%


Sugars 3.4g


Protein 23.9g


Vitamin A 17%
Vitamin C 0%


Calcium 22%
Iron 14%