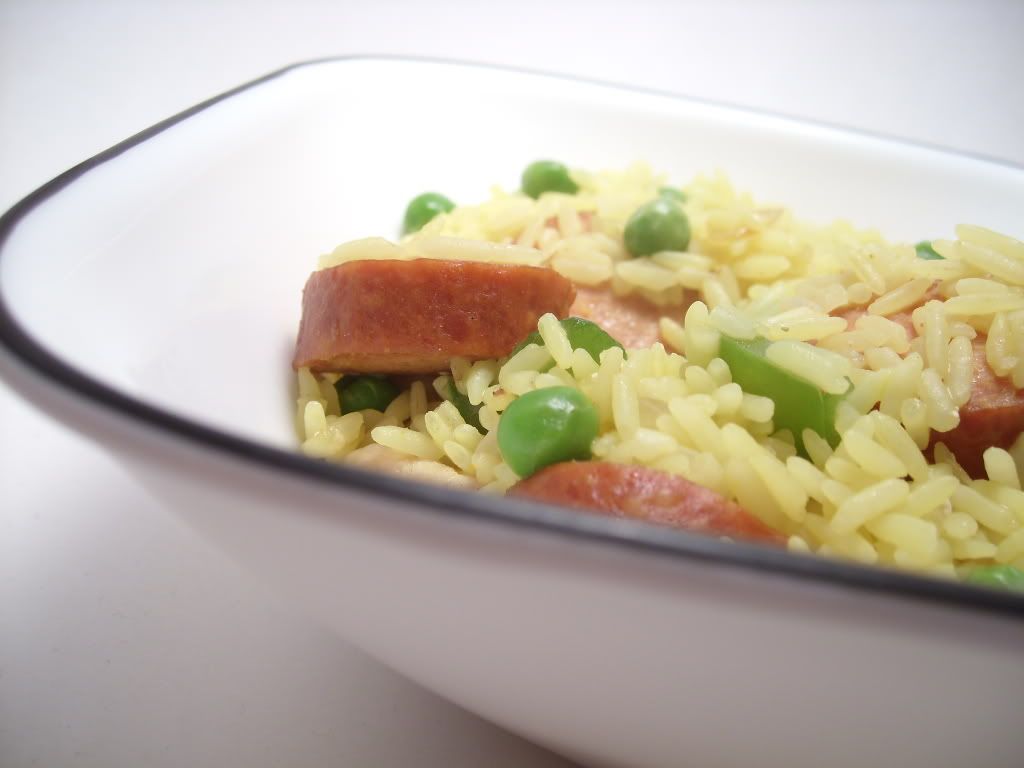 So I'm going to be upfront about this whole "one-dish" thing -- it's really not. It's more of a two-dish recipe. (A medium saucepan and a large skillet if you don't believe me.) Which was really kind of disappointing, as I was looking forward to the one dish, as Adam likes to complain that I try and use every dish we own. I'm such a sucker for less work... or maybe I'm just lazy. ;)
The one-dish aspect wasn't the
only
reason I chose this recipe. I've never used kielbasa before, and honestly, I was kind of disappointed. I was hoping for something a little more spicy. I guess I was thinking it was more like sausage. Well, I must say, now I know.
One-Dish Chicken and Kielbasa Rice
2 cups fat-free, less-sodium chicken broth
1/8 teaspoon ground turmeric
8 ounces turkey kielbasa, cut into 1/2-inch pieces
2 cups long-grain parboiled rice (such as Uncle Ben's)
2 teaspoons olive oil
8 ounces skinless, boneless chicken thighs, cut into bite-sized pieces
1 cup prechopped onion
1 cup prechopped green bell pepper
1/2 cup frozen green peas
1/4 cup sliced pitted stuffed manzanilla (or green) olives (I omitted)
1 tablespoon bottled minced garlic
Combine the first 3 ingredients in a medium saucepan; bring to a boil. Stir in rice. Cover, reduce heat, and simmer 5 minutes. Remove from heat; let stand for 5 minutes.

Heat olive oil in a large skillet over high heat. Add chicken pieces; cook 2 minutes or until browned, stirring occasionally. Add onion and bell pepper; sauté 4 minutes or until tender. Stir in peas, sliced olives, and garlic; sauté 1 minute. Add rice mixture; cook 1 minute or until thoroughly heated, stirring constantly.

Serves: 4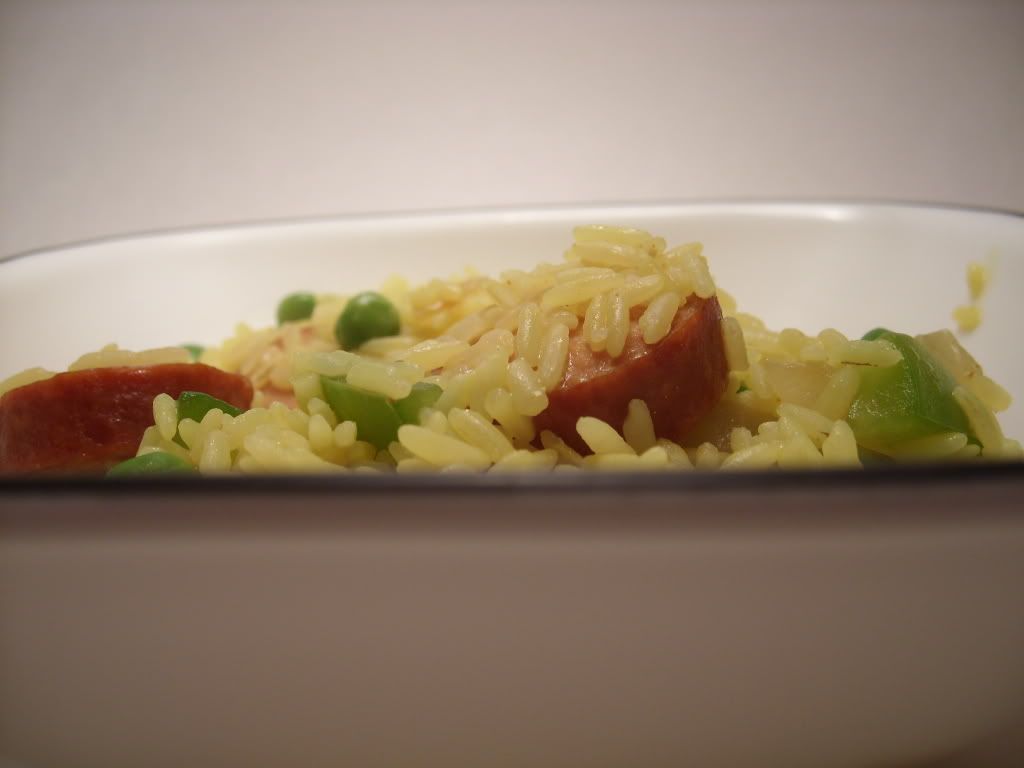 Adam and I were fairly disappointed in this dish. It went together and cooked up pretty quick and easy (it was in the superfast section), but it just didn't have much flavor. It kind of just tasted like rice, peppers, peas, and kielbasa, how much of each depended on what was in your bite. Nothing really tied it together and blended the flavors.
We probably wouldn't make this dish again: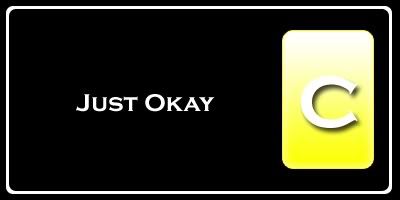 Nutrition Facts
Amount per serving
Calories 536
Calories from fat 87
% Daily Value


Total Fat 9.7g
15%


Saturated Fat 2.3g
11%


Trans Fat 0.0g


Cholesterol 47mg
16%


Sodium 872mg
36%


Total Carbs 82.4g
27%


Dietary Fiber 3.1g
13%


Sugars 4.4g


Protein 29.5g


Vitamin A 17%
Vitamin C 66%


Calcium 4%
Iron 29%