Of course, I couldn't let such a thing as a "dating anniversary" (do those even exist after you're married?) go by without making a dessert. Or at least use it as an excuse to make a dessert. I had been craving pumpkin pie, the entire end of October. I knew Thanksgiving was coming up in about a month, and nothing says "fall" and "comfort food" like pumpkin pie.
Well, I wanted to switch it up just a little bit and not make the one big pie, instead, I used my small little cake pans to make 4 little guys. Honestly, I didn't mess with the recipe... I've always been a Libby's pumpkin pie kid, and I still love it. Why mess with a good thing?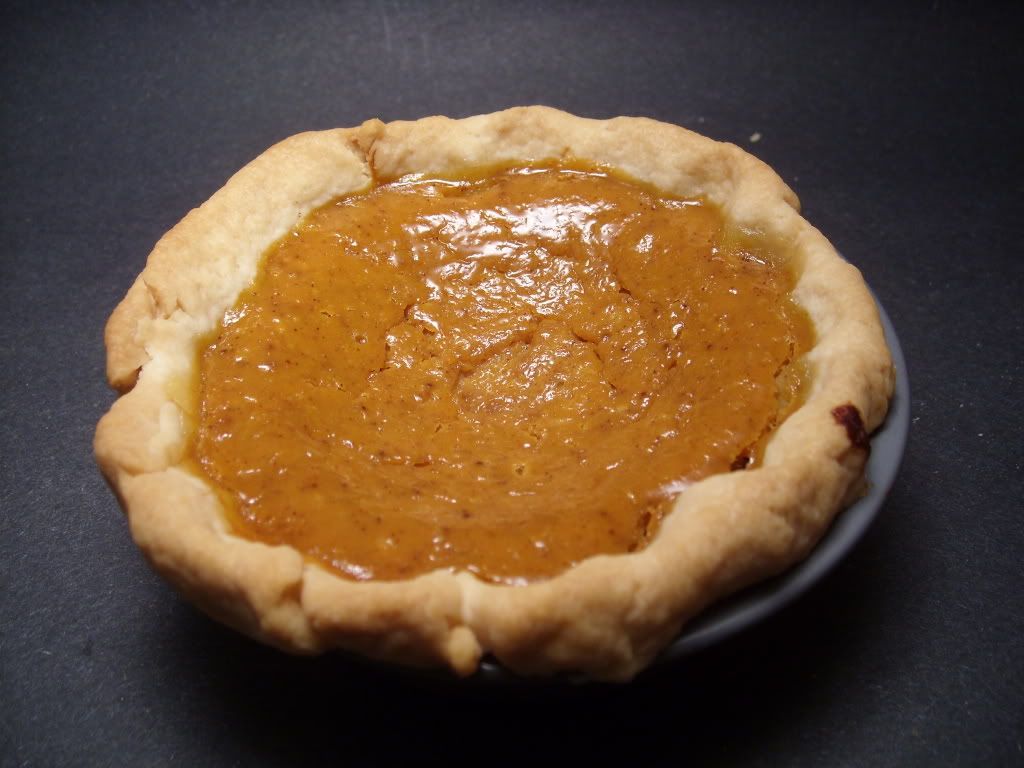 Mini Pumpkin Pies
PREHEAT oven to 425° F.
MIX sugar, salt, cinnamon, ginger and cloves in small bowl. Beat eggs lightly in large bowl. Stir in pumpkin and sugar-spice mixture. Gradually stir in evaporated milk.
POUR into shells.
BAKE for 15 minutes. Reduce oven temperature to 350° F.; bake for 30 to 35 minutes or until knife inserted near center comes out clean. Cool on wire rack for 2 hours. Serve immediately or refrigerate. (Do not freeze as this may cause filling to separate from the crust.)
NOTE: May use refrigerated or homemade single pie crust to make 4 mini-pie shells. Lay rim of mini-pie pan on rolled out dough. Cut circle 1/2-inch larger than mini-pie to allow for dough to form fluted edge.

Makes: 4 pies
I actually am more a fan of the regular sized pie. While these do happen to be little and cute, I really do enjoy the crust on the bottom of the pan, and this size just cuts down on it. Kind of a bummer.
But still, it is pumpkin pie and still overall delicious.


Nutrition Facts - Per Pie
Amount per serving
Calories 465
Calories from fat 160
% Daily Value


Total Fat 17.8g
27%


Saturated Fat 7.2g
36%


Trans Fat 0.0g


Cholesterol 133mg
44%


Sodium 554mg
23%


Total Carbs 67.2g
22%


Dietary Fiber 3.9g
15%


Sugars 50.5g


Protein 12.1g


Vitamin A 338%
Vitamin C 11%


Calcium 29%
Iron 16%