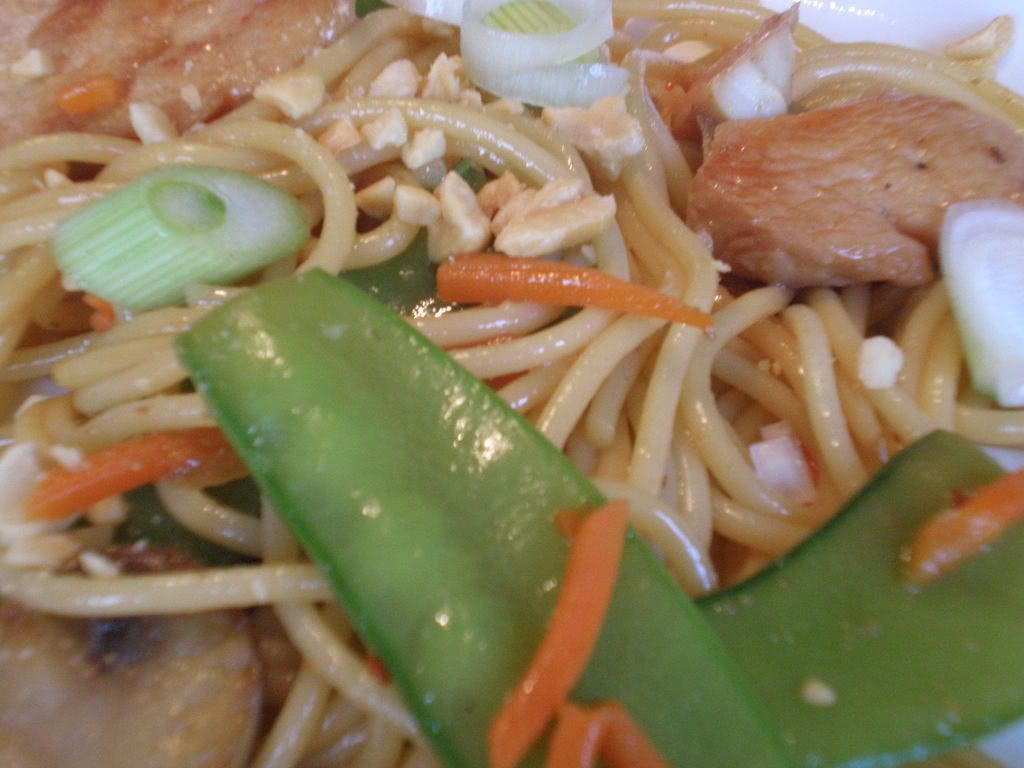 I have been on the road a lot lately -- a lot. I left DC a couple Sundays ago, went up to Pittsburgh for a few days, and now I am back at my parent's house in Kentucky. At least until the 21st of June. Blech. I am getting so sick of moving around.
Anyhoo, I've made a couple things since being here in Kentucky, but nothing really new or exciting -- some more cake balls, orzo with goat cheese, my ginger teriyaki burgers. I figured tonight was a good time to try out something new. And my parents were asking me (more along the lines of begging, but we won't go there) to make some stuff for them.
The new issue of
CL
wasn't sparking any interest with me, so I figured I'd check out their website to see what else they had going on. And I stumbled across their
Chicken-Peanut Chow Mein
under their Superfast Chicken meals.
It definitely cooked up pretty fast and was really tasty. It would have been even better had I read the recipe closer and used sesame oil, not olive oil -- but it all turned out ok. And my parents were fighting over the leftovers for lunch tomorrow... I guess that's a good sign. :)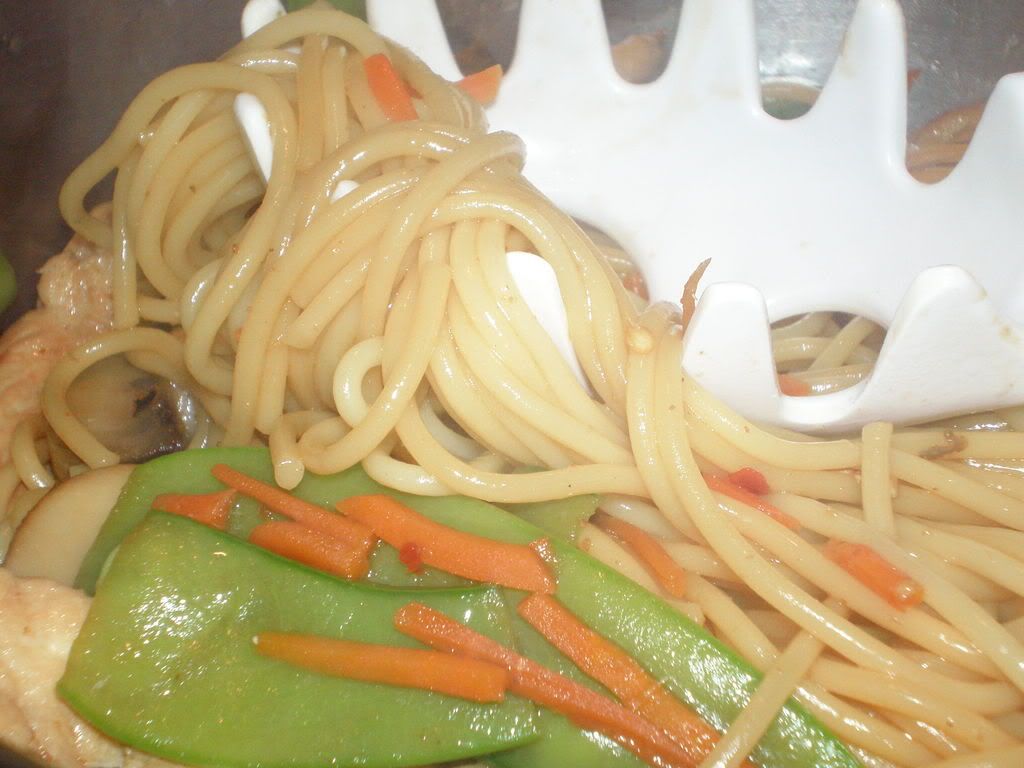 Chicken-Peanut Chow Mein
1 c. pre-cut matchstick-cut carrots
1 c. snow peas, trimmed
2 (6-oz.) packages chow mein noodles (I used spaghetti noodles instead)
1 tbsp. dark sesame oil, divided
1/2 lb. skinless, boneless chicken breast
3 tbsp. low-sodium soy sauce, divided (I used regular)
3/4 c. fat-free, less-sodium chicken broth
2 tbsp. oyster sauce
1 tsp. sugar
1/4 tsp. crushed red pepper
1 c. pre-sliced mushrooms
2 tsp. bottled fresh ground ginger
1 c. (1-inch) sliced green onions
2 tbsp. dry-roasted peanuts, coarsley chopped

Cook carrots, snow peas, and noodles in boiling water for 3 minutes; drain. (I cooked the spaghetti for 7, then added the veggies for 3 more.)
Heat 2 tsp. oil in a large nonstick skillet over medium-high heat. Cut chicken crosswise into thin strips. Add chicken and 1 tbsp. soy sauce to pan; stir-fry 3 minutes. Remove chicken from pan; keep warm.
Combine remaining 2 tbsp. soy sauce, broth, oyster sauce, sugar, and pepper, stirring well. Heat remaining 1 tsp. oil over medium-high heat. Add mushrooms and ginger to pan; stir-fry for 3 minutes. Add broth mixture, and cook for 1 minute. Add noodle mixture and chicken to pan; cook 1 minute, tossing to combine. Sprinkle with onions and peanuts.
Yields: 4 servings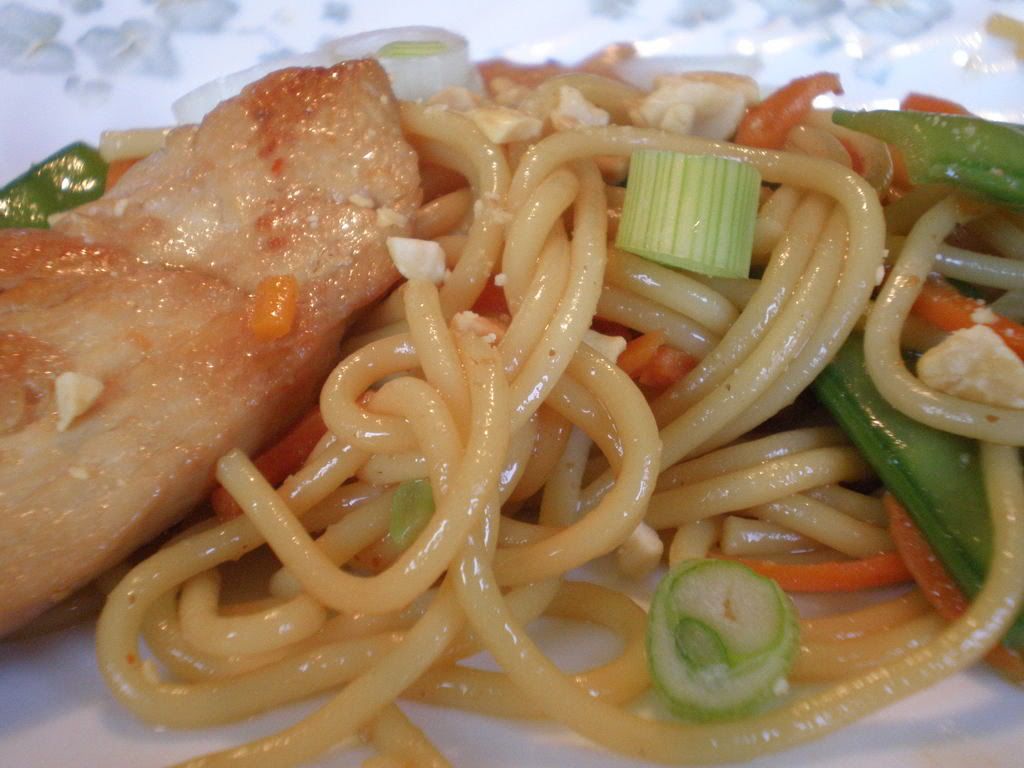 Nutrition Facts
Amount per serving
Calories 613
Calories from fat 301
% Daily Value


Total Fat 33.4g
51%


Saturated Fat 4.8g
24%


Trans Fat 0.0g


Cholesterol 33mg
11%


Sodium 1290mg
54%


Total Carbs 60.3g
20%


Dietary Fiber 6.6g
26%


Sugars 6.0g


Protein 23.6g


Vitamin A 106%
Vitamin C 43%


Calcium 7%
Iron 32%