I'm such a sucker for mac 'n' cheese. Pretty much any kind. I don't discriminate.
Unless it's conglomerated into one huge glob that's been sitting out for a while and looks suspicious. Then... gross.
There are some days I want my mac 'n' cheese just a puddle of sharp cheddar with a few noodles floating around in it. Other times, I want a milder version with some Parmesan and Romano mixed in, topped with some panko and thrown into the oven until a large pan of bubbling goodness comes forth.
But as for healthy?
Well, mac 'n' cheese usually just doesn't fit that bill. Save that title for an apple, or some kind of fancy-pants salad. My mac 'n' cheese is supposed to be loaded with calories and is as sinful to my hips as it tastes. Although, I suppose if I always had my macaroni that way I'd never get to eat it.
Which is exactly why this recipe caught my eye. Butternut squash as the base? Excuse me? This is supposed to be mac 'n' cheese, not mac'n'veg'n'cheese. But I was intrigued anyways.
Sneaky Macaroni and Cheese
Adapted from:
Cooking spray
3 cups (about 1 pound)
peeled and cubed butternut squash
1 1/4 cups
fat-free, reduced-sodium chicken broth
1 1/2 cups
1% milk
2 cloves
garlic
1/2 teaspoon
kosher salt
1/2 teaspoon
ground black pepper
2 tablespoons
fat-free Greek yogurt
1 1/4 cups
shredded Swiss cheese
1 cup
grated Romano cheese
1/4 cup

grated Parmesan cheese

, divided
1 pound
uncooked cavatappi
1 teaspoon
olive oil
1/2 cup
panko
2 tablespoons
chopped fresh parsley
Preheat oven to 375 degrees F. Coat a 9x13 baking dish with cooking spray; set aside.

In a medium saucepan over medium-high heat, bring squash, broth, milk, and garlic to a boil. Reduce heat to medium. Simmer until squash is tender when pierced, about 20 minutes.

Transfer squash mixture to a food processor and add salt, pepper, and Greek yogurt. Secure the lid of the food processor (remove spout cover if present, and cover opening with a towel). Process mixture until smooth. Pour the squash mixture into a large bowl. Add Swiss, Romano, and 2 tablespoons Parmesan cheese. Stir until cheese is fully combined.

Meanwhile, bring a large pot of water to a boil over high heat. Add the pasta and cook according to package directions. Drain.

Add the pasta to the large bowl with the squash mixture and toss until all the noodles are well coated. Spread the pasta mixture evenly into the prepared baking dish.

In a small skilled over medium heat, warm the olive oil. Add panko, and cook 2 minutes, or until golden brown, stirring frequently. Revome from heat and toss with remaining 2 tablespoons Parmesan cheese. Sprinkle panko mixture evenly over the pasta.

Bake 25 minutes or until bubbly. Sprinkle with parsley, and serve immediately.
Serves:
8
Now don't jump into this expecting your heavy cheddar flavor. This version relies heavily on the Romano for the cheese flavor with a nice nuttiness in the background from the butternut squash. Which somehow is reminiscent of cheese before any cheese is added at all. Magic I tell you, magic.
I actually broke this recipe into two sections -- everything up through dumping the pasta mixture in the pan and topping with panko, then baking it in the oven. (I didn't have time to make it all at once after practice.) Of course I had a taste test before sticking the pan in the fridge -- delicious. Nice and creamy with a good flavor. However, after sticking it in the fridge for a few hours, then pulling it back out and baking it, the sauce kind of dried up a bit. Nothing bad, it just left the pasta with a little less sauce than before. Next time I probably wouldn't make the dish ahead of time and bake it later. Just do it all at once so we can enjoy the saucy goodness.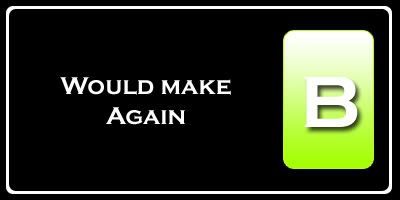 Nutrition Facts
Serving Size 240g
Amount per serving
Calories

422

Calories from fat 107
% Daily Value
Total Fat

11.9g

18%
Saturated Fat

6.4g

32%
Cholesterol

35mg

12%
Sodium 542mg
23%
Total Carbs

56.3g

19%
Fiber

3.4g

14%
Sugars 6.5g
Protein

20.8g

Vitamin A 119%
Vitamin C 21%
Calcium 42%
Iron 16%