**
This is the second of seven recipe installments from my Seven-Course Fall Feast
.**
Of all the courses I made for the dinner party, this dish scared me the most. Seriously? The soup course? Why, yes, in fact, it did. See, with all the other dishes, I was fairly comfortable with their flavor profiles and had a pretty decent grasp on what the outcome would taste like. But the Chestnut Fennel soup? No idea.
Every time I think of chestnuts, immediately I picture them roasting on a open fire with
Bing Crosby
crooning in the background. And all this time I never realized that chestnuts are actually part of the
fall
bounty, not winter. Silly me. But what does an actual chestnut taste like? (Insert shoulder shrug and blank look here.) Well, nutty I assumed.
So why on earth would I go with a soup that I had no idea what its ingredients even tasted like? Didn't I say to stick to ingredients and techniques that you know? Well, shows how much I listen to my own advice. (In my own defense, I made it early in the day, and I did have a back up plan just in case it was horrible.) I considered opting for a butternut squash soup, or maybe a pumpkin soup, but two courses later I was featuring a butternut squash gnocchi (which looked amazing, and I wasn't taking off the menu). I was okay with occasionally repeating a key fall ingredient, but I really didn't want them so close together. I had to find something else.
Thanks to the handy-dandy
fall seasonal ingredient
list and recipes from Epicurious, I came across this Chestnut Fennel soup. Sounded strange, but I was intrigued. It had great reviews (as long as you found already peeled and skinned nuts) and I figured I was already going out on a limb with all new recipes, why not? Wasn't this about new tastes?
Chestnut Fennel Soup
Adapted From:
Gourmet
, November 2000
14 ounces roasted, shelled, and skinned chestnuts (bottled whole)
1 shallot, chopped
2 leeks (white and pale green parts only), chopped
3/4 stick (6 tablespoons) unsalted butter
2 tablespoons dry white wine
1/2 fennel bulb (also known as anise), stalks and core discarded and bulb coarsely chopped
1 cup chicken broth
2 1/2 cups water
1/4 cup half-and-half
Coarsely chop chestnuts, reserving 1/3 cup for garnish.
In a large heavy pot over moderate heat, cook shallot and leeks in 2 tablespoons butter, stirring until softened. Add wine and simmer until almost all liquid is evaporated, about 1 minute. Stir in fennel, broth, chestnuts (excluding garnish), and water, then simmer, covered, 20 minutes. Purée mixture in batches in a blender until smooth, transferring to a bowl (use caution when blending hot liquids).
Return soup to pot and bring to a simmer, add in the half-and-half. Season with salt and pepper.
While soup is reheating, place a 10-inch skillet over medium-high heat, and melt remaining 4 tablespoons butter, cooking until foam subsides. Sauté reserved chestnuts with salt and pepper to taste, stirring constantly, until crisp and butter is browned, about 4 minutes.
Serve soup topped with chestnuts and drizzled with browned butter.
Serves: 6 (1 cup servings)
Bottled chestnuts may be a little tough to find in the average grocery store. Either I completely missed them during our major trek out to the grocery store, or our usual place just didn't carry them. And it was well after 10:00 at night. Hmm. I really didn't want to scrap my soup idea, so I waited until bright and early the following morning and started calling other grocery stores that would possibly have them. The huge Market District down in Shadyside had them, but that was an easy 30 minute drive each way. Luckily, McGinnis Sister's, about 10 minutes away also had them. Apparently, just check aisle 5. That must be the designated aisle they are always located. ;)
Oh, and don't worry if you start chopping the fennel and it just seems SO overpowering. I promise it tames down while cooking.
If making this ahead of time, stop after blending the ingredients, pour into a bowl and store in the fridge until almost ready to eat. Once dinner rolls around, rewarm puree in a large pot over medium heat, adding in the half-and-half and finishing out the recipe.
In the end, this soup came out FAR better than I expected. Despite staring at a bland, light brown bowl of pureed "stuff". I have to admit, it isn't the most appealing thing out there. Just spruce it up with a couple julienned strips from the ends of some green onions, top with the garnish and enjoy away. The chestnuts give the soup a hearty, yet mild nutty flavor with the fennel giving it just a hint of licorice in the background. (Don't be scared when I say "licorice". I hate those nasty black licorice pieces just as much as the next person, but this is nothing.like.that.) It might not have been my favorite dish, but it still wasn't too bad and I would probably make it again -- as long as somebody cranked up the Bing Crosby while I ate.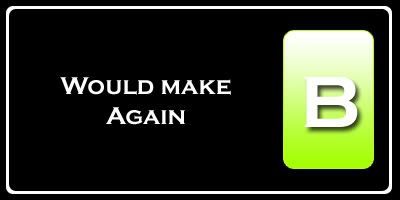 Nutrition Facts
Amount per serving
Calories 288
Calories from fat 124
% Daily Value
Total Fat 13.8g
21%
Saturated Fat 8.2g
41%
Cholesterol 34mg
11%
Sodium 235mg
10%
Total Carbs 37.8g
13%
Dietary Fiber 1.1g
5%
Sugars 1.4g
Protein 3.3g
Vitamin A 22%
Vitamin C 56%
Calcium 6%
Iron 9%