Remember that oh-so-long list I mentioned in my last post of things Adam won't eat? Well, this is how I discovered the whole bell pepper issue. He had brought it to my attention when I made the
Refried Bean Poblanos with Cheese
that he wasn't a huge fan of bell peppers. The poblanos turned out to be okay, since those were chile peppers. However, I always thought it was a flavor/texture type thing, and didn't realize that it was pretty much just taste. So I made this dish.
And I enjoyed it. It came together nice and easy, I even cheated and bought jarred roasted red peppers because I just really didn't feel like sitting around for an hour to let those guys roast in the oven. Summer totally puts me in the "I want to eat NOW" mood, not sit around cooking for hours.
Adam, on the other hand, didn't care for it really all that much. Well, at first he thought the chopped up snow peas were green peppers until I told him it was the sauce. And of course he was a trooper and ate almost a plateful, but I could tell he just wasn't feeling it. Moral of the story -- make sure you know what your hubby does and doesn't like before making up some dinner. That way he doesn't attack the pizza rolls hidden in the freezer half and hour later.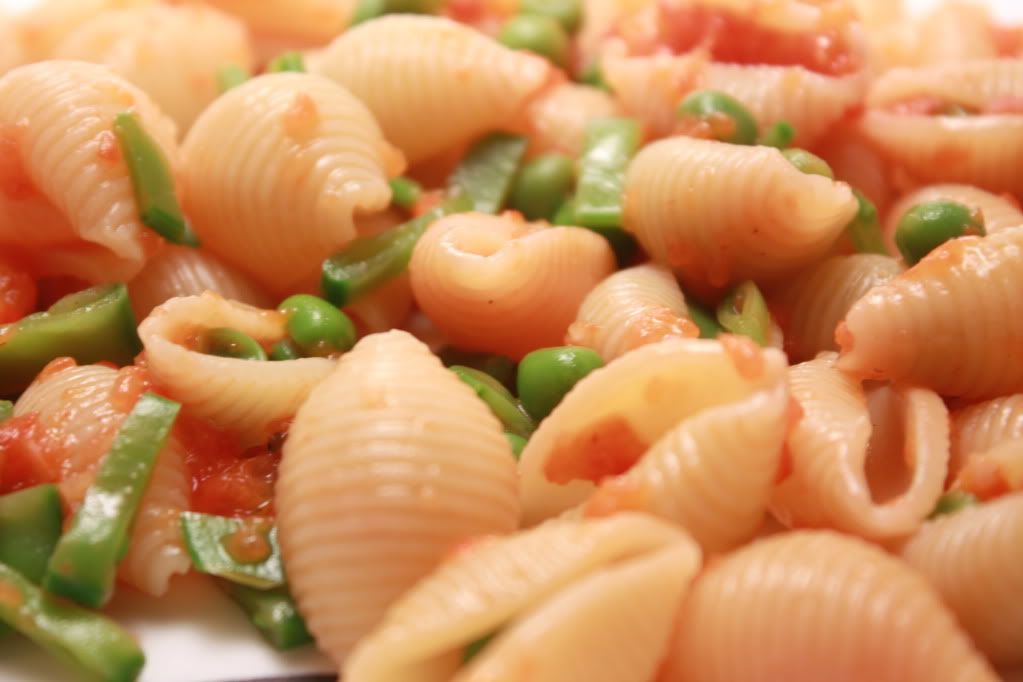 1 pound of small pasta
1/4 pound snow pea pods, ends trimmed
1/2 pound fresh summer peas, which yielded about 1 cup once shelled
3/4 to 1 cup Roasted Red Pepper Vinaigrette (recipe below)
Bring a large pot of salted water to a boil and prepare a small ice water bath. Boil the snow pea pods for about two minutes, or until just barely cooked but still crisp. Scoop them out with a large slotted spoon and drop them in the ice water bath. Cook the peas for about 10 minutes, scoop them out with a large slotted spoon and plunge them into the ice water bath as well. Drain both peas. Cut the snow peas into thin slivers.
Add the pasta into the boiling water and cook it according to package instructions. Drain and let cool, then toss in a large bowl with peas and Roasted Red Pepper Vinaigrette, seasoning to taste.
Roasted Red Pepper Vinaigrette
1 red bell pepper, roasted, skinned and seeded or the equivalent from a jar, drained
1/4 cup olive oil
2 tablespoons red wine vinegar (and up to 2 tablespoons more if you, like us, like that extra bite in your dressing)
1 tablespoon chopped shallot (about 1 small)
1/2 teaspoon salt
Several grinds of black pepper
Puree the red bell pepper in a food processor or blender as much as possible, then add the remaining ingredients and running the machine until the dressing is silky smooth. Adjust the vinegar level and seasonings to taste.
Serves: 8
Like I said,
I
liked it. Although I did cheat in various ways. I definitely used jarred roasted red peppers, and I used frozen peas I just cooked in the microwave. Oops.
If I were to make this a second time (which sadly, I doubt there will be) I would double the vinaigrette or at least increase it by 50%... the pasta seemed a tad on the dry side.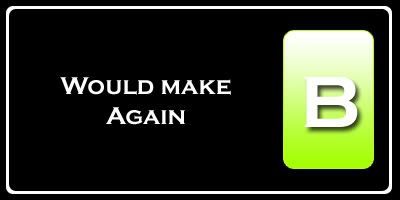 If only hubby liked bell peppers...
Nutrition Facts
Amount per serving
Calories 248
Calories from fat 74
% Daily Value


Total Fat 8.2g
13%


Saturated Fat 1.1g
6%


Trans Fat 0.0g


Cholesterol 41mg
14%


Sodium 186mg
8%


Total Carbs 35.5g
12%


Dietary Fiber 1.5g
6%


Sugars 2.0g


Protein 8.0g


Vitamin A 12%
Vitamin C 50%


Calcium 2%
Iron 14%