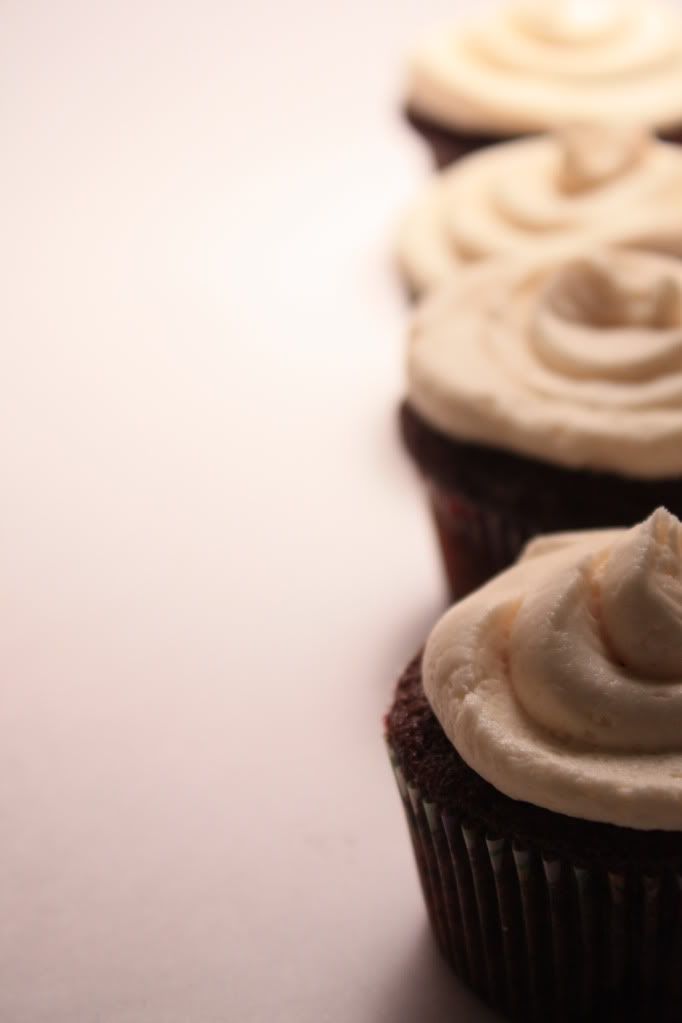 A couple months ago, the Pens made their amazing run for the Stanley Cup, going in completely as the underdog. As game 7 came around, I figured we needed to do something special because the Pens WERE going to win. Adam and I were going to a tailgait downtown prior to heading off to watch the game, so I figured cupcakes were an easy-to-hold dessert solution.
As I was flipping through my recipes and scrolling through my Google reader, I rediscovered a couple recipes for
Guinness Cake
and
Chocolate Whiskey and Beer Cupcakes
. Bingo. And I thought I was going to have to wait for St. Patty's to roll around again to have an excuse to make these.
I pretty much followed Annie's Eats
Guinness Chocolate Cake
for the batter to make the cupcakes (since she said the cake had a pretty prominent beer flavor), the ganache filling from Smitten Kitchen's
Chocolate Whiskey and Beer Cupcakes
, and then just added Bailey's in lieu of vanilla to my usual buttercream frosting.
Maybe not quite your Irish Car Bomb drink, but at least you don't have to chug these before they curdle. :)
Make the Cupcakes:
1 cup Guinness beer
10 tbsp. unsalted butter
1/2 cup cocoa powder
2 cups superfine sugar
3/4 cup sour cream
2 eggs
1 tbsp. vanilla extract
2 cups all-purpose flour
2 1/2 tsp. baking soda
Preheat the oven to 350 degrees F. Line muffin tin with paper liners. In a small saucepan, combine the Guinness and butter. Heat over medium heat until the butter is melted. Remove from the heat. Whisk in the cocoa powder and sugar.
In the bowl of an electric mixer, combine the sour cream, eggs and vanilla. Beat on medium speed until well combined. Add the Guinness mixture to the bowl and mix until incorporated. In a small bowl, sift together the flour and baking soda. Add the dry ingredients to the bowl of the mixer and mix on low speed until just incorporated.
Pour the batter into the prepared pan. Bake for 18-22 minutes, or until a toothpick inserted in the center comes back clean. Cool completely in the pan on a wire rack. Once cooled, remove.
Make the Ganache Filling:
8 ounces bittersweet chocolate
2/3 cup heavy cream
2 tablespoons butter, room temperature
1 to 2 teaspoons Irish whiskey (optional... but not really)
Chop the chocolate and transfer it to a heatproof bowl. Heat the cream until simmering and pour it over the chocolate. Let it sit for one minute and then stir until smooth. (If this has not sufficiently melted the chocolate, you can return it to a double-boiler to gently melt what remains. 20 seconds in the microwave, watching carefully, will also work.) Add the butter and whiskey (if you're using it) and stir until combined.
Using an apple corer, or other apparatus, hollow out the middle of each cupcake. What you do with those centers is up to you. Place ganache in a pastry bag or a ziploc bag with the tip snipped off; fill up the hollows in each cupcake.
Bailey's Buttercream
1 cup butter, softened
4 cups confectioners' sugar
2 tablespoons + 1 tsp. Bailey's
In a large bowl, cream together the butter, shortening, and the tsp of Bailey's. Blend in the sugar, one cup at a time, beating well after each addition. Beat in the remaining Bailey's, and continue mixing until light and fluffy. Keep icing covered until ready to decorate.
Makes: about 24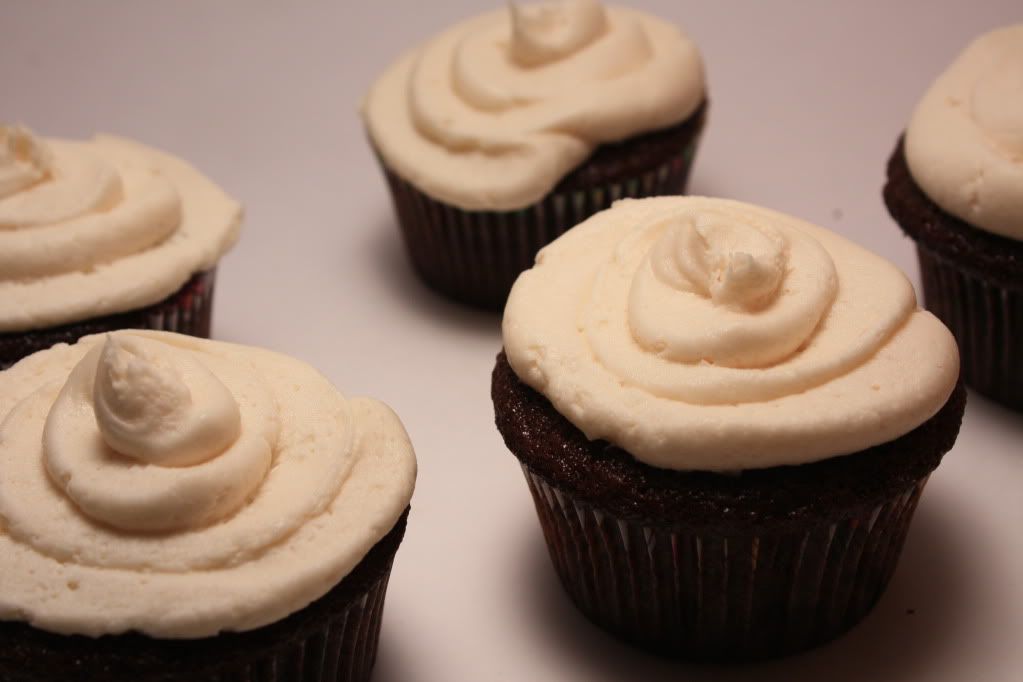 Overall I'd say these turned out pretty good. I have to admit... I've never tried an Irish Car Bomb (seeing as I don't like beer), but the people who tried them said they saw the likeness. Each individual component definitely had the flavors I was going for, although the Guinness kind of got overshadowed by the Jameson and Bailey's.
Honestly, these weren't my favorite cupcakes, although I'm not the biggest fan of those three liquors. Now, for people who do like them... I got rave reviews on the cupcakes.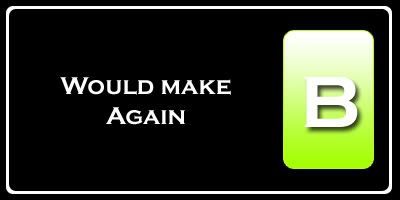 Nutrition Facts
Amount per serving
Calories 396
Calories from fat 179
% Daily Value


Total Fat 19.9g
31%


Saturated Fat 12.6g
63%


Cholesterol 66mg
22%


Sodium 247mg
10%


Total Carbs 52.3g
17%


Dietary Fiber 1.1g
5%


Sugars 41.6g


Protein 3.1g


Vitamin A 11%
Vitamin C 0%


Calcium 4%
Iron 6%