That's right, you read that title correctly -- Milky Way Cupcakes. Chocolate cupcakes with a caramel frosting and a whipped chocolate filling. So delicious. Or "decadent", as Adam called them.
It's pretty obvious where the inspiration for these came from, although I'm not sure why. I don't typically crave candy bars, but once I thought of the concept, I knew I had to made them. Definitely a wise decision.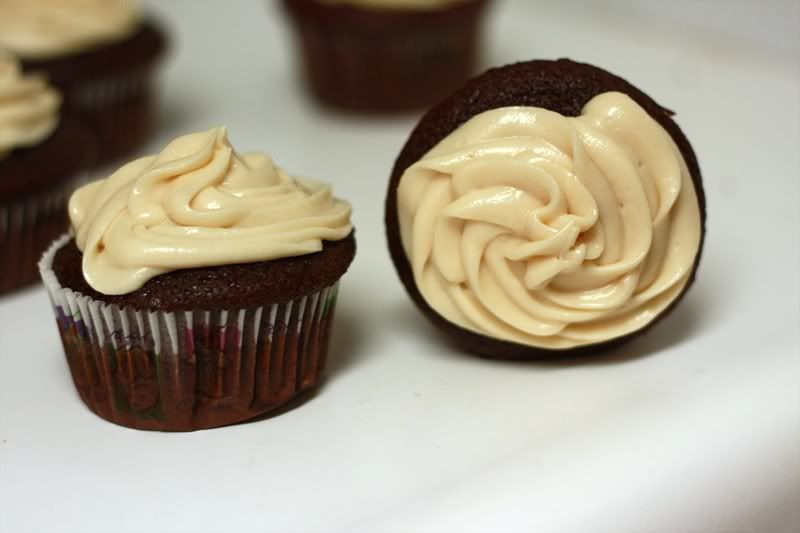 Milky Way Cupcakes
From: Original Concept
For the Cupcakes:
Use your favorite chocolate cupcake recipe. Mine is found
here
.
Once baked (usually 18-22 min) and cooled, use an apple corer (or knife or any other apparatus that works) to remove the center of each cupcake, being careful not go through the bottom.
For the Filling:
(adapted from
about.com
)
12 ounces milk chocolate chips
3 tbsp water
1 1/2 cups marshmallow fluff
Place the chocolate chips in a large microwave-safe bowl. Microwave until the chips are melted, stirring after every 45 seconds to prevent overheating. Once the chips are melted, add the marshmallow cream and the water and stir until the mixture is smooth. Pipe the filling into the cupcakes.
For the Frosting:
1 cup butter
1 tsp vanilla
1 pound powdered sugar
1/2 cup caramel topping
Pinch of salt
In a large bowl, beat the butter until smooth and creamy. Add in the vanilla and continue to mix. Slowly add in the sugar, about 1 cup at a time. Once sugar is completely mixed in and buttercream is smooth, add in the caramel and salt. Mix until smooth. Buttercream is a little softer than your typical buttercream.
Makes: 36 cupcakes
Note: Do NOT refrigerate these cupcakes as the centers will get
very
firm, making these difficult to eat. (Adam likes them the most after they've been sitting in a hot car and are almost melting -- nice and gooey.) If you must put these in the fridge, make sure to remove them several hours prior to eating.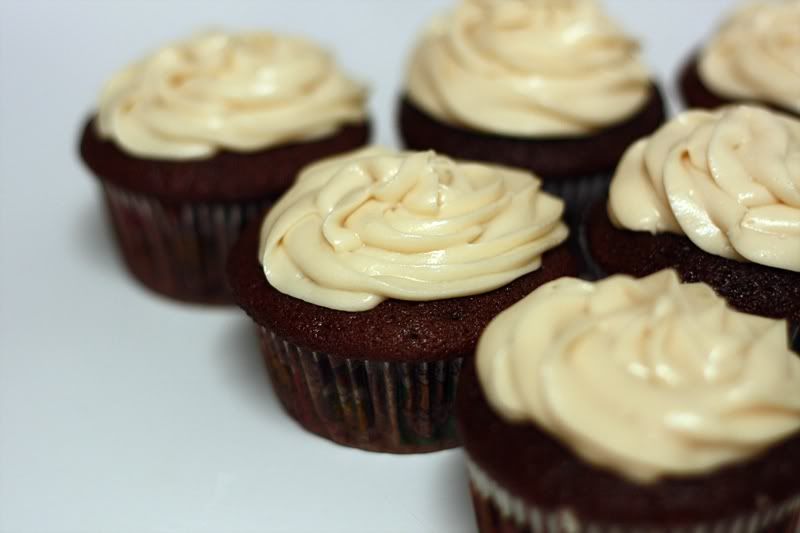 Now go. Make these. And be in awesome chocolate-caramel-marshmallow-fluffy heaven.
Nutrition Facts
Amount per serving
Calories 334
Calories from fat 129
% Daily Value


Total Fat 14.4g
22%


Saturated Fat 8.3g
41%


Cholesterol 52mg
17%


Sodium 286mg
12%


Total Carbs 50.3g
17%


Dietary Fiber 1.2g
5%


Sugars 28.6g


Protein 3g


Vitamin A 8%
Vitamin C 0%


Calcium 3%
Iron 7%