**
This is the third of seven recipe installments from my Seven-Course Fall Feast
.**
So I apologize that I left you hanging for most of last week. I promise I didn't forget about these recipes! I just had 3 things due, including a presentation, for my class on Thursday AND I had figure out and execute my
photo-tutorial for Challenge 4
by Thursday night on the chance I advanced to the fourth round AND I had to pack for a wedding that we were flying out for early Friday morning. Whew. Breathe. That tidbit of craziness is behind me, and now we can focus on more important things. Like food. :)
Like this salad. Growing up, my salads consisted of iceberg lettuce, maybe a sprinkle of carrots, a handful of cheddar cheese, and a healthy dose of ranch dressing. And by healthy dose I mean completely drowning the salad. While I typically steer far away from iceberg lettuce salads nowadays, I'm still not overly keen on all these gourmet salads that have been popping up every where. Something about piling a salad high with fruit and other non-salad type ingredients just seems wrong and un-saladish to me.
And yet I chose this salad as my third course for my
Fall Feast
. I think knowing that bacon was going to be present was going to magically make everything okay. Well, I don't think it was because of the bacon, but this salad was fabulous! Okay, well, maybe the bacon had something to do with it. And the fact that it's fairly easy to throw together -- my kind of dish right there.
Wilted Spinach Salad with Warm Apple Cider and Bacon Dressing
Adapted from:
Gourmet
, October 1991
5 slices of bacon, chopped fine
2 tablespoons minced shallot
1/2 cup finely chopped apple
2 tablespoons cider vinegar
1 1/2 cups apple cider
1 teaspoon coarse-ground mustard
1 tablespoon olive oil
1 pound fresh baby spinach, washed and dried
In a large skillet over medium heat cook the bacon, turning it, until it is done, but not quite crisp. Transfer it to paper towels to drain, and discard all but 2 tablespoons of the fat. Using the remaining 2 tablespoons of bacon fat, cook the shallot and the apple over medium heat in the same skillet, stirring, for 1 minute. Add the vinegar, cider, and salt and pepper to taste. Bring to a boil, stirring occasionally, for 8 to 10 minutes, or until it is reduced to about 1/2 cup. Whisk in the mustard and oil. In a large bowl toss the spinach with the warm dressing until it is just wilted and sprinkle the salad with the bacon.
Serves: 4
To make ahead, simply prepare the dressing as directed. Store the dressing and the bacon separately in the refrigerator. When ready to serve, reheat the dressing over medium heat until hot. Then toss with the spinach.
Despite my previous hesitation when it comes to salad and fruit, I actually really enjoyed this dish. (We even made it again for dinner a few nights later.) It's pretty much fall in a salad, and when that's what you're going for... well it's a win-win situation.
This recipe says it serves 4, but I am assuming it serves 4 as a side or appetizer. I doubled this recipe for my party and we used it all, without the salad plates being overly stuffed.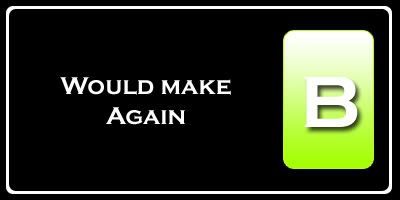 Nutrition Facts
Amount per serving
Calories 305
Calories from fat 169
% Daily Value
Total Fat 18.8g
29%
Saturated Fat 5.4g
27%
Trans Fat 0.0g
Cholesterol 39mg
13%
Sodium 918mg
38%
Total Carbs 18.4g
6%
Dietary Fiber 2.9g
12%
Sugars 12.1g
Protein 16.6g
Vitamin A 214%
Vitamin C 56%
Calcium 13%
Iron 22%