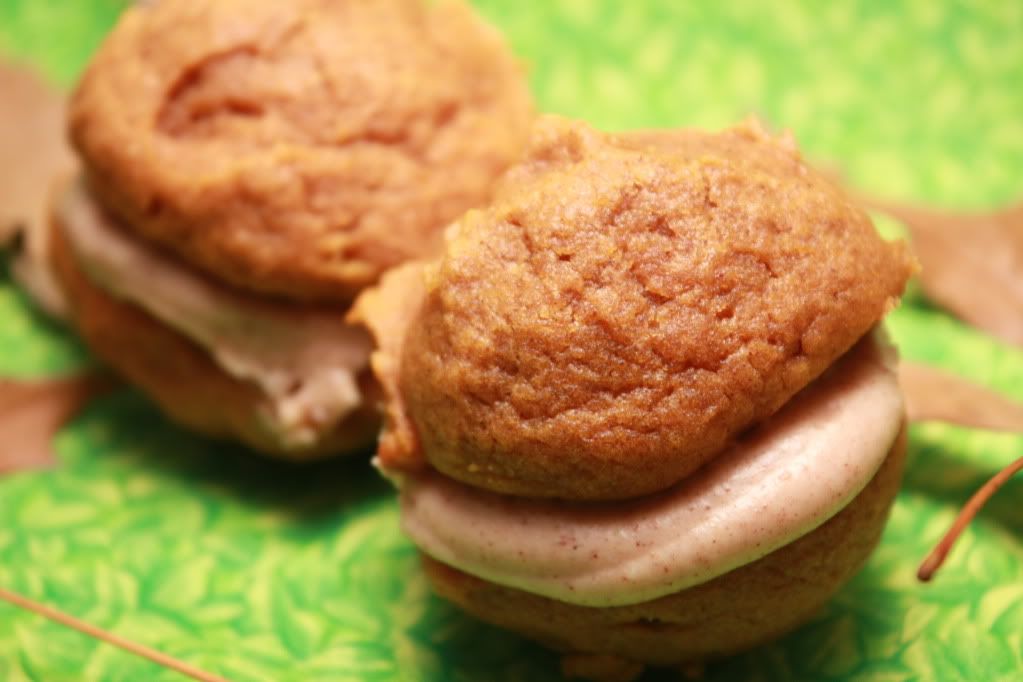 I know I mentioned before that fall is my favorite season. I might have to retract that statement. Fall is
typically
my favorite season. Not this year though. Usually, fall starts as a slow progression of nippy mornings and warm afternoons to chilly mornings and cool afternoons. And after a less-than-hot summer, fall decided to follow suit. It has been pretty much nothing but chilly and rainy here. I'm sorry, did I misplace my October and jump straight to November somehow?
Frustrating as it is, the change in weather definitely kicked my craving for pumpkin into gear early this year. I actually made these a while ago as a "tribute" to the start of fall. (So yes, this was way back in September some time.) I didn't want to go the traditional route and pop out a pumpkin pie, and quite honestly, I wasn't really feeling like a pie anyways.
So I wandered back through my Google reader and discovered these Pumpkin Whoopie Pies from
Cast Sugar
from almost a year ago. I cannot believe that I waited so long to make these. They are so moist and delicious and pumpkin-y and the filling totally reminds me of cinnamon rolls and I just want to completely cover these with it.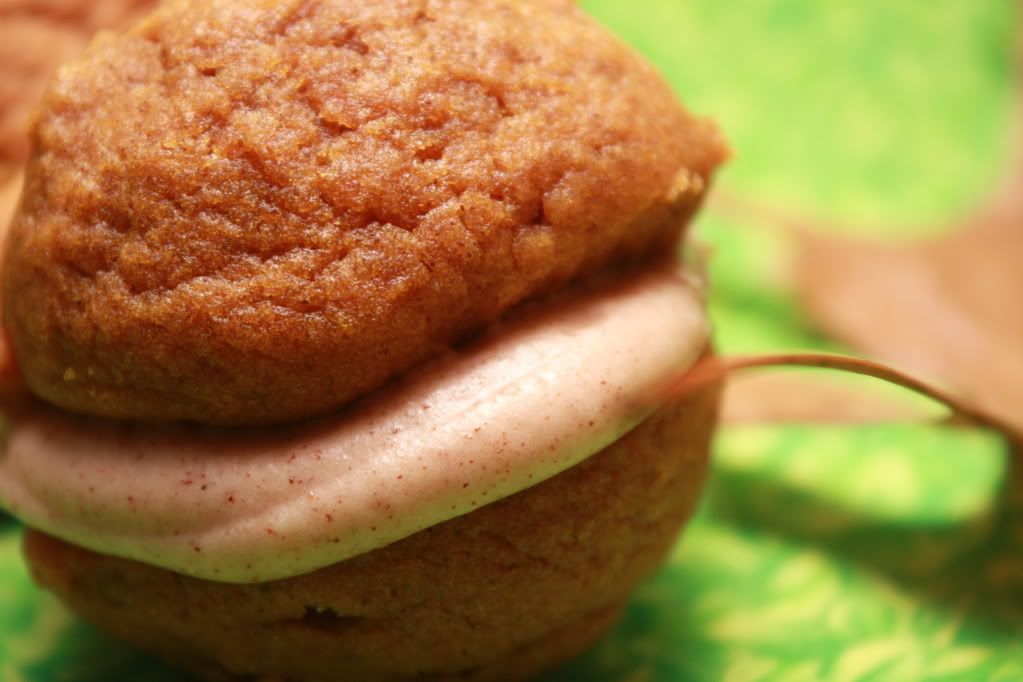 3 c. all-purpose flour
1 tsp. salt
1 tsp. baking soda
1 tsp. baking powder
2 Tbsp. cinnamon
1 tsp. ground ginger
1/2 tsp. ground fresh nutmeg
1 c. granulated sugar
1 c. dark brown sugar, firmly packed
1 c. canola oil
3 c. chilled pumpkin puree
2 large eggs
1 tsp. vanilla extract
3 c. powdered sugar
1/2 c. unsalted butter, at room temperature
8 oz. cream cheese, at room temperature
1 Tbsp. cinnamon
1 tsp. vanilla
Preheat oven to 350F. Prepare to baking sheets lined with parchment paper.
In a large bowl, whisk together the flour, salt, baking soda, baking powder, and spices. Set aside.In a separate bowl, whisk to sugars and oil together. Add the pumpkin puree and whisk to combine thoroughly. Add the eggs and vanilla and whisk until combined.
Sprinkle the flour mixture over the pumpkin mixture and whisk until completely combined. Use a small ice cream scoop with a release mechanism to drop healing tablespoon of the dough onto the prepared baking sheets, about 1 inch apart.
Bake for 10-12 minutes, until the cookies are just starting to crack on top and a toothpick inserted into the center of a cookie comes out clean. Remove from the oven and let the cookies cool completely on the pan while you make the filling.
For the filling: In the bowl of an electric mixer fitted with a paddle attachment, beat the butter until smooth with no visible lumps. Add the cream cheese an beat until combined. Add the powdered sugar, cinnamon and vanilla and beat until smooth. Be careful no to overbeat the filling, or it will lose structure.
To assemble: Turn half the cooled cookies upside down. Pipe filling (about a tablespoon) onto that half. Place another cookie, flat side down, on top of the filling. Press down slightly so that the filling spread to the edges of the cookie. Repeat until all the cookies are used. Put the whoopie pies in the refrigerator for about 30 minutes to firm before serving.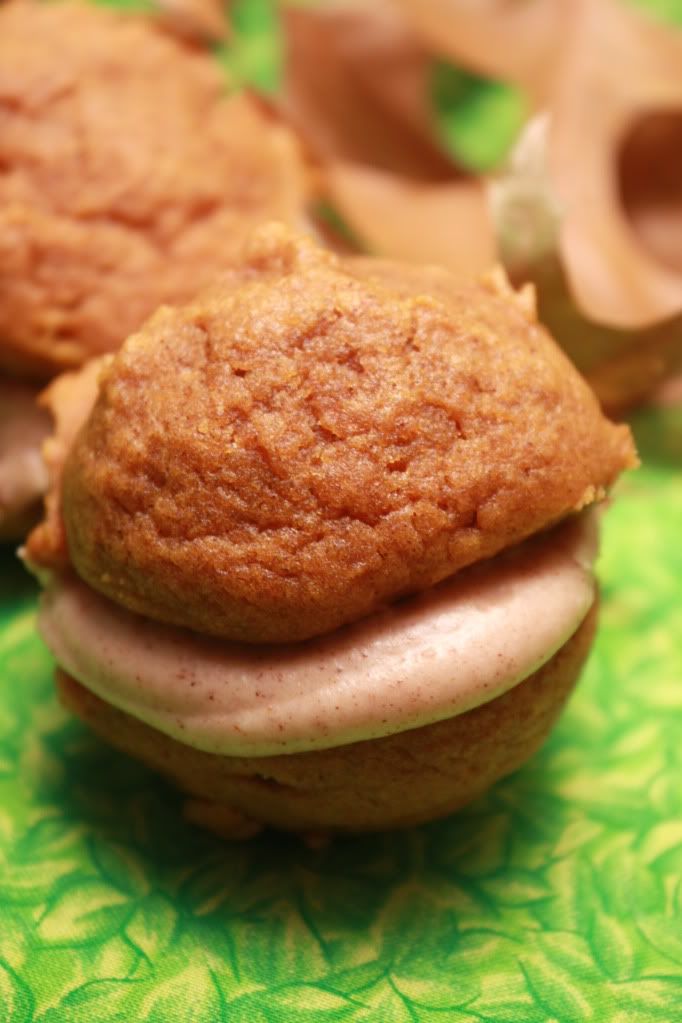 The only reason these guys lasted for any length of time around our house was because this recipe yields a TON of whoopie pies and there is only two of us. I kept trying to get Adam to take some into work, but he pretty much refused.
The only thing I would change is trying to spread out the batter on the baking sheets a little bit instead of leaving them in little balls. Adam actually called these "pumpkin balls" instead of whoopie pies because they puffed up so big and round. (Which actually kind of made it a little difficult when it came to keeping them upright when assembling them.)
Oh, and maybe I would add more filling. As much as humanly possible. And then dip each one in it before eating. :)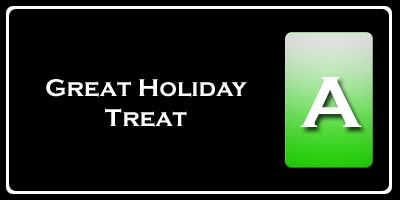 Nutrition Facts
Amount per serving
Calories 225
Calories from fat 101
% Daily Value
Total Fat 11.3g
17%
Saturated Fat 3.6g
18%
Trans Fat 0.0g
Cholesterol 25mg
8%
Sodium 145mg
6%
Total Carbs 29.9g
10%
Dietary Fiber 1.2g
5%
Sugars 20.0g
Protein 2.2g
Vitamin A 67%
Vitamin C 1%
Calcium 3%
Iron 6%