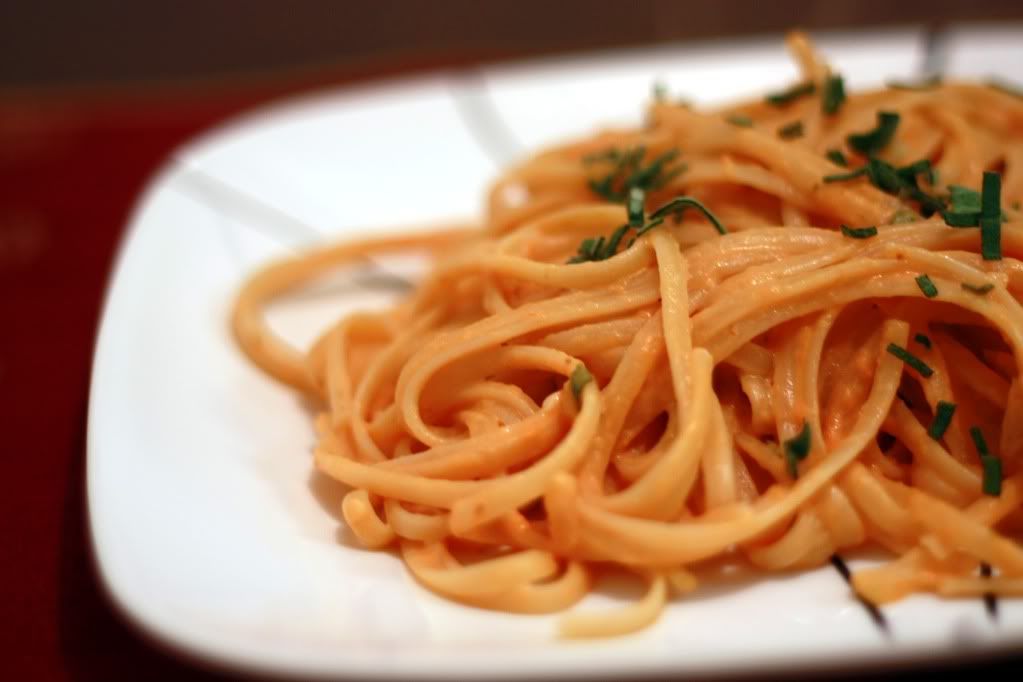 So apparently Libby's, the super huge canned pumpkin company, had a bad year this year due to droughts. Thus, they expect a shortage in pumpkin this year, and once they're out, they're out until the next crop in 2010. Eh, I've still seen pumpkin can or two hanging out with their friends at the grocery store, so I'm not too horribly worried about it yet. Who knows, we'll see how it looks comes Christmas time.
However, should you find yourself opening a large can of the delicious orange stuff only to use part of it (ooooh such as to make some amazing
pumpkin whoopie pies
), here's a good answer for the leftovers.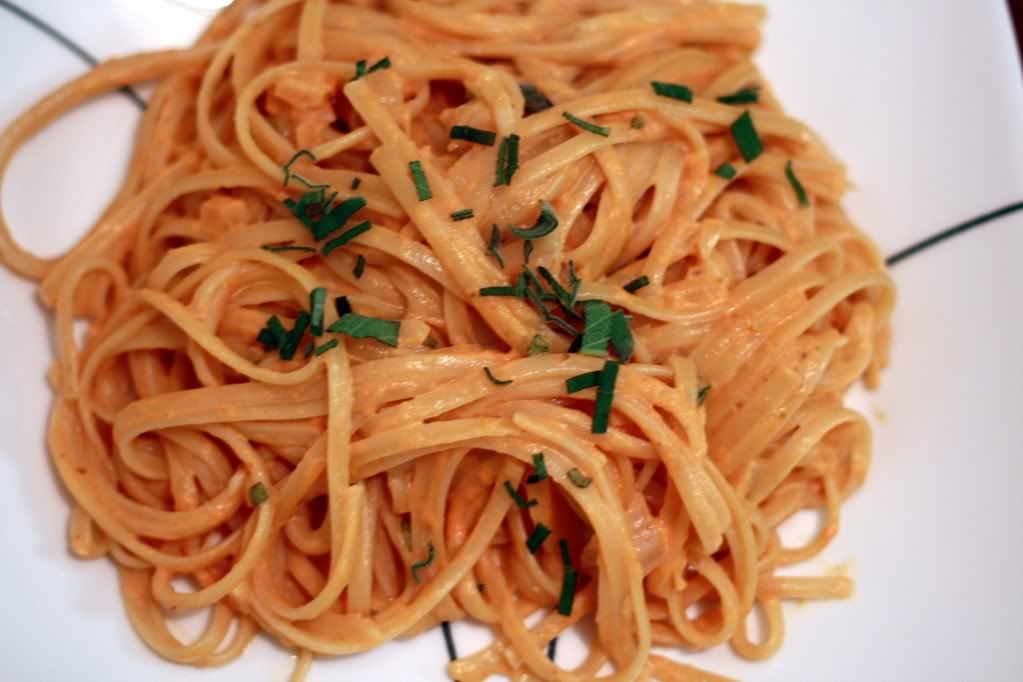 1 pound long skinny pasta, such as spaghetti, fettucine, or linguine
1 medium vidalia onion, minced
3 medium cloves garlic
2 sprigs sage leaves, finely chopped
1 tablespoon olive oil
3/4 cup canned unsweetened pumpkin puree
3/4 cup low-sodium chicken broth
1/2 cup fat free half & half
Kosher salt
Freshly ground black pepper
1/4 cup grated Parmesan cheese
Bring a large pot of to a boil over medium-high heat. Add sald and pour in the pasta and cook according to package directions.
Heat the oil in a large saucepan over medium heat. Add the onion and garlic; cook for 3 minutes, stirring, until they have softened. Stir in the pumpkin puree, chicken broth, half & half, and 1/2 of the sage. Reduce the heat to medium-low and cook for 10 minutes, stirring frequently, until the sauce is slightly thickened. Season with salt and pepper to taste; keep warm on the lowest setting.
Drain the pasta and add to the sauce, then add 2 tablespoons of the cheese and mix well. Serve and sprinkle with the remaining 2 tablespoons of cheese and the remaining sage.
Well, I was expecting a little stronger pumpkin flavor, but I think
Stephanie
describes it best as an alfredo sauce with a hint of pumpkin. Overall I was pleasantly surprised with this dish, being originally a little skeptical about the pumpkin. (Adam even liked it.)
It's a fairly easy dish to throw together and perfect for fall. Not to mention great for finishing up those pumpkin leftovers.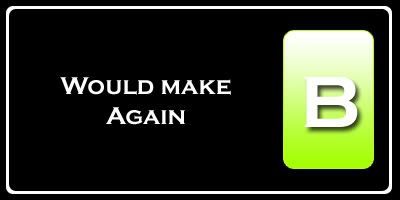 Nutrition Facts
Amount per serving
Calories 241
Calories from fat 61
% Daily Value


Total Fat 6.7g
10%


Saturated Fat 2.7g
14%


Cholesterol 52mg
17%


Sodium 93mg
4%


Total Carbs 37.1g
12%


Dietary Fiber 2.4g
9%


Sugars 1.4g


Protein 8.8g


Vitamin A 78%
Vitamin C 6%


Calcium 12%
Iron 19%