What? Another pasta post? After such a long absence that's the best I can do? As a matter of fact, yes, it is. Despite making such progress over the past year+ with making a menu at the beginning of each week so we don't play the "what's for dinner" game every night, we have fallen off that horse. Hard. And really have no desire to hop back on right away. Maybe that will change after finals, only until the beginning of January anyway -- when we start up evening right-over-dinner-time classes again.
Anyhoo..... Adam was super suspicious of this dish at first, after I told him artichokes were involved. The first question, of course, "Are you going to be offended if I pick the artichokes out?" Well lo and behold, guess who was sitting there not even half and hour later commenting how good dinner was and he was even eating the artichokes. Ha.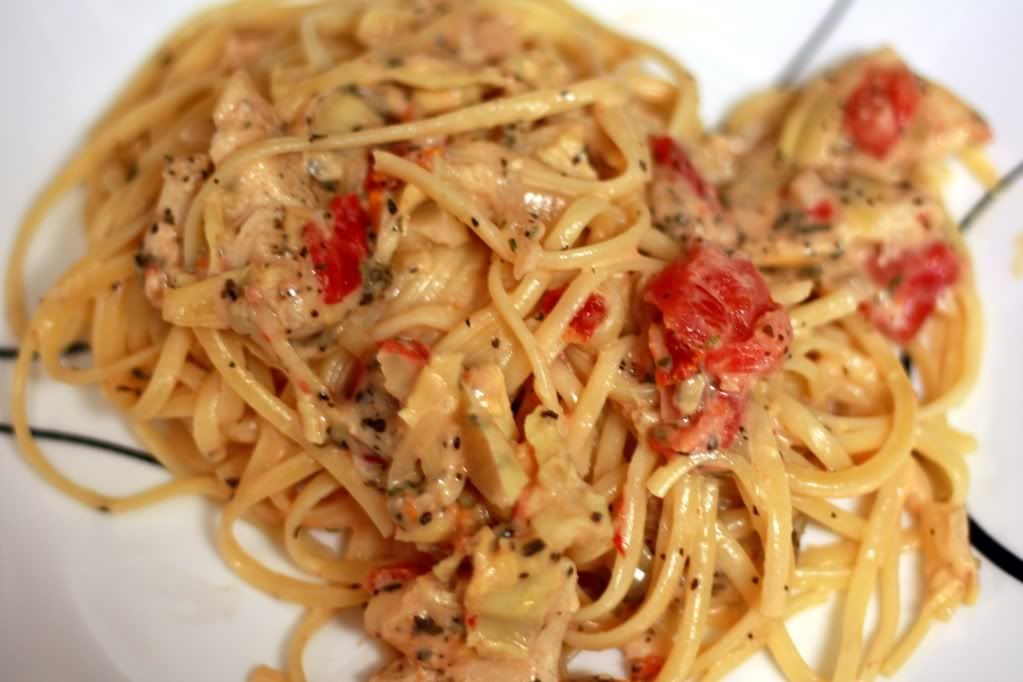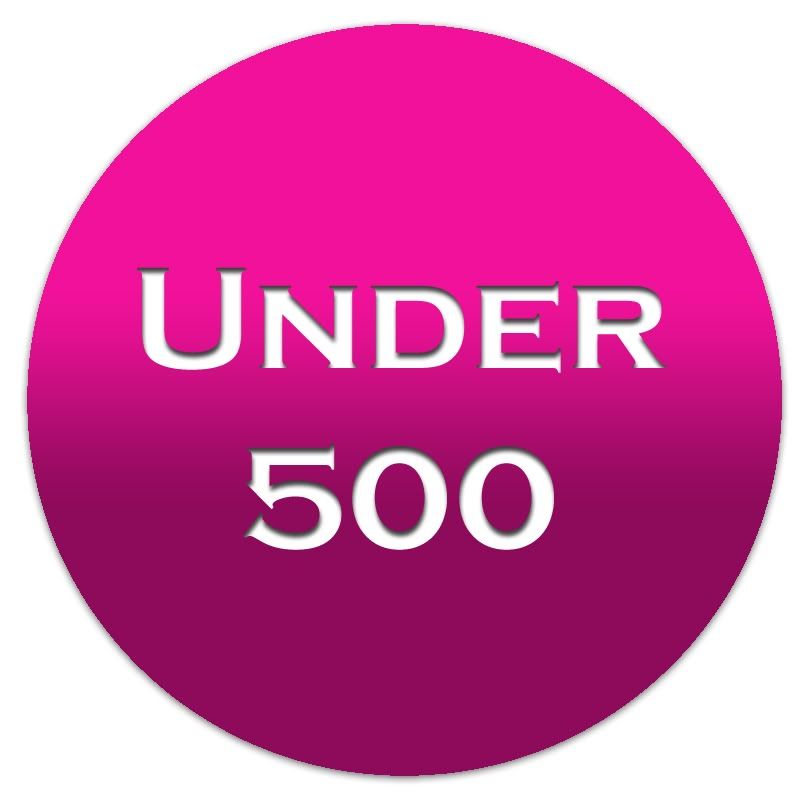 1 pound linguine
2 chicken breasts, pounded to even thickness, sliced crosswise about 1/2"
Sea salt & cracked black pepper
3 tablespoons olive oil, divided
2 tablespoons butter
1/2 medium onion, finely diced
1/2 teaspoon red pepper flakes
3 cloves garlic, minced
1 (14.5 ounce can) quartered artichoke hearts, drained
1/2 cup sun dried tomatoes, diced
1 (14.5 ounce can) diced tomatoes*
1 cup heavy cream
3/4 cup chicken broth, more as needed
1 cup freshly grated Parmesan cheese, plus additional for garnish
2 Tbsp chopped basil, plus additional for garnish
1 Tbsp chopped parsley, plus additional for garnish
Cook pasta according to package directions. Drain (reserving 1/2 cup pasta water) and place in a large bowl.
Heat 1 tablespoon olive oil in a large sauce pan until hot. Liberally salt and pepper the sides of the chicken and place in the pan to sear. Cook through, about 3-4 minutes each side. Remove chicken from the pan and set aside.
Add remaining olive oil and butter to pan. Add onions and red pepper flakes to pan and cook until the onions are translucent, stirring to scrape up any browned bits on the bottom of the pan. Add garlic and cook for another minute.
Add chicken, artichoke hearts, sun-dried tomatoes, and diced tomatoes to the pan. Stir and cook for 8-10 minutes. Reduce heat to low and stir in cream and chicken broth. Add salt and pepper to taste. Cook until heated through, and then remove from heat.
Pour sauce over the top of the pasta. Toss with the Parmesan, basil, and parsley until coated. Add a couple of splashes of pasta water - or if you forget to reserve it, some chicken broth - if you need to thin the sauce a bit.
*The recipe originally called for crushed tomatoes, but I could not find any that weren't in super huge cans.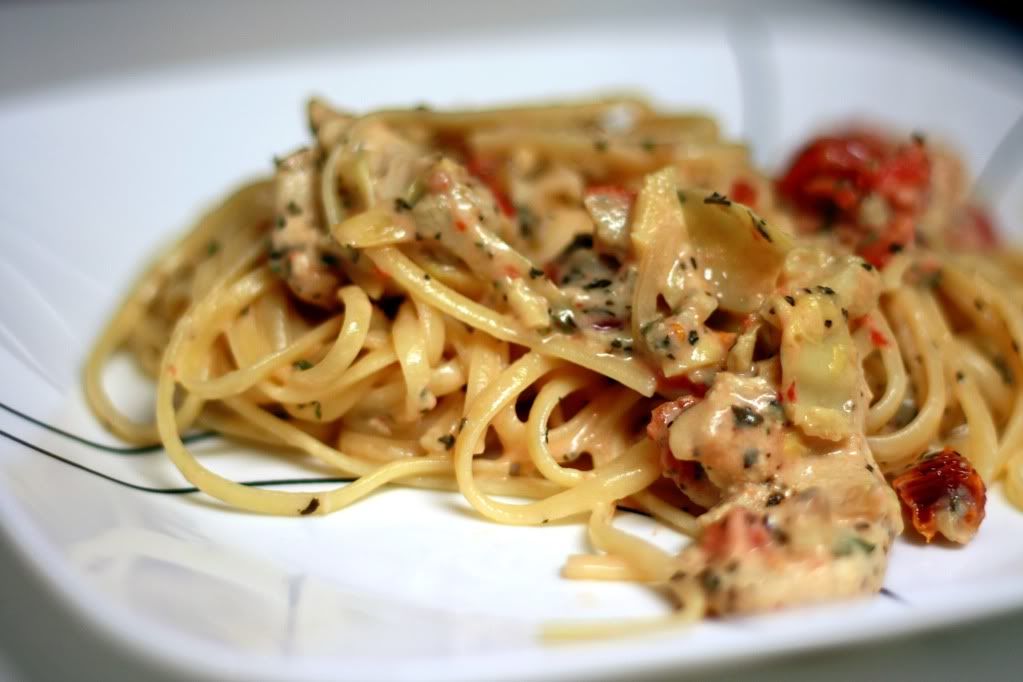 Overall, not too bad of a dish, especially when it's the first time working with artichokes. I was unable to find diced artichokes, so if you find yourself in the same boat, just make sure you drain the whole ones very well (give 'em a nice squeeze or two over the sink for good measure) and then dice them.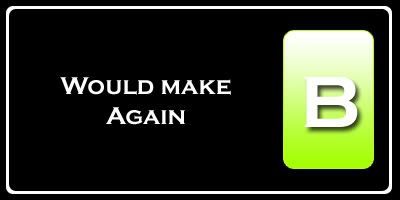 Nutrition Facts
Amount per serving
Calories 450
Calories from fat 196
% Daily Value


Total Fat 21.8g
34%


Saturated Fat 9.1g
46%


Cholesterol 106mg
35%


Sodium 545mg
23%


Total Carbs 42.2g
14%


Dietary Fiber 4.0g
16%


Sugars 2.4g


Protein 22.9g


Vitamin A 21%
Vitamin C 36%


Calcium 20%
Iron 20%