And we are back to our regularly scheduled comfort foods! :) I mean, we can only fight the weather so long, right?
But, what if we combined the two? Warm earthy flavors from the south mixed into a hearty, filling, winter dish? Count us in.
Ha. Take that winter. Maybe you don't win after all.
Oh, and please don't pass out from the fact I made
another
side dish. It's a miracle, I know. They
do
exist.
Ancho Pork and Hominy Stew
Adapted from:
Cooking Light
, December 2009
2 tablespoons ancho chile powder
2 teaspoons dried oregano
1 1/2 teaspoons smoked paprika
1 teaspoon ground cumin
1/2 teaspoon salt
1 pound pork tenderloin, trimmed and cut into bite-sized pieces
1 tablespoon olive oil, divided
1 medium onion, chopped
1 green bell pepper, chopped
1 tablespoon minced garlic
2 1/2 cups fat-free, reduced-sodium chicken broth
1 (28-ounce) can hominy, drained
1 (14.5-ounce) can fire-roasted diced tomatoes, undrained (such as Hunt's)
In a large bowl, combine first 5 ingredients (ancho chile powder through salt). Set 1 1/2 teaspoons of the spice mixture aside. Toss pork with remaining spice mixture in bowl, making sure each piece is coated.
In a large Dutch oven, heat 2 teaspoons oil over medium-high heat. Add pork to dutch oven and cook 5 minutes or until browned, stirring occasionally. Remove pork from pan; set aside. Add remaining 1 teaspoon oil to pan. Add onion, bell pepper, and garlic; sauté 5 minutes or until tender, stirring occasionally. Add the pork back to pan along with the reserved 1 1/2 teaspoons spice mixture, broth, hominy, and tomatoes; bring to a boil. Partially cover, reduce heat, and simmer 25 minutes.
Serves: 6
Jalapeño Corn Bread
Adapted from: Cooking Light, December 2009
1 cup buttermilk*
1/4 cup canola oil
3 tablespoons sugar
1/2 teaspoon salt
2 eggs
4 teaspoons baking powder
1 cup cornmeal
1 cup all-purpose flour
1 jalapeño pepper, diced
Preheat oven to 450 degrees F. Coat a 2 quart baking dish with cooking spray.
In a large bowl, combine the buttermilk, oil, sugar, salt, and eggs. Stir with a whisk. Whisk in baking powder. Add cornmeal, flour, and jalapeño, stirring to incorporate fully. Pour batter into the baking dish. Bake for 20 minutes, or until lightly browned.
Makes: 8 slices
*You can also make your own buttermilk by add 1 tablespoon distilled white vinegar to a liquid measuring cup, then fill to the one cup line with milk. Let sit for 5 minutes.
Adam really enjoyed this dish, although I thought it was just okay. The slightly spicy, slightly smoky southern flavors did meld well together though. While it may not have been my favorite dish, it definitely was a nice change of pace in flavors in my comfort food.
As a side note, rubbing your eye after chopping a jalapeño is not really the best way to test how hot that particular pepper is. I really need to break some of these bad habits...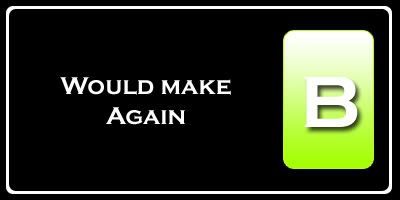 Nutrition Facts - Ancho Pork & Hominy Stew
Amount per serving
Calories 265
Calories from fat 62
% Daily Value
Total Fat 6.9g
11%
Saturated Fat 1.5g
8%
Trans Fat 0.0g
Cholesterol 55mg
18%
Sodium 734mg
31%
Total Carbs 27.1g
9%
Dietary Fiber 6.2g
25%
Sugars 6.1g
Protein 23.8g
Vitamin A 45%
Vitamin C 63%
Calcium 5%
Iron 17%
Nutrition Facts - Jalapeño Corn Bread
Amount per serving
Calories 222
Calories from fat 80
% Daily Value
Total Fat 8.9g
14%
Saturated Fat 1.1g
6%
Trans Fat 0.0g
Cholesterol 48mg
16%
Sodium 203mg
8%
Total Carbs 31.2g
10%
Dietary Fiber 1.6g
7%
Sugars 6.5g
Protein 5.3g
Vitamin A 2%
Vitamin C 2%
Calcium 15%
Iron 9%