Have you ever made a happy mistake in the kitchen? You know, the kind where you completely mess up a recipe, but it turns out even better than the original? I frequently make mistakes, although most end up in the "edible" category rather than the "happy" one.
As much as I like to think I have a pretty good handle on how much is left of the food staples in the kitchen, there are times when things get overlooked. And of course I get halfway through a recipe before I realize I'm short on a particular key ingredient. It was one of those nights when I was scrounging through the pantry trying to figure out if I had anything that could go together to make a meal -- so I was already starting off slow. After starting to melt some butter and chopping the shallots I realized I was a good cup short on chicken broth. Instead of going into my typical "send the husband to the store" mode, I was determined to figure out something else to use. Ah, well, there's some apple cider hanging out in the fridge begging to be used. Why not?
Why not indeed? It ended up being the perfect fall twist for a chilly fall night.
Apple Cider and Bacon Risotto
From: Original Recipe
4 cups fat-free low-sodium chicken broth
1 cup apple cider
3 tablespoon butter
1 cup finely shallots
1 1/2 cup arborio rice
3 tablespoons wheat beer (optional)
1 cup grated Parmesan cheese
4 strips bacon
1/2 teaspoon salt
1/4 teaspoon pepper
Bring broth and cider to boil in medium saucepan. Reduce heat to low; cover saucepan.
Cook bacon in a medium skillet over medium heat until done. Remove to a paper-towel lined plate. Reserve 1 tablespoon drippings. Crumble once cooled.
Melt 2 tablespoons butter in a wide medium saucepan (such as a
10" omelette pan
) over medium-low heat. Add shallots; saute until very tender but not brown, about 15 minutes. Increase heat to medium. Add rice and beer, stir 1 minute or until the liquid is evaporated. Add 1 1/2 cups warm broth. Boil gently until broth is absorbed, stirring frequently. Add another 1 cup broth; stir until broth is absorbed. Add remaining 2 1/2 cups broth, 1/2 cup at a time, allowing broth to be absorbed before adding more and stirring frequently until rice is tender and creamy, about 25 minutes. Stir in 1 tablespoon butter, 1 tablespoon bacon drippings, 1 cup grated cheese, and crumbled bacon. Season with salt and pepper. Transfer to bowl to serve.
Serves: 6
Note: One soup ladle is usually equal to 1/2 cup -- which makes transferring the broth to the rice much much easier (no measuring needed).
There are all kinds of ways you can alter and play with this recipe. Pumpkin beer also goes well instead of a wheat beer, and you can easily switch out the shallots for onions. And let's not forget veggies are always a welcome addition, if you're in to that sort of thing.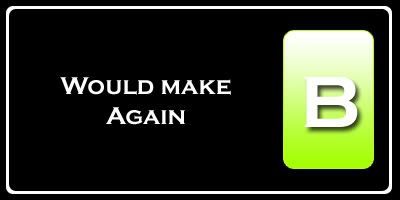 Nutrition Facts
Amount per serving
Calories 408
Calories from fat 145
% Daily Value
Total Fat 16.1g
25%
Saturated Fat 8.3g
42%
Trans Fat 0.0g
Cholesterol 44mg
15%
Sodium 1090mg
45%
Total Carbs 48.3g
16%
Dietary Fiber 1.4g
5%
Sugars 4.7g
Protein 15.7g
Vitamin A 11%
Vitamin C 4%
Calcium 21%
Iron 9%
If you are participating in the Get Up and Move Challenge, congrats on making it halfway! Only 15 more days left to go! If you are new to the Challenge, you can always jump on board (you can
start at the beginning
if you'd like).
Get Up and Move Challenge Day 15: Learn how to identify a
correct
portion size.
Sometimes it can be frustrating when people have a weight loss goal in mind, yet despite changing what they eat and exercising more, that scale just doesn't seem to budge. While both changes are excellent starts toward improving your health, sometimes we focus so much on what we are eating, we forget about
how much
.
Too many times we pull the Cheerios down from the shelf, fill ourselves up a bowl, and munch away. Wait, where's the problem there? No problem, unless you thought one serving size was the entire bowl. When attempting to eat healthier, it is also important that we start to recognize proper serving sizes. In the case of Cheerios, it's
one cup
, not an entire bowl. Now I know you're going to say "but there's no way I can only eat that, I'll be hungry in 1/2 an hour". And that's fine if you need to eat two servings. Just go into it knowing that it's two or three servings -- which can add up to a difference of 100-200 calories. Not a huge, day-ending difference, but that fact is that most people over-consume on portion sizes every.single.meal and have no idea they are doing it. And this leads to the scale not budging when you think it should.
How in the world do we go about learning how to recognize the correct serving size?
Let's start with something easy. Go check out your everyday drinking glasses.
Most people typically have two sizes - 16 ounces (or the "regular" ones) and 7 or 8 ounce "juice" glasses. That's right, one of those little glasses is
one serving size
of juice, soda, or milk. Once again, is drinking a full 16-ounce glass of milk wrong? No. You just have to factor in that it is
two
servings, not one.
If you filled your cereal bowl up to the top (3 servings) with Cheerios and had a large glass of orange juice thinking those were the right portion sizes, you would be under estimating your intake by over 325 calories at breakfast alone! See where this is headed?
That's all well and dandy, but when I'm out eating, how am I supposed to know what a serving size looks like without measuring it?
MyPryamid.gov
is a great place to check out what actual serving sizes of certain foods look like:
5 ounces of Beef Strip Steak
6 slices of Deli Ham
2 slices Swiss Cheese
1/2 cup Chocolate Pudding
There are other methods for recognizing portion sizes, such as:
1 cup of cereal = a baseball
2 tablespoons of salad dressing = a shot glass
1 ounce of nuts = a cupped palm
1 ounce of cheese = a ping-pong ball
3 ounces of hamburger = a mayonaise jar lid
1 tablespoon of peanut butter = three dice
1/2 cup of rice = an ice cream scoop
1 potato = a computer mouse
1 dinner roll = a yo-yo
1 teaspoon of butter = a Scrabble tile
1/2 cup of cooked pasta = a golf ball
3 ounces of fish = a checkbook
3 ounces of beef = a bar of soap or a deck of cards
WedMD
also has great pictures showing these relationships as well.
Is figuring out correct portion sizes tough? When you are first learning, yes. It can be hard, tedious, tiresome, and makes you want to throw in the towel and say you don't care. Re-learning what correct portion sizes look like is not a quick-fix-lose-weight-fast diet trick. Being able to recognize correct portion sizes is a
lifestyle change
that will stick with you down the road and help you to make healthier choices in any kind of situation.
What is an example of something you thought was one serving size, and later found it was actually much more?