Raise your hand if you've seen enough turkey to last you for a very long, long while. Or mashed potatoes. Or green bean casserole. Mine's raised. Don't worry, I will have a recipe or two for you that will work excellent for any upcoming holiday feasts, but let's take a break from all that heavy goodness.
Instead, let's switch it up a bit. Let's have some pork with an Asian flair that involves barely any work to throw together. I'm game.
Korean Pork Tenderloin
Adapted from:
Cooking Light
, September 2002
1/3 cup soy sauce
2 tablespoons sugar
1 teaspoon ground ginger
3 tablespoons rice vinegar
1 tablespoon sesame oil
1/4 teaspoon crushed red pepper
4 garlic cloves, minced
1 pound pork tenderloin, trimmed
Cooking spray
In a large ziploc bag, combine first 7 ingredients (through garlic). Add pork, seal, and roll tenderloin to coat. Marinate in refrigerator 8 hours or overnight, turning occasionally.
Preheat oven to 425 degrees F. Line a deep baking pan with foil.
Heat a large skillet coated with cooking spray over medium-high heat. Remove pork from bag. Reserve marinade. Brown pork in pan, about 1 minute per side.
Transfer pork to baking dish. Bake at 425 degrees for 20 minutes, or until 160 degrees. Let stand 5 minutes before slicing.
Meanwhile, in a small saucepan, bring reserved marinade to a boil. Reduce heat, and simmer 5 minutes.
Cut pork into 1/4-inch-thick slices; serve with sauce.
Serves: 4
This pork was excellent and a perfect change from the fall flavors and heavy casserole type dishes we've been eating as of late. It was sweet and savory and paired well with the garlic fries. Don't skimp out on cooking the marinade -- it really gives the pork a big punch of flavor. As long as you remember to prepare this in advance (which I had a tendency to keep forgetting), it's great for a quick, low-stress meal.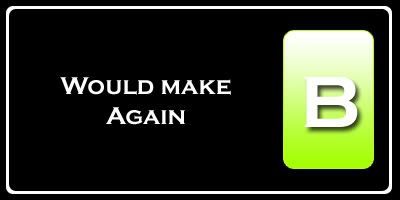 Nutrition Facts
Amount per serving
Calories 243
Calories from fat 68
% Daily Value
Total Fat 7.6g
12%
Saturated Fat 1.9g
9%
Trans Fat 0.0g
Cholesterol 83mg
28%
Sodium 1263mg
53%
Total Carbs 9.3g
3%
Sugars 6.7g
Protein 31.2g
Vitamin A 1%
Vitamin C 2%
Calcium 2%
Iron 10%
Get Up and Move Challenge Day 29: Is exercising while pregnant safe?
Only one more day left in the Get Up and Move Challenge! I really can't believe we've made it this far!
Today we're going to look at the safety of exercising while pregnant, as many women are unsure if it's safe at all, let alone what level they should be exercising at.
Not only is exercise safe to perform while pregnant, it can help to improve the health of the pregnancy as well. Obviously, a women's body goes through many changes while pregnant. Increases in the levels of estrogen, progesterone, human chorionic gonadotropin (HCG), relaxin, prolactin, and oxytocin all help to transform the female body into a nice safe place for the baby to grow.
Weight gain during pregnancy is expected and necessary, however, there is a point where it can become excessive. The current weight gain goal for females is between 25-35 pounds. Now, not all of this weight is caused from a simple gain in fat tissue. In fact, only about 7 of those pounds is extra protein, fat and nutrients stored by the mother. The other weight comes from (at full term):
7.5 pounds from the baby
4 pounds from extra blood
4 pounds of additional body fluids
2 pounds of increased breast tissue
2 pounds of increased uterus weight
2 pounds of amniotic fluid
1 1/2 pounds from the placenta
This extra 7 pounds of fat weight should come from an additional 300 calories consumed per day [1]. Yup, 300 extra calories per day, that's all that's needed.
If you find yourself eating healthy and not to excess, yet still gaining lots of weight, don't worry. Your body is designed to increase your fat stores during the first two trimesters.
In the past, worries arose regarding exercising while pregnant for two main reasons: 1) the increased blood flow during exercise would be diverted away from the fetus causing a decrease in the nutrients and other essential items during this time period; 2) the mother's core temperature would rise, causing an increase in fetal temperature and affecting the narrow pH of the blood. Good news! As long as exercise is within reason (not a marathon), and the mother stays adequately hydrated, the baby will be just fine.
In fact, low to moderate-intensity exercise is actually encouraged during pregnancy. Exercising promotes a healthy weight gain, reduced occurrence of gestational diabetes, adequate blood pressure, a decreased risk of preeclampsia, improved circulation (reduces or prevents swelling), as well as an easier pregnancy and labor and delivery.
How do I need to modify my exercise while pregnant?
First off, there are certain contraindications for exercising while pregnant, some of which include: significant heart disease, restrictive lung disease, incompetent cervix (which you would most likely be on bed rest anyways), pregnant with multiples, persistent bleeding, placenta previa after 26 weeks, a previous premature pregnancy, ruptured membranes, and preeclampisa or pregnancy induced hypertension.
For those healthy females with a healthy pregnancy, prior to starting a training program, talk with your OB and get their clearance.
While pregnant, you are able to continue with most activities, just at a lower intensity. You are still aiming for at least 3 days per week, building to at least 30 minutes per day. You should be working out at a low to moderate-intensity. The recommended heart rate ranges are broken down by age as follows:
less than 20: 140-155 bpm
20-29: 135-150
30-39: 130-145
greater than 40: 125-140
Activities such as soccer, basketball, contact sports, those with a high risk of falling (skiing, horseback riding, rock climbing), or activites that cause jarring or sharp changes of directions should be avoided. However, things such as cycling, walking, jogging, swimming, and even resistance training are all still on the table. Other things to avoid involve supine positions (on your back) after the first trimester, motionless standing, vigorous activity in the first trimester, the valsalva manuever, and exercising within 6 weeks post-delivery (your doctor will need to clear you to start exercising again).
During exercise, make sure to extend your warm-up and cool-down periods to at least 5-10 minutes. Also, make sure to stay hydrated! It is recommended to take in 8 ounces every 30 minutes (having a bathroom nearby is also handy). Try focusing on strengthening your abs, back, pelvic floor, and other muscles involved in labor (such as your inner thighs).
Just because you are pregnant doesn't mean you have to give up exercising. You can still perform many of your favorite workouts, just at a lower intensity. Remember, if you aren't feeling well, you don't have to push yourself to work out. Your goal should not be to train for an upcoming race while pregnant, but instead simply to have a healthy and easier pregnancy. Over-exercising
can
have detrimental effect to the fetus, so make sure to stay within your appropriate heart rate range and a reasonable duration.
[1] American College of Sports Medicine. Resource Manual for Guidelines for Exercise Testing and Prescription. Philadelphia, PA: Lippincott Williams and Wilkins, 2010.