World Peace Cookies, named for the thought that a daily dose of these cookies is all that is needed to have peace and happiness throughout the world. Such a lofty goal for such a simple cookie.
I can't say that I would jump on the full-agreement train, but these cookies are delicious. These are not your typical moist, tender, chewy cookies. These are shortbread cookies. They aim for crispiness, a little bit of crunchiness, and melt in your mouth tenderness. And they're chocolate. Come on now, seriously.
Glass of milk? Yes please.
1 1/4 cups all-purpose flour
1/3 cup unsweetened cocoa powder
1/2 teaspoon baking soda
11 tablespoons unsalted butter, at room temperature
2/3 cup light brown sugar, packed
1/4 cup sugar
1/2 teaspoon kosher salt
1 teaspoon vanilla extract
5 ounces (3/4 cup) mini chocolate chips
In a medium bowl, combine flour, cocoa, and baking soda.
In the work bowl of a mixer, beat butter until smooth (but not fluffy). Mix in brown sugar, white sugar, vanilla, and salt and continue beating until mixture becomes fluffy, about 2 minutes. Slowly add dry ingredients while continuing to mix. Beat until just blended (mixture will be very dry and almost crumbly). Stir in chocolate chips.
Turn dough out onto a clean surface. Shape dough into a ball, then divide in two. Roll dough halves into 1 1/2-inch logs, then wrap with plastic wrap. Place in fridge to chill for 3 hours (up to 3 days).
Preheat oven to 325 degrees F. Line baking sheets with parchment paper.
Slice chilled dough logs crosswise into 1/2-inch thick coins. Place on baking sheets about 1-inch apart. Bake one sheet at a time for 11-12 minutes. The cookies will not appear done or firm, but remove from oven. Allow to cool on a baking rack until warm.
Makes: 36 cookies
Now don't go about trying to take out the salt and use less butter and all that nonsense. The salt really helps to make the chocolate in these cookies sing, and the butter. Well, it's butter. It does what it does best (and anyways, it's pretty much the only "wet" ingredient in here, so you definitely don't want to reduce that or you will have crumbles not cookies).
While these may not be my favorite.cookie.ever, they are very addicting. I'm not sure where all 36 of these disappeared to, I refuse to believe it was my stomach. But I have a pretty good feeling I'm wrong on that one.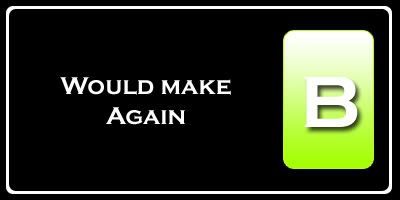 Nutrition Facts
Amount per serving
Calories 86
Calories from fat 44
% Daily Value
Total Fat 4.8g
7%
Saturated Fat 3.1g
16%
Cholesterol 10mg
3%
Sodium 77mg
3%
Total Carbs 10.1g
3%
Dietary Fiber 0.5g
2%
Sugars 6.1g
Protein 0.9g
Vitamin A 2%
Vitamin C 0%
Calcium 1%
Iron 2%
Get Up and Move Challenge Day 12: Does eating healthy mean I have to give up desserts and sweets?
Absolutely not.
"Healthy eating" is considered eating a nutritionally balanced diet, which by all accounts, can include a sweet here and there. Now, this doesn't mean you can live off of cheesecake and ice cream, but you can indulge every once in a while.
If you find yourself succumbing to one of those new-fangled "diets" out there that cut you off from such a thing, run away and take your chocolate with you. Diets that claim you can't-eat-such-nonsense are wrong, and can really set you up for failure. The key, my friends, is all about moderation.
If you've ever tried to steer away from sweets or certain cravings because they're "bad" for you, you know that substituting something else just does.not.work. So by the time you finally give in to that chocolate cake craving, half the cake disappears and you have a belly-ache for three days. This is just not the way to go about it. Instead of munching on granola when what you
really
want is a cookie, eat the cookie. Eat a small cookie, and eat it slow. Really take the time to enjoy it. And then walk away. Craving satisfied.
Don't believe me? A recent study has shown that trying to suppress thoughts about cravings actually leads to consuming more of it when you do eat it [1], which isn't really what we're going for.
So how do we approach desserts and our need for a sweet-fix? With reckless abandon? Once a week?
How about, in small amounts when those cravings do hit.
Do you have to have a cupcake right now? Bake mini cupcakes instead of full size, eat one, save one for later, and take the rest of them to work.
What about those cookie cravings? Chill the dough, roll it into a log, then freeze it until the craving hits. Slice off one or two cookies and bake. Craving satisfied, and no extra cookies sitting around tempting you.
Then there's that ice cream beckoning to you in the freezer. Scoop out one serving size (not 5 scoops), and put the rest back into the freezer, rather than eating out of the container.
And then there's desserts at a restaurant. I just can't resist cheesecake from the Cheesecake Factory. Cut it in half right when it comes and ask your server to bag the rest for you to take home. Out of sight, out of mind and you won't miss it.
Last but not least, plan for it. If you know the chocolate craving hits around 3:00pm, keep a few Hershey's Kisses in your desk and have a couple (not the whole bag). Just go into the day knowing that you will eat them and work them into your diet plan, much like you do breakfast, lunch, and dinner. If it's planned for, and eaten in moderation, there's no reason you can't enjoy a little bit of happiness every day.
What are your favorite desserts, and how do you work them into your day?
[1] Erskinea JAK and Georgioub GJ. Effects of thought suppression on eating behaviour in restrained and non-restrained eaters.
Appetite.
2010;54(3):499-503.