I totally feel like the weekend is already over, and it's not even Sunday yet (or well, I guess it is now...). I think doing the whole Thursday & Friday up in Pittsburgh really throws me off. However, I can't wait until Thursday so I can go to KC!! Woot!
So as the title claims, I really think I may have a slight, or massive, addiction to chocolate -- I made chocolate cupcakes, AGAIN. However, in my defense, it was mostly because Adam was begging me to while giving me the puppy dog eyes. How can I refuse that? And... it's chocolate cupcakes. Seriously, who am I to resist?
Well, before I go into depth on the amazing chocolate cupcakes, which may or may not have Thin Mints mixed in, I must also rave on another new chicken recipe I tried out. I got this one from Mrs W (an RB, of course) and it's actually pretty simple to make and only has a few ingredients.
Chicken with Cream Cheese Sauce
3 chicken breasts, trimmed and kept whole or cut into strips or chunks
1 can chicken broth, separated
4-8 cloves garlic
red pepper flakes
4 oz cream cheese
1.5 tbs flour
2 tsp white wine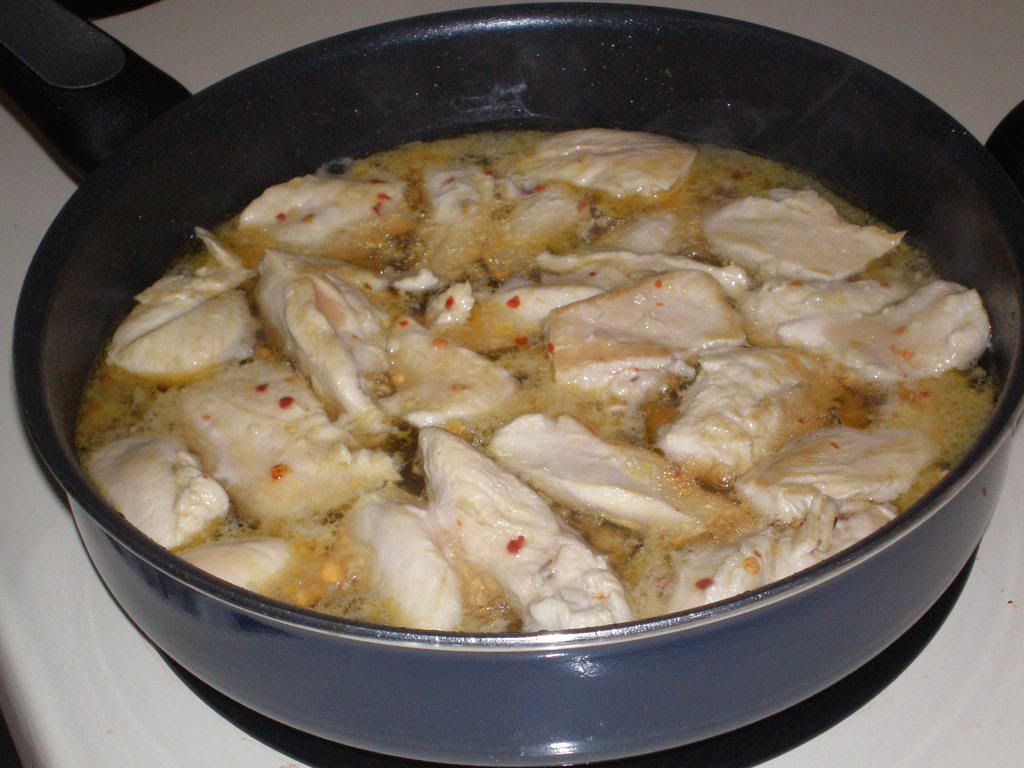 Put chicken in large pan with a little bit of olive oil. Add red pepper flakes and pressed garlic. After 1-2 min, add white wine to deglaze the pan and then add ¾ can chicken broth. Bring to a boil then simmer 20-25 min until chicken is cooked. Remove chicken and place in a covered dish; keep warm.
Mix flour with remaining broth and add to pan; mix. Add cream cheese, mix until thick and bubbly. Pour sauce over chicken (this is great served over rice, egg noodles, or with steamed or stir-fried vegetables).
Although I forgot to make any rice or noodles to go with it, but it worked just fine without it.
Now about those decadent cupcakes... I was really worried to begin with once I brought all the ingredients home to Adam's apartment and realized he didn't even have a mixer. I was in luck though, and he did have a muffin pan (but oh so little else). So after hand mixing everything together, the batter was still super lumpy, although I think they ended up turning out okay.
Adding the Thin Mints to the cupcakes gives them just a little crunch and a light minty flavor. Depending on how minty you want them determines how many Thin Mints you add. (Although I'm sure Keebler Grasshoppers would probably work here too if you just can't part from those cookies.)
Dark Chocolate Thin Mint Cupcakes
Duncan Hines Dark Chocolate Fudge Cake Mix
3 eggs
1/2 cup vegetable oil
1 1/3 cup water
Girl Scout Thin Mints
Betty Crocker Whipped Vanilla Frosting
Prepare cake mix as directed by back of box. Crush several Thin Mints. Fill cupcake tins 1/4-1/3 full with batter, add a layer of crushed Thin Mints, then finish filling cup 1/2-2/3rds full with batter. (You could probably also just mix the crushed cookies into the batter prior to filling cups, I just did this as an afterthought.)
While cupcakes are cooling, grind 5-6 cookies and mix into Vanilla Frosting. Once cupcakes are cooled, frost and enjoy!