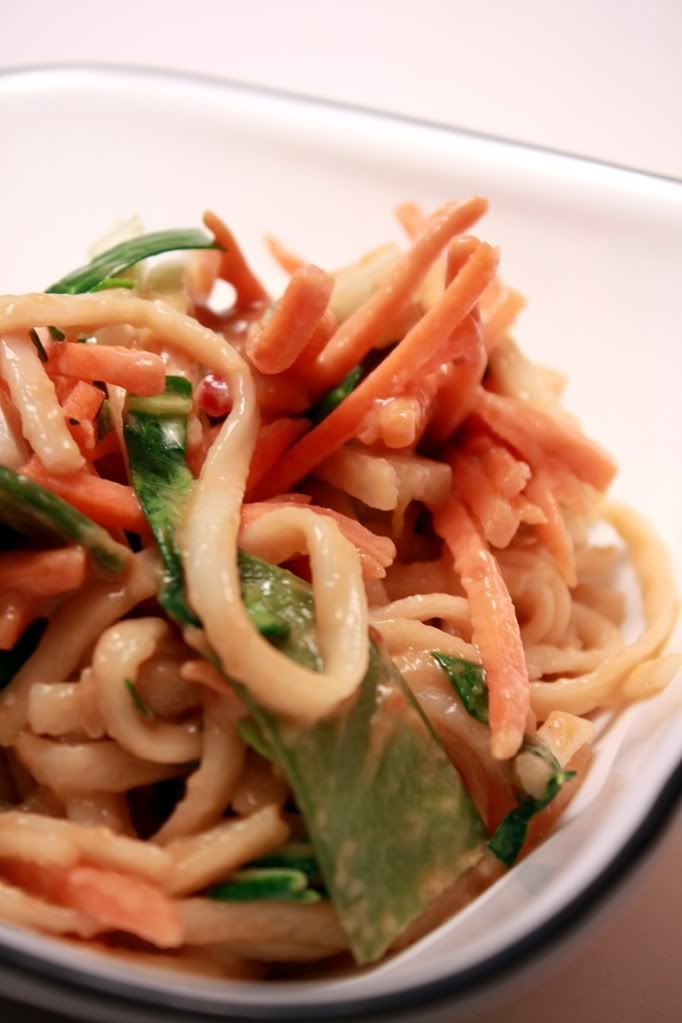 I have decided it is time for a new category label to go along with the 27 other labels under "Choices, Choices...". So why is this a big deal? Well, rather than the typical label of "Chicken" or "Beef" I've decided to add a "Healthy" option for those out there looking for something that is not ridiculously high in calories and/or saturated and trans fat. Healthy recipes will have this little guy:
hanging out, so you can tell right away rather than hunting for the label at the very end of the post. I will also post the nutrition facts (using
this
calculator) for these recipes so you can see what kind of nutritional value we're talking about here.
Is this going to completely change my blog? No. I'm not going to only post healthy things from here on out. Cakes and brownies and cupcakes and cookies will still make their presence known as well as maybe not-so-healthy main dishes. I just wanted to take the guess-work out of dinner for those out there looking for a healthy meal.
As for this dish? Yes, it fits in that category. And totally doesn't taste like it belongs at all.
Update: I have since changed my healthy rating system. Check out this post to see the new changes!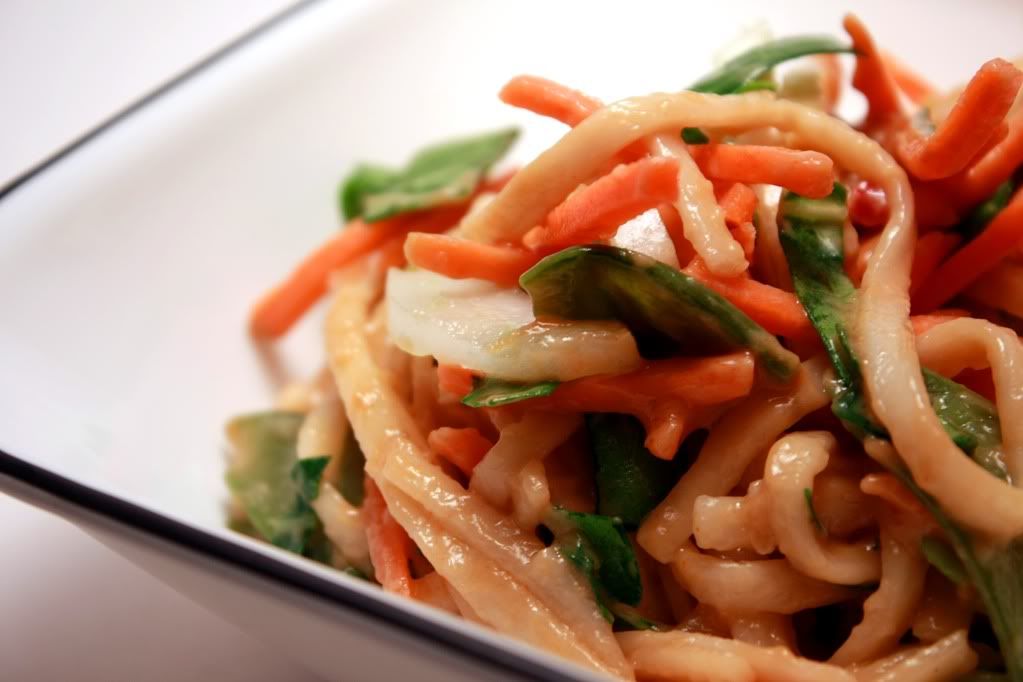 Udon Noodles with Asian Vegetables and Peanut Sauce
Adapted from:
Cooking Light
, April 1997
6 tablespoons water
1/4 cup creamy natural peanut butter
2 tablespoons brown sugar
2 tablespoons soy sauce
2 tablespoons rice vinegar
1/2 teaspoons ground ginger
1 1/2 teaspoons sesame oil
1/2 teaspoon cornstarch
1/2 teaspoon chile paste with garlic
2 garlic cloves, minced
8 ounces uncooked udon noodles (or spaghetti)
4 cups sliced bok choy
2 cups snow peas, halved crosswise
1 cup shredded carrot
Cook noodles according to package directions. Drain well.
Combine first 10 ingredients in a small saucepan; stir with a whisk until blended. Bring to a boil; cook 1 minute, stirring constantly. Set aside.
Combine noodles, peanut sauce, bok choy, snow peas, and carrot in a large bowl, and toss well to coat.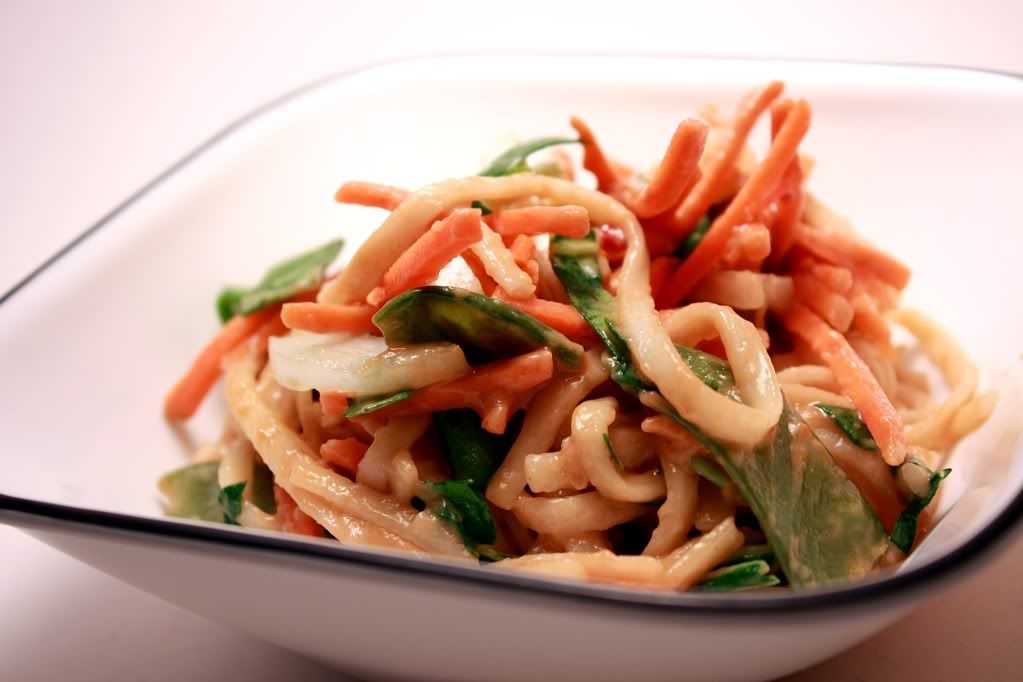 Prior to making this dish, I had never worked with bok choy. To slice the bok choy, I simply separated the leaves from the stem, sliced the stem lengthwise in half, then sliced it in about 1/4" sections. I then rolled up the leaves and sliced them that way.
Adam and I really liked the peanut sauce on this dish. And I also liked the fact that I had basically everything I needed except the fresh veggies and udon noodles. This takes a bit of prep work, but if you put your water on to boil for the noodles and then start prepping, the whole dish pretty much comes together in the time it takes for the water to boil and then to cook the noodles (under 30 min).
Nutrition Facts
Amount per serving
Calories 390
Calories from fat 106
% Daily Value


Total Fat 11.8g
18%


Saturated Fat 2.0g
10%


Trans Fat 0.0g


Cholesterol 0mg
0%


Sodium 1279mg
53%


Total Carbs 57.1g
19%


Dietary Fiber 7.9g
32%


Sugars 16.5g


Protein 16.9g


Vitamin A 171%
Vitamin C 120%


Calcium 13%
Iron 26%