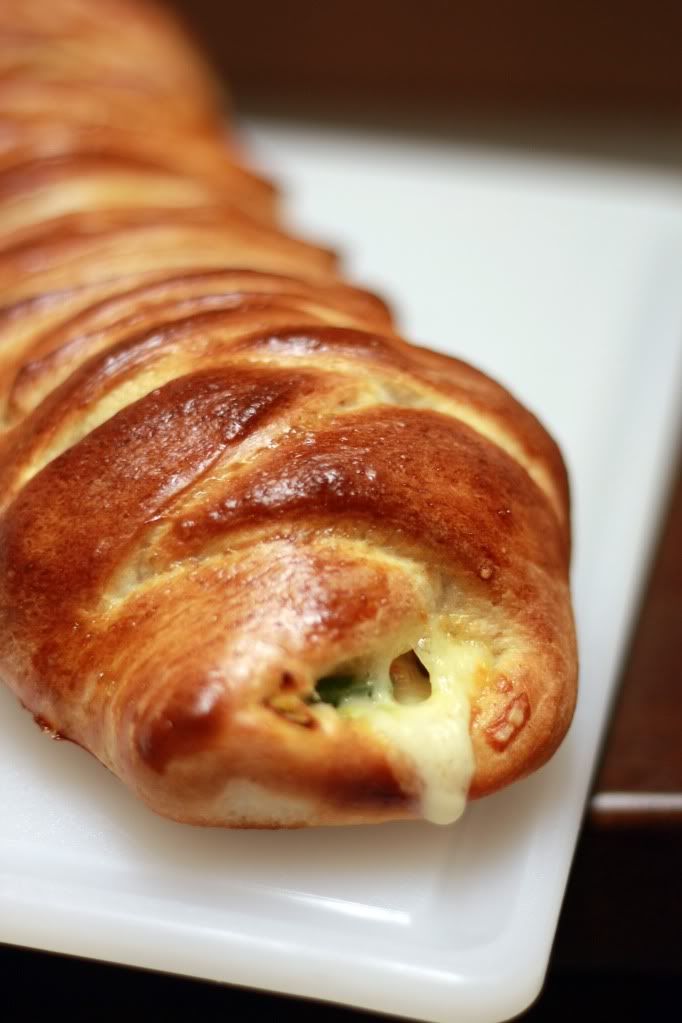 I am not a "decorating" type of person. I don't pretend to be. The best I do when baking is to haphazardly throw some icing in circles on the top of a cupcake. My cakes lean and my frosting is never smooth. I just don't do pretty. I leave that up to my sister. :D
That said, I was a little hesitant to try this recipe simply because it involved making something look pretty. But it had sausage and eggs and
cheeeeeese
and jalapenos. I figured Adam was going to be the only other person to see it, so if it looked bad... no one else would have to know. Well, it didn't look horrible... just like loaf of bread wearing a straight jacket. Nothing wrong with that, right?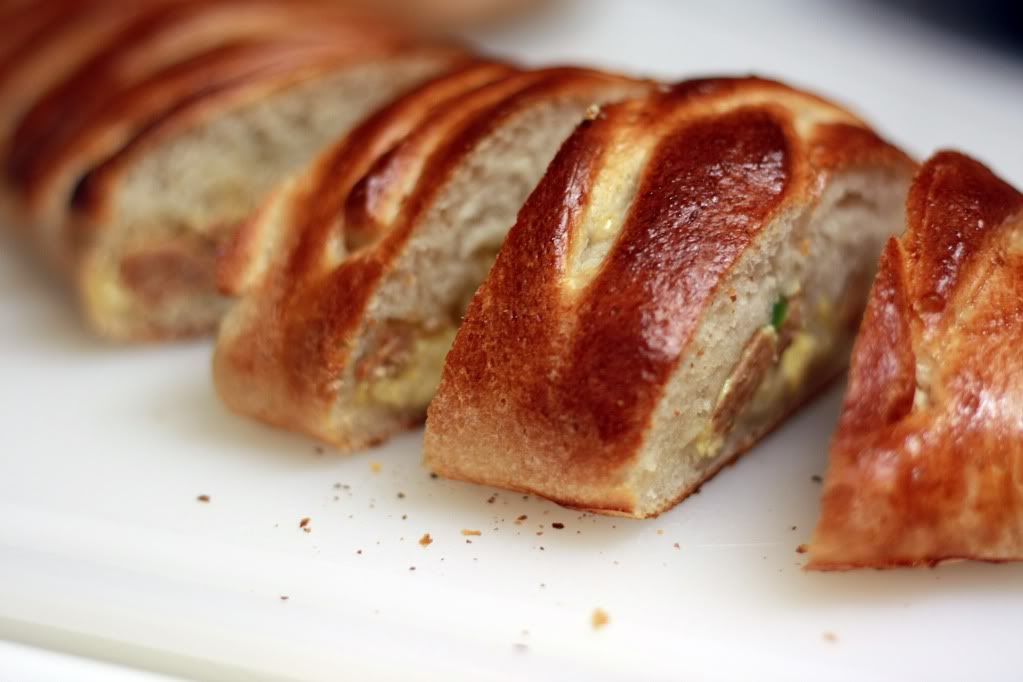 Jalapeño, Sausage, Jack, and Egg Breakfast Braid
From:
Cooking Light
, January 2010
1 (13.8-ounce) can refrigerated pizza crust dough
Cooking spray
1 tablespoon olive oil
1/4 cup chopped onion
4 ounces chicken sausage with jalapeño peppers, chopped
2 large eggs, lightly beaten
1/2 cup (2 ounces) shredded Monterey Jack cheese
1/4 cup shredded cheddar cheese
1/4 cup chopped seeded jalapeño peppers
1 large egg white, lightly beaten
Preheat oven to 425°.
Unroll dough onto a baking sheet coated with cooking spray; pat into a 15 x 10–inch rectangle.
Heat oil in a large skillet over medium heat. Add onion and sausage; cook 9 minutes or until lightly browned. Stir in eggs; cook 1 1/2 minutes or until set. Remove from heat.
Sprinkle Monterey Jack lengthwise down center of dough, leaving about a 2 1/2-inch border on each side. Spoon egg mixture evenly over cheese. Sprinkle cheddar over egg mixture; top with jalapeño peppers.
Make 2-inch-long diagonal cuts about 1 inch apart on both sides of dough to within 1/2 inch of filling using a sharp knife or kitchen shears. Arrange strips over filling, alternating strips diagonally over filling. Press ends under to seal. Brush with egg white. Bake at 425° for 15 minutes or until golden brown. Let stand 5 minutes. Cut crosswise into slices.
Despite how it ended up looking, this actually was pretty good. I couldn't find the right kind of chicken sausage, however, so I ended up using chicken sausage with roasted peppers and asiago cheese instead -- which wasn't bad, I think I was just looking for something a little more spicy. Next time I'd probably use some pepper jack instead of the monteray cheese.
The other thing about this dish that surprised me was how quick it came together. Here I was thinking I would have plenty of time to roll out my pizza dough while the sausage cooked but after grating up the cheese and dicing the jalapeno... not so much. I don't think my egg/sausage mix was any worse for the wear sitting in the pan off the heat for a minute or two, but next time I would actually follow the directions the way they were written. Oops. :)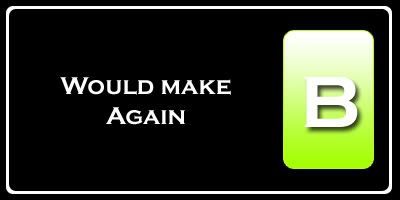 Nutrition Facts
Amount per serving
Calories 474
Calories from fat 305
% Daily Value


Total Fat 33.9g
52%


Saturated Fat 10.4g
52%


Trans Fat 0.0g


Cholesterol 100mg
33%


Sodium 568mg
24%


Total Carbs 28.5g
10%


Dietary Fiber 2.4g
10%


Sugars 0.7g


Protein 13.7g


Vitamin A 5%
Vitamin C 4%


Calcium 12%
Iron 13%