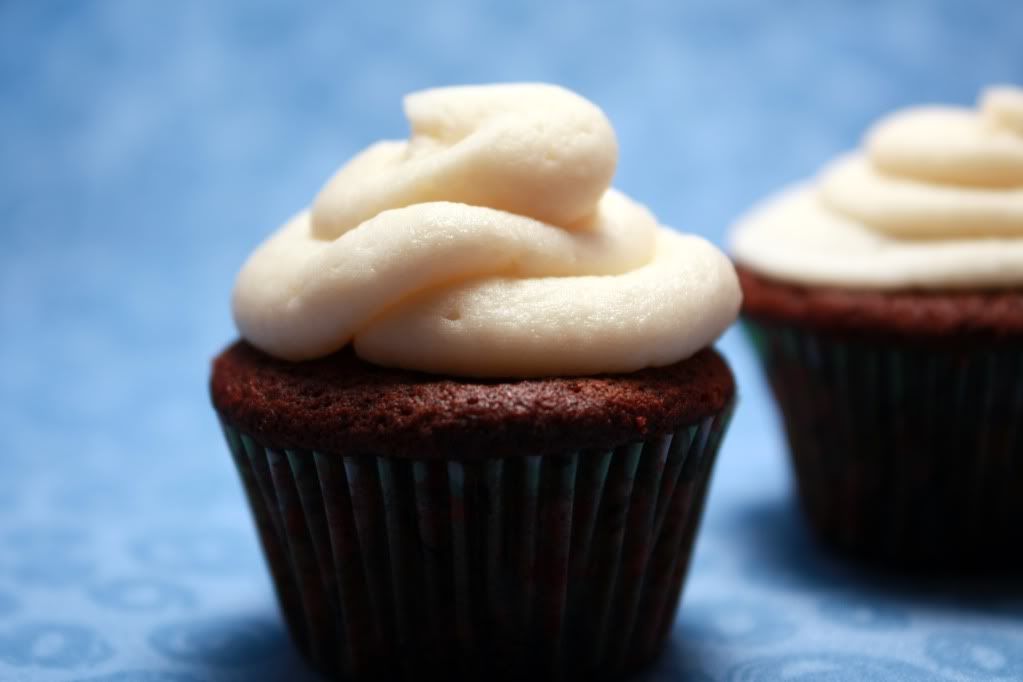 First and foremost, I have to wish an extremely HAPPY BIRTHDAY to my sister. After all, that was the whole brainchild behind this recipe.
Near the end of November I was just starting to get into the holiday baking mood and trying to come up with Christmas presents for people. And birthday presents for both Marion and Jennifer (I mean seriously, some people just like getting their gifts all at once...). On top of that I was trying to figure out with my sister what all we were going to be making once we got home for our "cookie plate".
Baked goods... presents... birthdays... all of a sudden it hit me. I knew what kind of cake I was going to make my sister for her birthday. Back when I was living with my sister (before she was pregnant with Michael) one of her favorite drinks was an amaretto and Bailey's on the rocks. It never sounded too appealing to me, but to each their own. After making my
Dark Chocolate Cake with a Raspberry Mascarpone Filling
I knew that was the cake base I was going to use. And I had made a Bailey's frosting before, for my
Irish Car Bomb Cupcakes
which went over really well. Bingo.
I did cheat and made this in a cupcake form when my parents came up to visit in mid-December (hence the pictures). However, we had a beautiful 3-layer-leaning-tower-of-cake that my mom so graciously decorated for my sister for when we actually celebrated her birthday.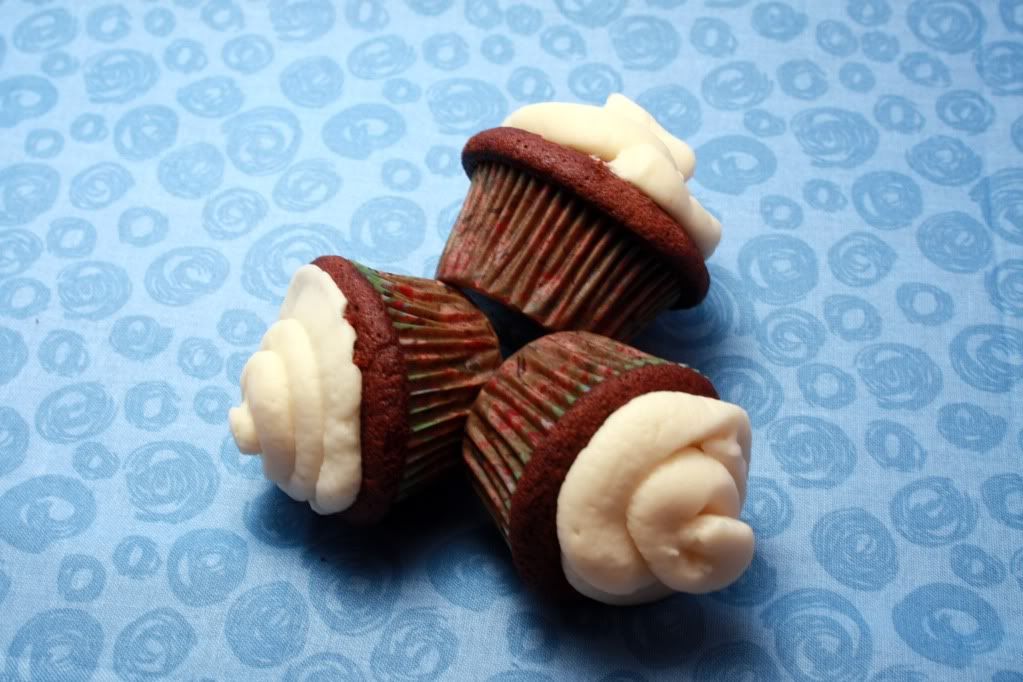 Amaretto and Bailey's Chocolate Cake
Cake based on
this
recipe
For Cake:
1 cup boiling water
1 cup amaretto
1 cup unsweetened cocoa powder
2 3/4 cups all-purpose flour
2 teaspoons baking soda
1/2 teaspoon baking powder
1/2 teaspoon salt
1 cup butter, at room temperature
2 1/4 cups white sugar
4 eggs, at room temperature
1 1/2 teaspoons vanilla extract
3+ teaspoons almond extract (to taste)
For Frosting:
1 cup butter, room temperature
4 cups confectioners' sugar
2 1/2 tablespoons Bailey's (to taste)
2+ tablespoons milk (for consistency)
For Cake:
Preheat oven to 350 degrees F (175 degrees C). Grease (well) 3 - 9 inch round cake pans. In medium bowl, whisk together cocoa and amaretto. Pour boiling water over cocoa mixture and whisk until smooth. Let mixture cool. Sift together flour, baking soda, baking powder and salt; set aside.
In a large bowl, cream butter and sugar together until light and fluffy. Beat in eggs one at time, then stir in vanilla and almond extracts. Add the flour mixture alternately with the cocoa mixture. Spread batter evenly between the 3 prepared pans.
Bake in preheated oven for 25 to 30 minutes. Allow to cool.
For Frosting:
In a large bowl, cream together butter and Bailey's until smooth. Slowly mix in sugar, one cup at a time. If consistency is too thick, add milk until spreadable. Add more Bailey's if desired.
Now, I am not the biggest fan of Bailey's, so I thought this cake was just "okay". Wait, I take it back, I LOVED the chocolate cake, but the frosting to me was ho-hum. However, everyone else raved about the cake, and even one person who doesn't really care for chocolate cake had this gone within seconds, commenting how good it was.
The cake itself was soft and moist, definitely chocolate with a nice hint of almond flavor coming through. When making this, don't be shy about adding the almond extract. It has to be fairly prominent to be able to come through the chocolate and Bailey's.
Despite celebrating a little early, I think the birthday girl liked the cake pretty well. :)
Nutrition Facts
Amount per serving
Calories 585
Calories from fat 226
% Daily Value


Total Fat 25.1g
39%


Saturated Fat 15.4g
77%


Cholesterol 108mg
36%


Sodium 1585mg
66%


Total Carbs 77.7g
26%


Dietary Fiber 2.4g
9%


Sugars 70.0g


Protein 5.0g


Vitamin A 15%
Vitamin C 0%


Calcium 3%
Iron 11%