Every time I get a new food magazine I flip through and put a star next to recipes that sound interesting. Eventually I will go back through these magazines and cut these recipes out and move them to a binder. After that, it's kind of up in the air when I will get around to making said recipes. As for this recipe, it has been tucked away in my binder (hiding out on the front page) for almost a year. While trying to make my list of meals for the week, I knew both Adam and I had Friday off and had nothing planned so I figured it might be a good time to make a meal that was a little more involved than my quick and easy recipes.
This bread takes just shy of 2 hours to mix, allow to rise, and bake. It's kind of nice to have fresh bread with dinner and not have it take all day.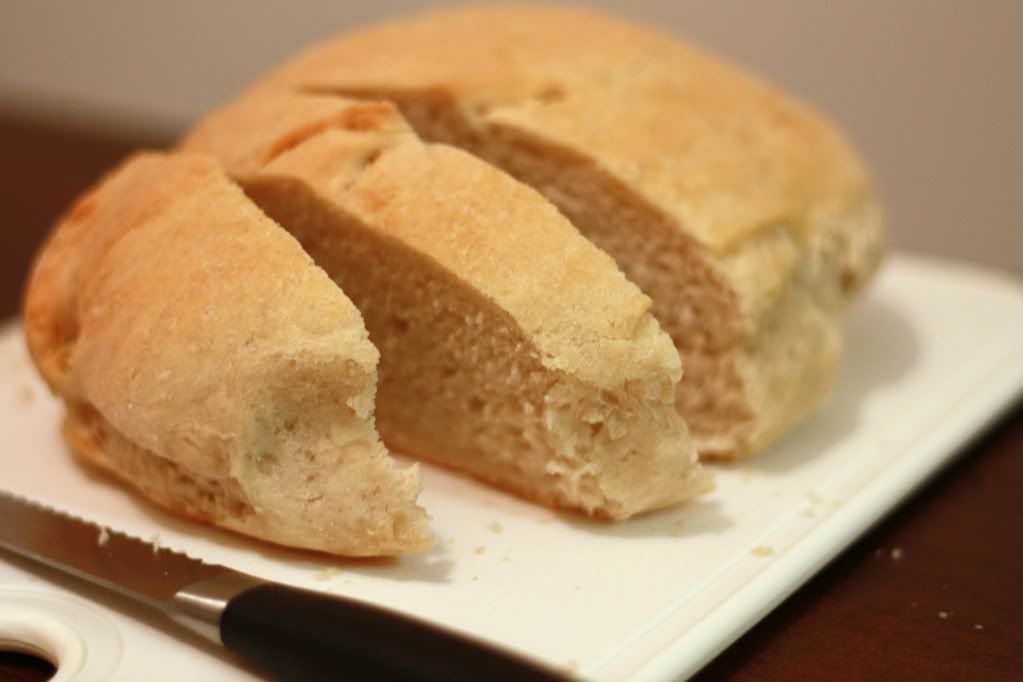 Khubz Maghrebi (Moroccan Country Bread)
From:
Cooking Light
, February 2009
1 1/2 packages dry yeast (about 1 tablespoon)
2 1/2 cups warm water (100° to 110°)
31.5 ounces all-purpose flour (about 7 cups) plus 2 teaspoons, divided
2 teaspoons kosher salt
Cooking spray
1 tablespoon extra-virgin olive oil
Dissolve yeast in 2 1/2 cups warm water in a large bowl. Weigh or lightly spoon flour into dry measuring cups; level with a knife. Stir salt into yeast mixture. Gradually stir in 7 cups flour, one cup at a time; beat with a mixer at medium speed until dough forms a ball. Turn dough out onto a lightly floured surface; shape dough into a 12-inch log. Divide dough into 3 pieces; shape each piece into a (4-inch) dome-shaped loaf. Place loaves on a baking sheet lightly covered with flour; dust tops lightly with 2 teaspoons flour, and lightly coat with cooking spray. Cover and let rise in a warm place (85°), free from drafts, 1 hour or until doubled in size. (Gently press two fingers into dough. If indentation remains, dough has risen enough.)
Position oven rack in lower third of oven. Preheat oven to 350°.
Uncover loaves, and brush each with 1 teaspoon oil. Bake at 350° for 30 minutes or until sounds hollow when tapped (bread doesn't brown). Remove from oven; cool on wire racks.
*You can also freeze the bread for up to one month; thaw at room temperature, wrap in foil, and reheat at 300° for 15 minutes.
Makes: 24 slices
First off, I would highly recommend the use of a stand mixer for this recipe, I'm not sure a hand mixer would be able to handle the job. And make sure you add the flour very very slowly. Even so, you may still end up with flour all over your kitchen. I did have a slight problem with getting all the flour incoporated. I had a small amount of dough flakes/powder in the bottom of the bowl I just could not get to blend in with the rest of the dough, so I gave up. And my bread turned out just fine.
This bread is denser than normal, so don't expect a light and fluffy loaf from this recipe. However, it still had a nice soft crumb with a crunchy crust. Perfect with the pork tenderloin we had, or better yet -- with any kind of soup or chili.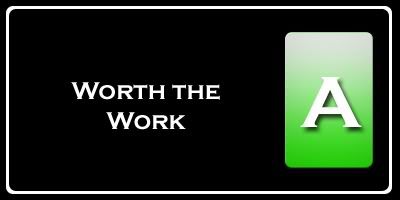 Nutrition Facts
Amount per serving
Calories 140
Calories from fat 9
% Daily Value


Total Fat 1.0g
1%


Trans Fat 0.0g


Cholesterol 0mg
0%


Sodium 195mg
8%


Total Carbs 28.2g
9%


Dietary Fiber 1.1g
4%


Protein 4.0g


Vitamin A 0%
Vitamin C 0%


Calcium 1%
Iron 10%