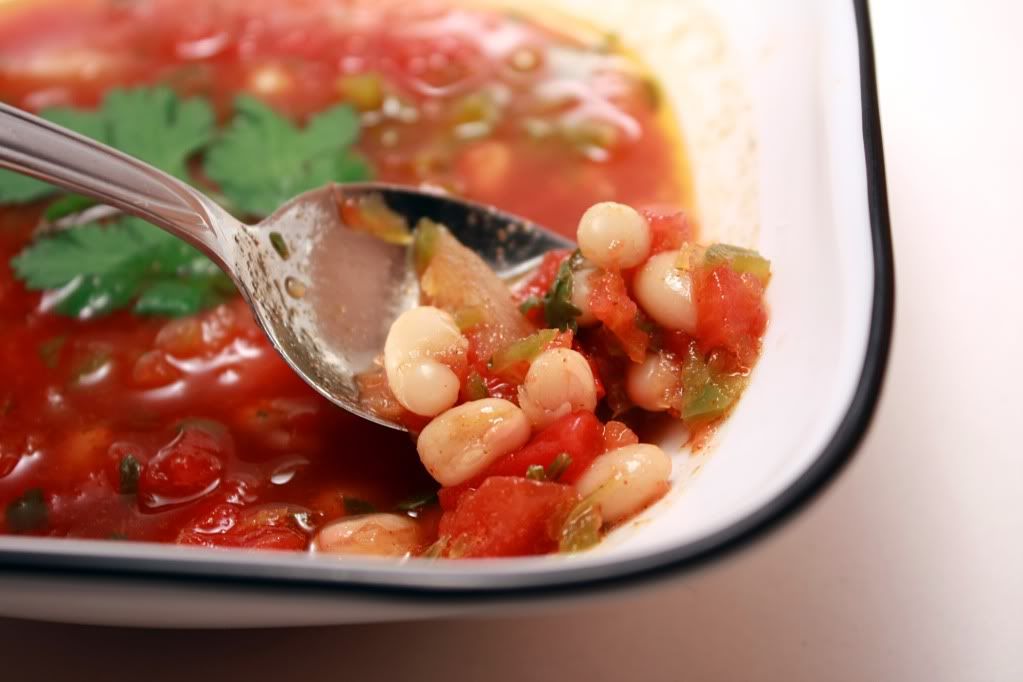 About a month ago, while leaving the gym I passed a maintenance worker who joked that it wouldn't be much longer before I could get back to running outside. Just two days later I wake up to over 14" of snow. And then it just wouldn't.stop.snowing. Once the snow gets over 20" or so, all you really want to do is hole up at home and do absolutely nothing until it all melts away. Too bad that really can't happen and I spent hours out shoveling and cleaning off my car just so I could run simple necessary errands or go to class.
So if I'm not able to keep myself inside all nice and cozy, I have to settle for the next best thing -- a warm and hearty dinner that brings back feeling into my frozen toes (good thing I didn't have any boots when all this snow business happened)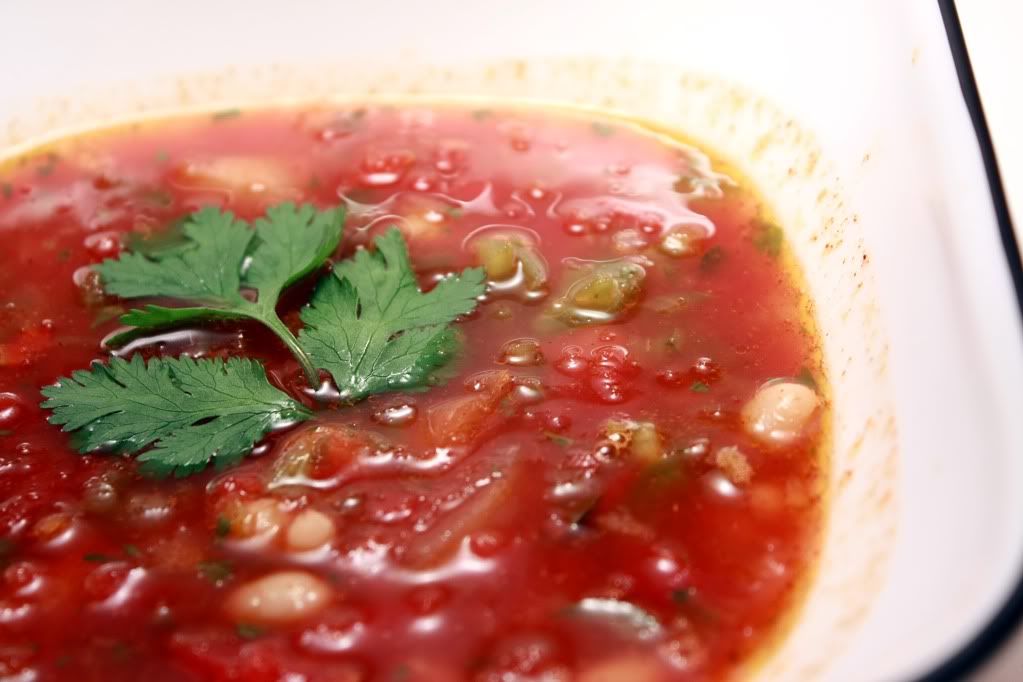 Spicy Tomato and White Bean Soup
Adapted from:
Cooking Light
, August 2006
1 (14-ounce) can fat-free, less-sodium chicken broth, divided
2 teaspoons chili powder
1 teaspoon ground cumin
1 (16-ounce) can navy beans, drained and rinsed
1 medium poblano chile, halved and seeded
1/2 onion, cut into 1/2-inch-thick wedges
1 (14.5-ounce) can diced tomatoes, drained
1/4 cup chopped fresh cilantro
2 tablespoons fresh lime juice
1 tablespoon extra virgin olive oil
1/2 teaspoon kosher salt
Cilantro sprigs (optional)
Combine 1 cup broth, chili powder, cumin, and beans in a Dutch oven over medium-high heat. Combine remaining broth, poblano, and onion in a food processor; pulse until vegetables are chopped. Add onion mixture to pan.
Add tomatoes and cilantro to food processor, and process until coarsely chopped. Add tomato mixture to pan; bring to a boil. Cover, reduce heat, and simmer 5 minutes or until vegetables are tender. Remove from heat; stir in juice, olive oil, and salt. Garnish with cilantro sprigs, if desired.
Serves: 4
This is kind of like tomato soup, but kicked up a notch, with beans. The beans and chunks of tomatoes definitely add to the heartiness of the dish, and both Adam and I found it very filling on its own. However, if you must add something with it, the quintessential grilled cheese would go great with the soup.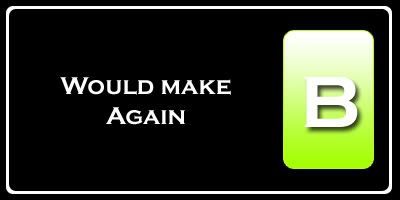 Nutrition Facts
Amount per serving
Calories 492
Calories from fat 58
% Daily Value


Total Fat 6.5g
10%


Saturated Fat 0.9g
4%


Trans Fat 0.0g


Cholesterol 0mg
0%


Sodium 516mg
21%


Total Carbs 85.7g
29%


Dietary Fiber 33.8g
135%


Sugars 13.7g


Protein 28.6g


Vitamin A 101%
Vitamin C 42%


Calcium 20%
Iron 44%