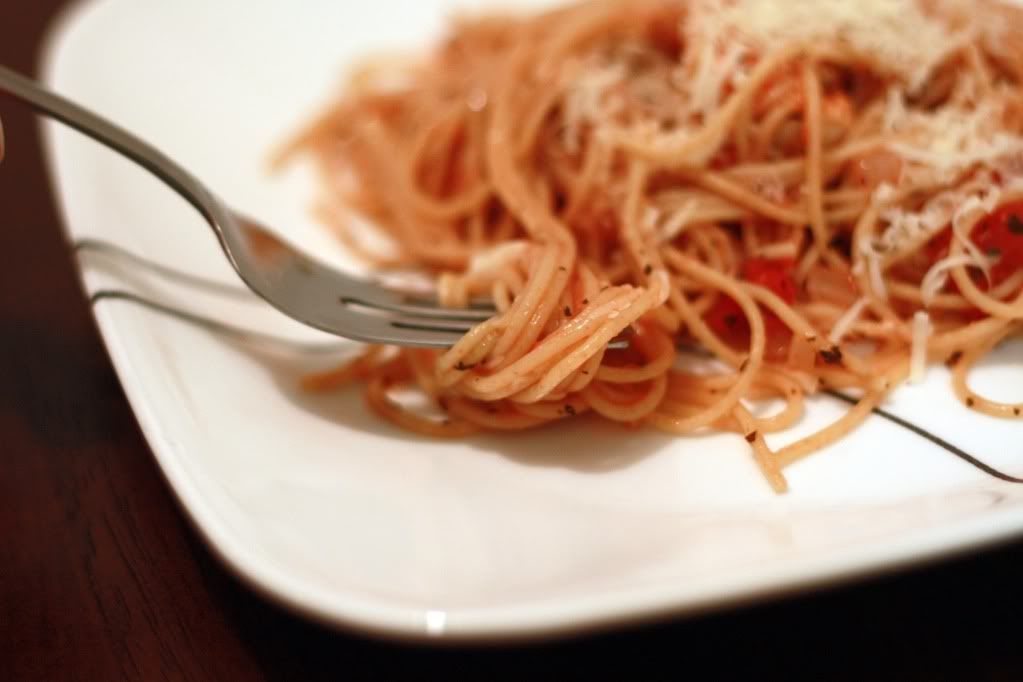 I woke up this morning with the full intention of working diligently on a group presentation for one of my classes. Do it and get it done. I had all these grandiose ideas that I would knock it out in just a few hours. This is how it really went:
Got up and puttered on the computer for about half and hour.
Attempted to read a review for my presentation.
Got distracted on the computer for another couple minutes.
Went back to reading for maybe 5 minutes.
Decided I was hungry. Ate Reese's cups.
Went back to reading.
Decided I was still hungry. Drank some juice (hey, it was that V8 fusion stuff, so I got some fruits and veggies in there) and had a granola bar.
Got distracted by the computer again.
Went back to reading.
Husband came home from church. Got distracted.
Attempted to start on a powerpoint.
Decided I was still hungry. Decided to eat some lunch....
And the whole day went like this. Apparently I tend to get distracted quite often when it comes to doing things I'm not very interested in. I mean, watching my husband play a video game is far more entertaining than trying to figure out the physiologic basis behind resistance training.
Kind of like I've already been distracted about 20 times so far writing this. Looks like somebody needs to work on focusing on things. Well, it's not like I can't -- just as long as it's something I'm interested in. Talk to me about politics, or finances or something equally as dry and boring and you will eventually see the glazed look, which means I'm off thinking of ponies, or butterflies, or crap I have an assignment due tomorrow that I totally forgot about.
This is why quick and easy meals are a plus for me. I tend to not get distracted as easily or forget I have water boiling or cookies in the oven or that I'm even making something at all. This recipe falls in to that quick and easy category -- start working on the garlic and onions when you set the water on to boil and by the time the pasta is done cooking, all you'll have to do it toss it in with the sauce.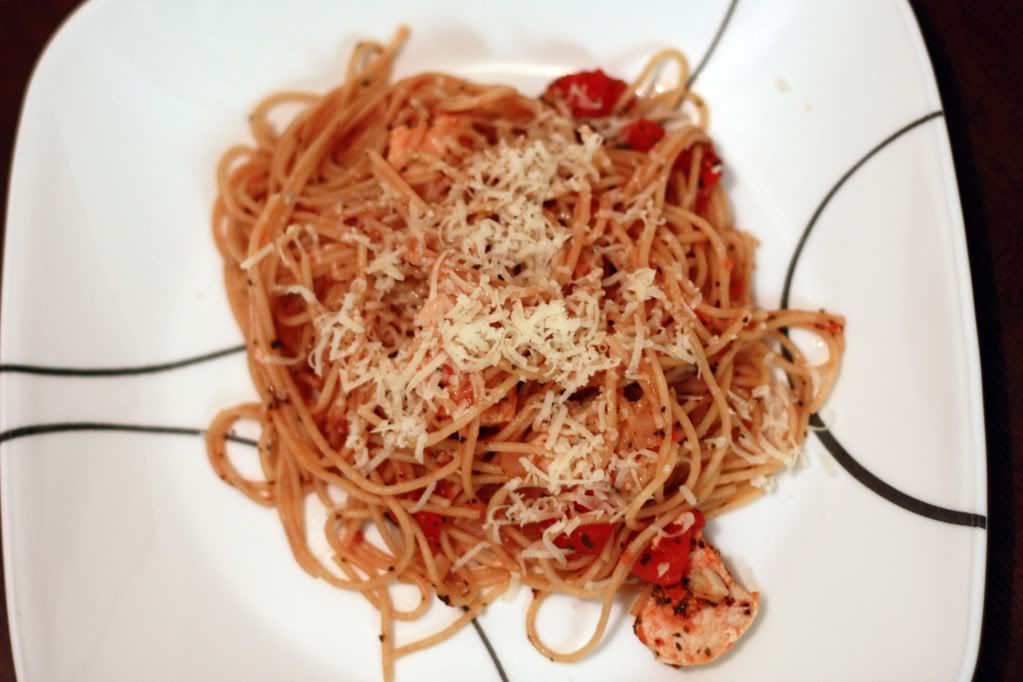 1 (8 ounce) package whole-wheat angel hair pasta
2 teaspoons olive oil
1/2 cup onion, diced
1 clove garlic, minced
1 can (14.5 oz) diced tomatoes, drained
2 cups boneless chicken breast halves, cooked and cubed
1/4 cup chopped fresh basil
1/2 teaspoon salt
1/8 teaspoon hot pepper sauce
1/4 cup Parmesan cheese
In a large pot of salted boiling water, cook angel hair pasta until it is al dente, about 8 to 10 minutes. Drain, and set aside.
In a large skillet, heat oil over medium-high heat. Saute the onions and garlic for about 5 minutes, or until fragrant. Stir in the tomatoes, chicken, basil, salt and hot pepper sauce. Reduce heat to medium, and cover skillet. Simmer for about 5 minutes, stirring frequently, until mixture is hot and tomatoes are soft.
Toss sauce with hot cooked angel hair pasta to coat. Serve with Parmesan cheese.
Yields: 4 servings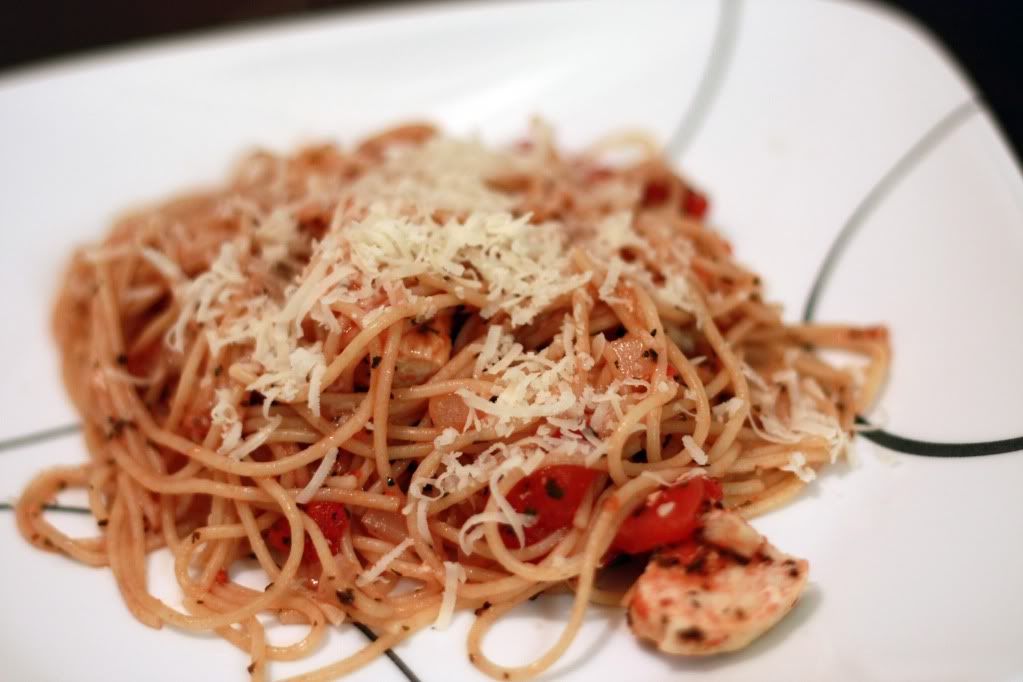 I guess I have a thing for pasta, basil, cheese, and tomatoes, as this recipe was very reminiscent of
this
recipe. Different, but definitely with a similar taste. (Not to mention a little healthier.)
Adam and I both enjoyed this, and as I tend to have all these ingredients on hand, I'm sure this will be making the rounds here again.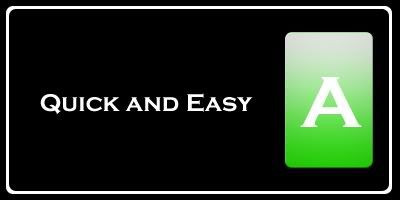 Nutrition Facts
Amount per serving
Calories 342
Calories from fat 69
% Daily Value


Total Fat 7.7g
12%


Saturated Fat 2.2g
11%


Cholesterol 101mg
34%


Sodium 451mg
19%


Total Carbs 36.9g
12%


Dietary Fiber 1.5g
6%


Sugars 3.4g


Protein 30.3g


Vitamin A 20%
Vitamin C 24%


Calcium 10%
Iron 16%