Hopefully everyone out there had a great past weekend and didn't gorge themselves on chocolate bunny ears, peeps, and Cadbury creme eggs too bad. Or maybe you did, and saved just a tiny itty-bitty space in your stomach to chow down on that tasty Easter dinner or brunch or whatever meal you went after. I am happy to report that I did not stuff myself full of Easter sweets. Nope, I have slowly been building up my consumption of candy for about a month so it's not technically gorging myself... I was merely consuming my normal amount of sugary goodness.
Although I have to admit, my weaknesses lie in the small Reese's eggs and Sour Punch Straws. I have most likely consumed enough of these two items to outweigh a small child. No, but really. I have. It's really kind of sad. I kind of flipped out a bit when I went to Giant Eagle the other day looking for my small (not the minis) Reese's Eggs and all I could find were the regular ones or the usual miniature cups. Apparently 3/4 of the way into the Easter selling season every store decided to stop carrying these. Almost ruined my Easter.
Despite the conspiracy between the stores and Reese's to spoil my fun, the weather decided to be absolutely gorgeous. Makes me wish our apartment complex hadn't
confiscated
temporarily relocated our grill to a garage for safe keeping. Unfortunately, the gorgeous 70-80 degree weather is threatening to leave us for some nasty rainy 55 degree weather this weekend. Boo. On the good side, this dish would work perfectly for a rainy day, or any other time you're craving some warm creamy pasta goodness. THIS is the recipe that reminded Adam and I of
THIS
recipe (not the Basil Chicken over Angle Hair, although they all have very similar flavors, silly me).
Orzo Risotto with Tomato, Mozzarella, and Basil
Adapted from: Emeril Lagasse's 20-40-60 Fresh Food Fast
3 tablespoons olive oil
1/3 cup minced onion
1 tablespoon minced garlic
2 cups orzo pasta
4 cups reduced-sodium, fat-free chicken broth
1 teaspoon kosher salt
1/2 teaspoon ground black pepper
1 (14.5 oz) can diced tomatoes, drained
1/2 cup shredded mozzarella cheese
1 teaspoon (heaping) dried basil
In a small saucepan, bring the chicken broth to a boil, then turn heat to low.
Meanwhile, heat olive oil in a wide, shallow medium saucepan over medium heat. Add the onion and garlic. Cook until fragrant, about 30 seconds. Add the orzo -- stirring well to coat.
Gradually add the broth in 1/2 cup increments (about one large ladle), stirring continously until all the liquid has been absorbed. Continue to add more broth and allow it to absorb before adding more (until all broth has been used). This should take about 14-16 minutes and the pasta should be al dente. Season with salt and pepper.
Add tomatoes, stirring until heated through, about 1-2 minutes. Add the mozzarella and basil and continue to stir until completely melted, 2-3 minutes.
Serve in bowls garnished with an extra pinch of mozzarella.
Serves 4.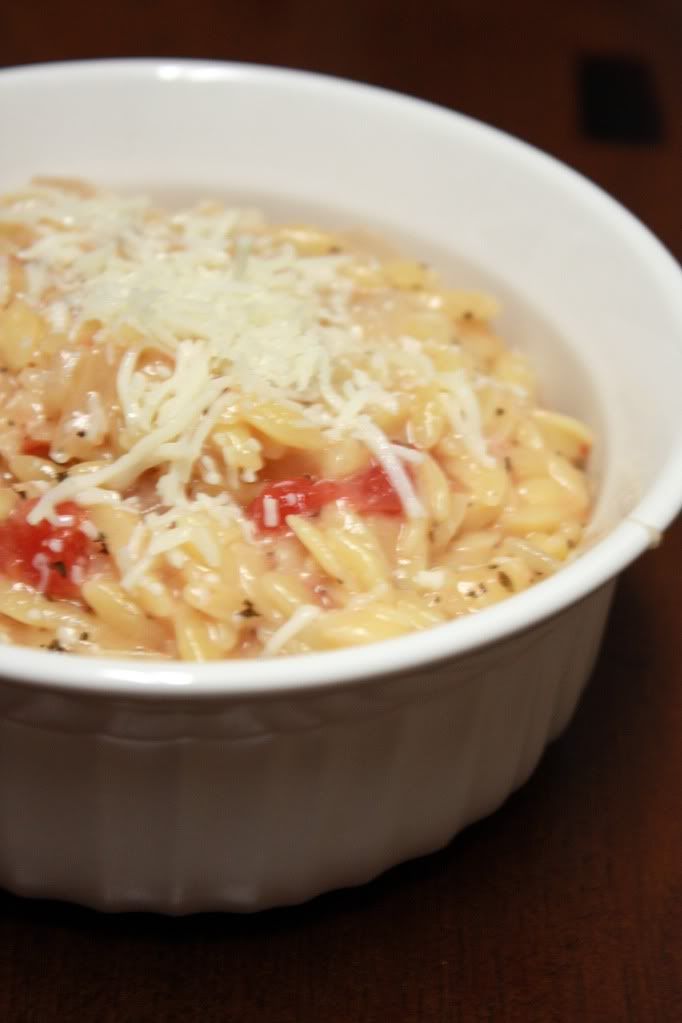 Basically, the biggest changes I made to this recipe were purely ones of convience: I used canned tomatoes, pre-shredded mozzarella, dried basil, and whatever onion I had on hand. And it was still delicious. The slow incorporation of broth allows for that nice starchy release making an oh-so-delicious creamy "sauce". Just thinking about it is starting to make me hungry -- forget the weather. Too bad my fridge is stuffed to the gills with an odd assortment of leftovers... a couple slices of pizza here, thai food, a plate of ham, some pork tenderloin, and I'm sure there's a couple things of tupperware that I have no idea what's inside. Hmmm, time for a little spring cleaning maybe?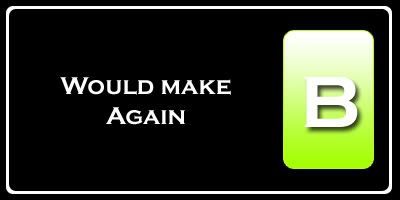 Don't forget! You still have one more day to enter the Pasta Maker Giveaway! Giveaway closes tomorrow (Tuesday) at 9pm EST. Click here to enter!
Nutrition Facts
Amount per serving
Calories 512
Calories from fat 145
% Daily Value


Total Fat 16.1g
25%


Saturated Fat 3.6g
18%


Cholesterol 8mg
3%


Sodium 1425mg
59%


Total Carbs 70.2g
23%


Dietary Fiber 1.5g
6%


Sugars 3.9g


Protein 20.2g


Vitamin A 19%
Vitamin C 24%


Calcium 13%
Iron 6%