I have a small confession to make. I've been a bit of a Pinterest stalker as of late. Scrolling through the food and craft sections, pinning things here and there. I need to stop.
But then there are things out there like this -- it may not be quite the same as the original pin, but it really gets my creative juices flowing.
The original recipe was more of a straight meatballs with mozzarella and marinara dipping sauce, which is good, but not what I typically go for. However, the concept intrigued me. I've been in a pesto mood as of late, so I decided that was the direction I was going to head with these. I swapped out the mozzarella for Parmesan, then added in pesto, and in true "if you give a mouse a cookie" fashion, I threw in some roasted red peppers and sauteed mushrooms. Just because.
8
Pillsbury Grands biscuits
8

frozen meatballs

, thawed and halved
1 tablespoon
olive oil
4 ounces

button mushrooms

, chopped
5 1/2 tablespoons
pesto
3 1/2 tablespoons

grated Parmesan cheese

, divided
6 ounces

roasted red peppers

, diced
2 tablespoons

butter

, melted
1/4 teaspoon
garlic powder
Preheat oven to 350 degrees F. Line a large baking sheet with a silicone baking mat or parchment paper. Set aside.

In a small saucepan over medium-high heat, warm the oil. Add the mushrooms and cook, 5-6 minutes, or until the mushrooms have released their juices and it has mostly evaporated.

Cut your biscuits in half and lay out on a clean work surface. Top each half with 1 teaspoon pesto, 1/4 teaspoon Parmesan cheese, half a meatball, roasted red peppers, and mushrooms. Fold edges of biscuit dough over the filling ingredients and pinch together. Place filled buns onto prepared baking sheet (it's okay if they touch).

In a small bowl, combine melted butter and garlic powder. Brush butter mixture over tops of buns. Sprinkle with remaining Parmesan cheese. Bake for 17-21 minutes, or until buns are golden.
Makes:
16 buns
(appetizer serving size: 2 buns)
We went to town on these for dinner the other night, but I actually think they'd work better as an appetizer or a side dish than an entree. Such is the life of my husband nowadays, I swear the poor thing never gets a normal meal. :)
I will say, while we both found these to be delicious, they were a little bit of work and took longer to throw together than expected. It probably didn't help that I tried making 24 of these by cutting the biscuits into thirds, not halves. Just. Don't do that. The dough becomes too thin and you start getting holes in the buns. I've adjusted the recipe above to reflect a better quantity for the amount of ingredients.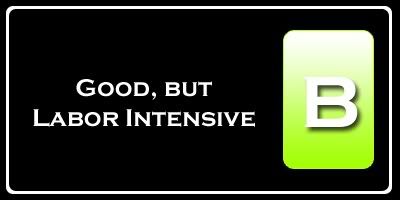 Nutrition Facts
Serving Size 140g
Amount per serving
Calories

375

Calories from fat 226
% Daily Value
Total Fat

25.1g

39%
Saturated Fat

8.7g

43%
Cholesterol

24mg

8%
Sodium 974mg
41%
Total Carbs

28.9g

10%
Dietary Fiber 1.9g
8%
Sugars 7.2g
Protein

10.6g

Vitamin A 16%
Vitamin C 61%
Calcium 11%
Iron 15%