I absolutely love parties, get-togethers, anything that requires preparation and thought about what's going to happen. Unfortunately, I rarely every get to attend, much less host such occasions. Lucky for me, my roommate, Laura, is getting married in the middle of July. With myself and my sister moving away from DC, we decided to go ahead and host a bridal shower for her.
It wasn't difficult to come up with the theme for the party, as the two of us always cook together and try out new recipes -- kitchen themed it was. We simply had the guests fill out a recipe card with their favorite recipe and another card with advice for her.
(The lovely Bride-to-Be)
Being the one that is interested in food, it fell to me to design the menu (although Jen did help quite a bit). Below is what we decided on serving, and we definitely had left-overs as we only had 12 people at the shower (not that we're complaining).
I will say that I was super rushed to take these pictures (long story) and my battery was dying, so I don't have pictures of everything (but what I don't have pics of was store bought, so not a big deal).
Laura's Bridal Shower Menu
Tres Leches cake
from Liz's Bakery in the Kentlands
(click title for recipe)

Joy's Prizewinning Trifle
from Allrecipes.com
(recipe follows below, made by Jen)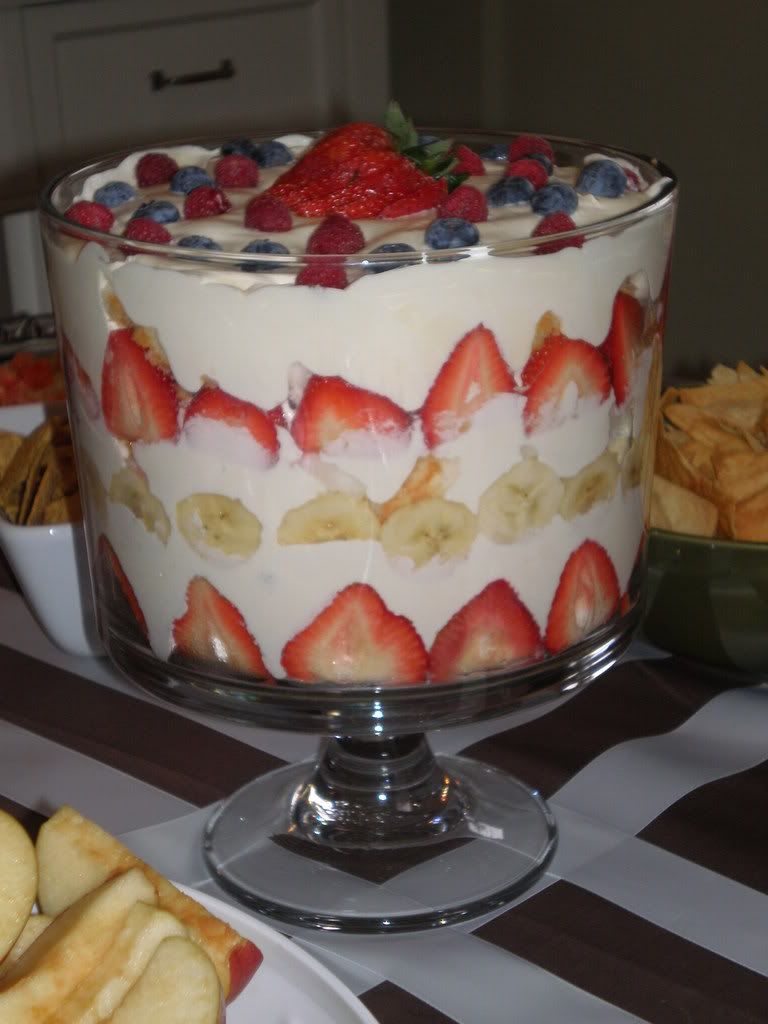 Chocolate-Covered Raspberry Tarts
original recipe
(click title for recipe)
Parmesan Artichoke Dip
Allison McFarland
(see recipe below)
Hummus and Pita Chips
Fruit and Marshmallow Dip
family recipe
(see recipe below)


Overall I think the party went really well, and everybody enjoyed the food and went home full! I just wish I could throw another party soon (without any distractions 30 minutes before party time)!
Joy's Prizewinning Trifle
from: Allrecipes.com
INGREDIENTS
1 (12 ounce) container frozen whipped topping, thawed
1 (8 ounce) container sour cream
1 (9 inch) angel food cake
1 (3.4 ounce) package instant vanilla pudding mix
3 kiwis, peeled and sliced
1 pint fresh strawberries, sliced
3 bananas, peeled and sliced
1 (15 ounce) can crushed pineapple, drained
1 sprig fresh mint


DIRECTIONS
In a medium bowl, fold sour cream and unprepared pudding mix into the whipped topping.

Cut the cake into thirds, horizontally.

Line a large trifle or other glass serving bowl with kiwi and strawberry slices, reserving two whole strawberries and two kiwi slices. Place one layer of cake in bottom of bowl, top with 1/3 of bananas and pineapple, and 1/3 of whipped topping mixture. Repeat layering until all ingredients are used.

Make fan garnishes of whole strawberries by slicing from just below the stem. Garnish assembled trifle with fanned strawberries, reserved kiwi slices, and a sprig of mint. Refrigerate until serving.
Parmesan Artichoke Dip
from: Allison McFarland
8 oz. reduced fat cream cheese
14 oz. can artichoke hearts, drained & chopped
1/2 c. light mayo
1/2 c. parmesan cheese
1 tsp. dried basil
1 clove garlic, minced
1/2 tomato, diced (optional)
Mix all but tomato with mixed on medium. Put into 9" pie pan. Bake at 350 for 25 min. Sprinkle with tomatoes.
Fresh Fruit Dip
Family Recipe
1 8 oz. package cream cheese
1 7 oz. package marshmallow creme
Combine softened cream cheese and marshmallow creme. Mix until well blended. Serve with fresh fruite or cookies as dippers.