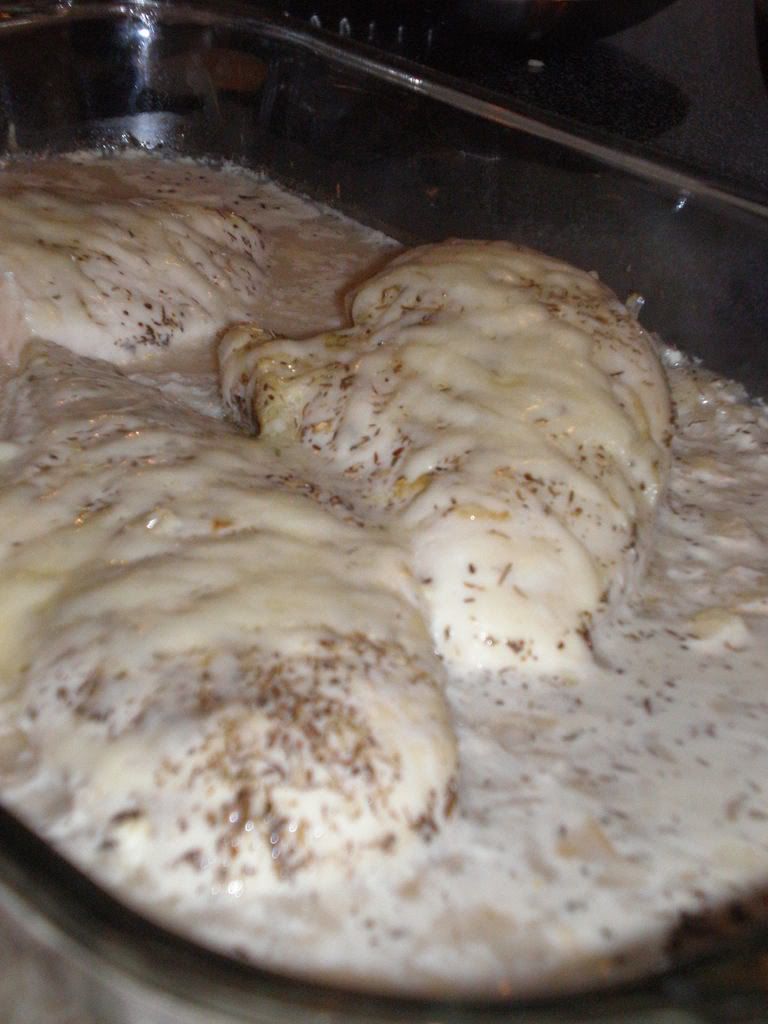 This was last night's dinner, but due to some very irritating internet glitches, I haven't been able to post this until today. SO Frustrating!
Anyway, so I fully intended on making the Chickpea Ravioli out of April's Cooking Light magazine last night, however, the recipe calls for "chickpea flour". I went to at least 5 different grocery stores, including regular ones, Whole Foods Market, and an Italian grocery. Nada. And by the time I was finished... it was well after 6pm and I really didn't feel like messing with it at that point.
So I grabbed the March issue of
Cooking Light
and pulled out the Parmesan Chicken and Rice Casserole I had wanted to try. (Luckily though, I had already bought the ingredients for it.)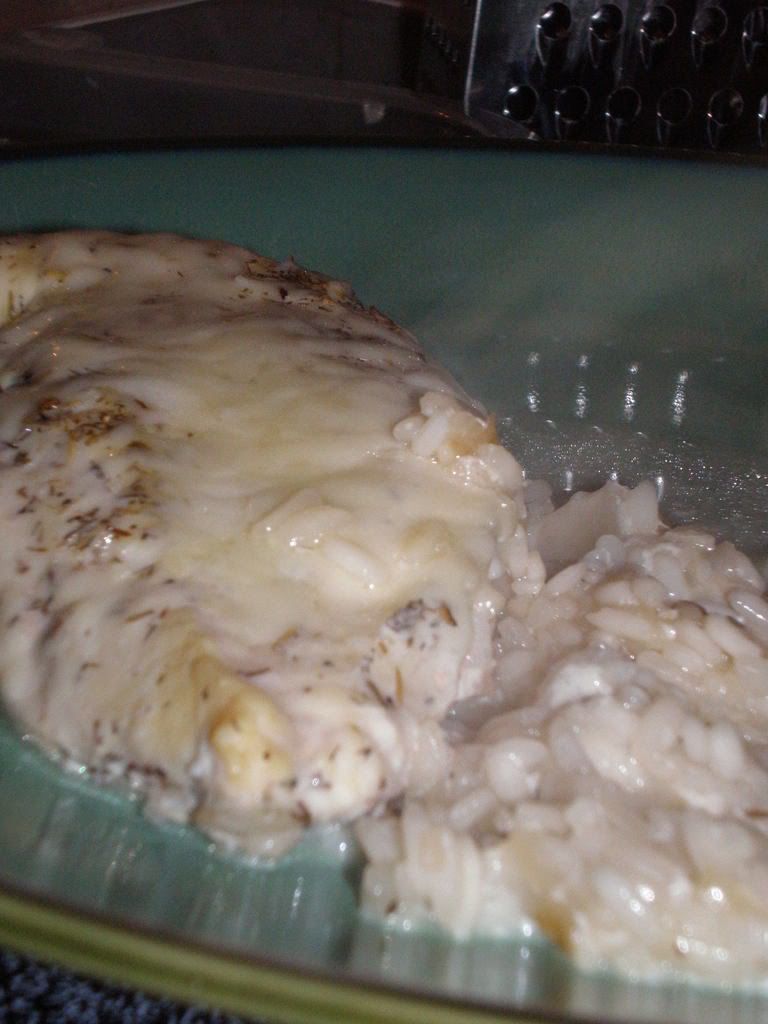 Once again, I switched out a few of the ingredients and, once again, I'm sure it messed with how it all ended up. I used regular medium-grain white rice instead of the boil-in-bag brown rice, and the rice was definitely undercooked (still edible though).
I also switched out the chicken thighs for chicken breasts, and that actually turned out okay.
Overall, I really liked the rice with the onion and garlic in it -- but the chicken seemed like it ended up a bit plain. Maybe marinate it a bit in some white wine and thyme next time?
And I apologize for crappy pictures.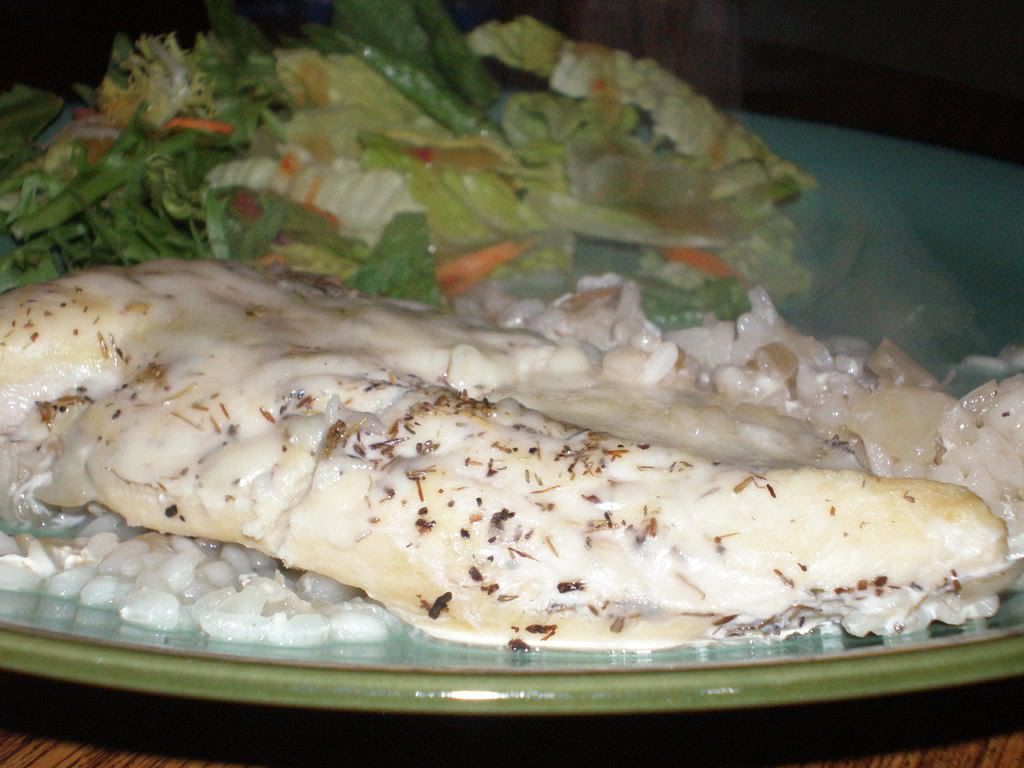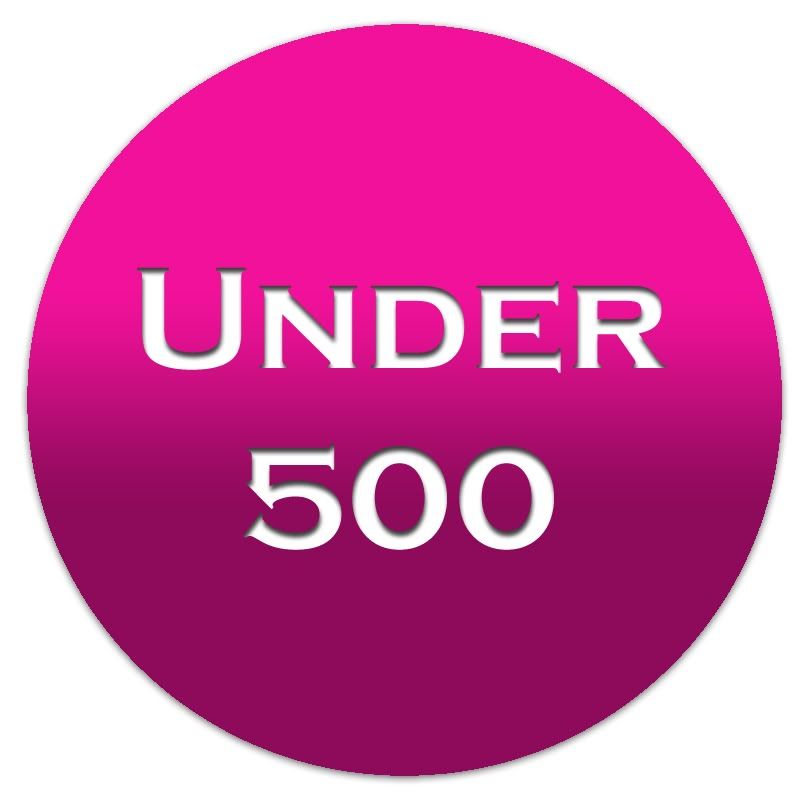 Parmesan Chicken and Rice Casserole
From: Cooking Light, March '08
Cooking spray
1 c. chopped onion
2 garlic cloves, minced
2 (3.5 oz.) bags boil-in-bag brown rice
1/3 c. dry white wine
8 skinless, boneless chicken thighs (I used 4 chicken breasts)
1 1/2 tsp. chopped fresh thyme
1/2 tsp. salt
2 c. fat-free, less-sodium chicken broth
3 tbsp. whipping cream
1/3 c. (1 1/2 oz) shredded Parmesan cheese
Preheat oven to 450.
Heat a large nonstick skillet over medium-high heat. Coat pan with cooking spray. Add onion to pan; saute 2 minutes. Add garlic; saute 30 secs. Remove rice from bags; add to pan. Saute 30 seconds. Stir in wine; cook 30 seconds or until liquid almost evaporates. Spoon rice mixture in an even layer into a 9x13-inch baking dish coated with cooking spray.
Arrange chicken thighs in a single layer over rice mixture; sprinkle evenly with thyme and salt. Combine broth and cream, stirring well; pour over chicken and rice mixture.
Bake at 450 for 15 minutes. Sprinkle with cheese. Bake an additional 5 minutes or until chicken is done.
Yield: 4 servings.
Nutrition Facts
Amount per serving
Calories 499
Calories from fat 142
% Daily Value


Total Fat 15.8g
24%


Saturated Fat 6.2g
31%


Trans Fat 0.0g


Cholesterol 121mg
40%


Sodium 749mg
31%


Total Carbs 42.4g
14%


Dietary Fiber 2.4g
9%


Sugars 1.5g


Protein 40.9g


Vitamin A 5%
Vitamin C 5%


Calcium 15%
Iron 16%