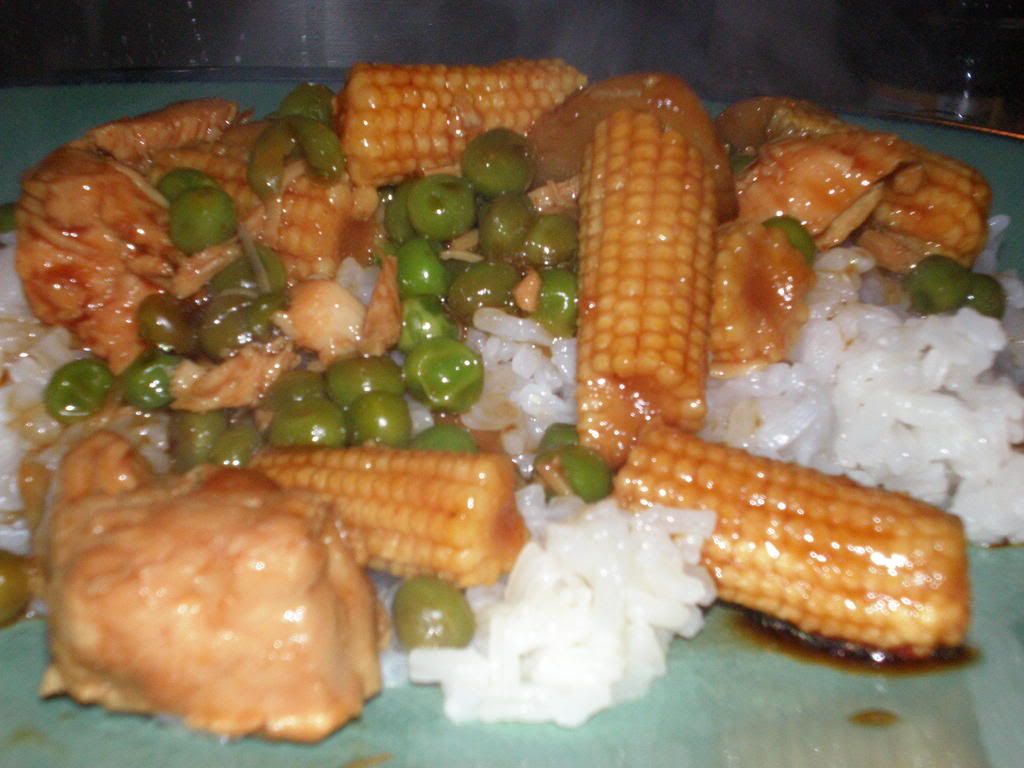 Originally, we had Laura's amazing Arroz con Pollo planned for dinner tonight since Jen and Marion had friends flying in from out of town. However, due to those said friends flying in, they opted for Dave & Buster's followed by a Peruvian restaurant instead. Not that I blame them. That Peruvian restaurant is pretty amazing. Especially the yuca fries.
So, that pretty much left Laura and I to fend for ourselves for dinner. Seeing as it was pretty late already, we decided to grab something simple out of the pantry. Luckily, I had thought ahead a few weeks ago and had stocked up on my stir-fry ingredients.
A quick warning about the recipe... I came up with this recipe a few years ago back in college -- thus it pretty much has no measurements for any of the seasonings. However, I will say that this is one recipe that my roommate and I would eat past the point of being full.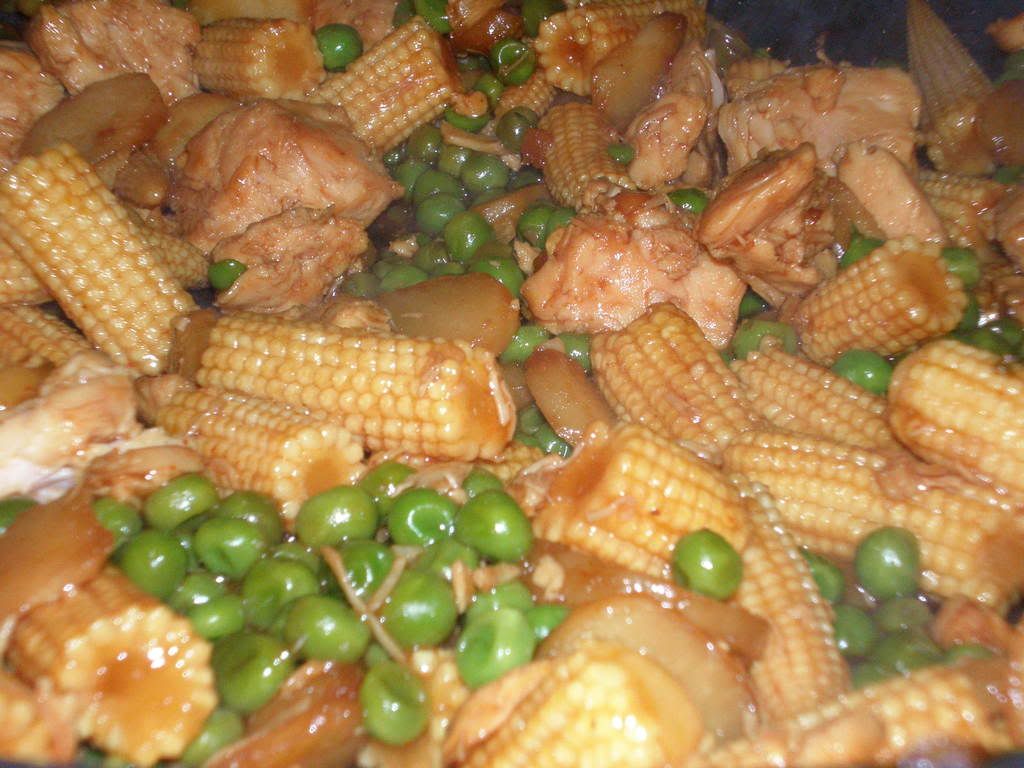 Stir-Fry
Original Recipe
Extra-virgin olive oil
2 cloves garlic
Frozen peas or brocolli
1 can baby corn
1 can white chicken chunk
1 can waterchestnuts
Kikkoman Stir-Fry Sauce
Soy Sauce
Teriyaki Sauce (optional)
Ground Ginger
Curry
Cayenne Red Pepper
1 cup uncooked white rice
2 cups water
1 tbsp. butter/margarine
To prepare rice: In a medium saucepan, combine rice, water, and butter. Bring to a boil on stovetop. Once boil is achieved, cover and lower heat to medium-low. Cook for 20 minutes. Fluff with a fork and remove from heat. Recover and let sit for 5 minutes.
To prepare stir-fry: Add about 2-3 tbsp. EVOO to a large frying pan. Place the pan on the stove over the highest heat. Once the oil has heated up, add the garlic. Saute for 1-2 minutes.
Add any frozen vegetables. Once the frozen vegetables have thawed, add the chicken and remaining vegetables. Drizzle stir-fry sauce heavily over vegetables. Pour soy sauce over vegetables until sauce is about 1/4" thick or more at the bottom of the pan. (You can also add the teriyaki sauce if desired at this point.) Mix well.
Gently shake ginger (about 5-6 shakes) over stir-fry. Gently shake curry (5-6 shakes) over stir-fry. Shake cayenne red pepper (8-9 shakes) over stir-fry. Mix well.
Allow sauce to reduce until almost gone.
Serve over rice.
Yields: 2-3 servings
This recipe is really great to play around with. Basically any type of veggie works -- I've made it with peppers, mushrooms, and lots of others as well, the ones mentioned just happen to be my favorite.
As for seasoning the sauce -- it really just goes by taste. The more red pepper you add, the spicier it will be, so make sure you don't go overboard. I typically try and keep the ginger the smallest amount of the 3 spices I add, and the red pepper the most. Super tasty!