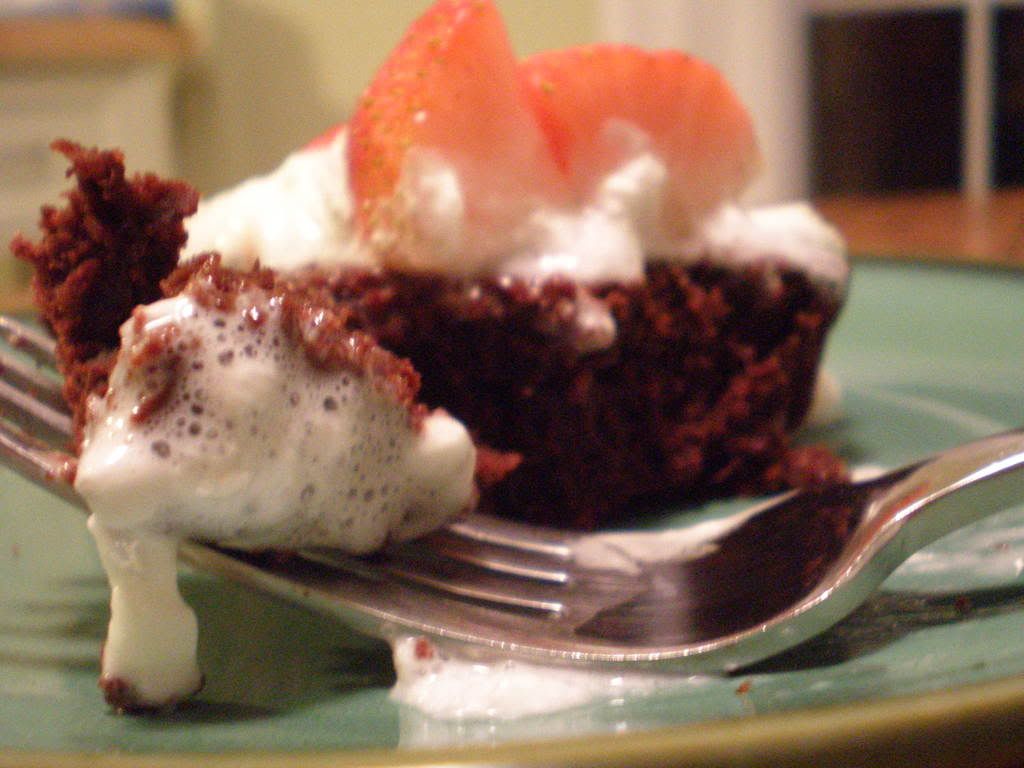 So yesterday I'm sitting in the kitchen, thinking about starting on my ravioli, when my sister starts digging through the fridge. She looks at me and asks if I have anything planned for dinner. I say, yes, that ravioli. She looks relieved, then says that she's had a craving all day. Worried that I might have to switch dinner again, I ask her what she's been craving. "Chocolate cupcakes."
Immediately, the Gooey Chocolate Cakes from the "
Tuesdays with Dorie
" group pop into mind. I had seen a few of the blogs who had participated, and left me craving, but I had up to this point fought off the temptation. Now, I know I'm not part of the TWD group -- not that I wouldn't like to be, but with my schedule the way it is, I really don't want to commit myself to something I'm not sure I'll be able to consistantly follow through with.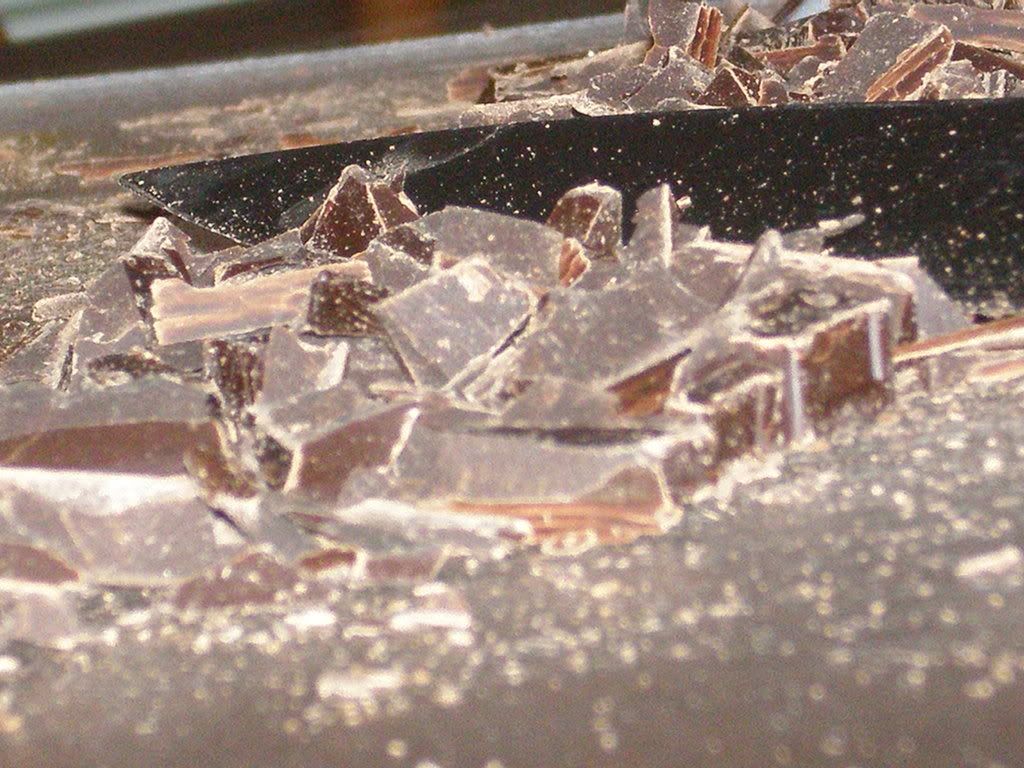 I ended up using the recipe from
Culinary Concoctions by Peabody
, as her Gooey Chocolate Cake with the raspberry sauce really caught my eye. Unfortunately, I didn't have a nice raspberry sauce to smother my cakes in, so I ended up just going for the old tried-and-true topping -- Redi-Whip and strawberries.
Yum.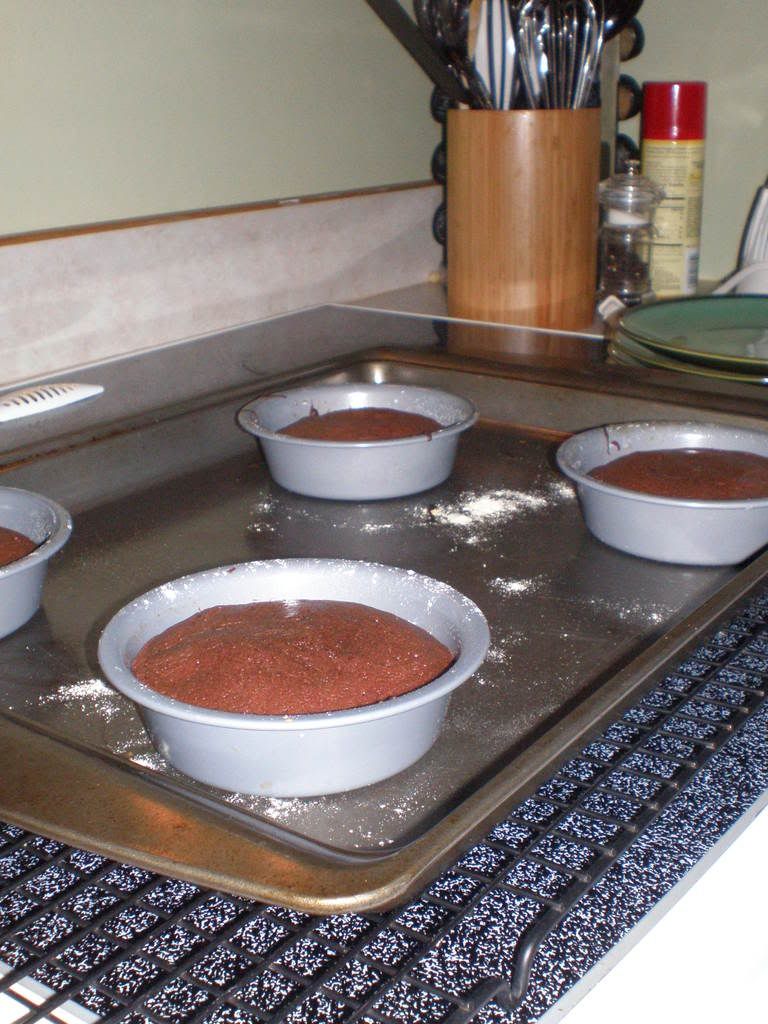 As noted my many people who made these, they are fairly simple to make. I didn't even melt my chocolate and butter in a bowl over simmering water -- I just put it in a saucepan on low heat and it worked just fine.
I also used my 4 oz ramekins from when I made my chocolate cake and fondant a while back, instead of using 6 muffin tins.
However, the only slight mess-up I had was pulling them out of the oven. At 13 minutes, the centers still looked super gooey, so I thought I might have problems when I was trying to get them out of the pans, so I left them in the oven for another 3 minutes. This ended up drying out the edges of the cakes slightly, but the middle was absolutely perfect!
I'm so glad I tried this!
1/3 cup all-purpose flour
3 tablespoons unsweetened cocoa powder
¼ teaspoon salt
4 ounces coarsely chopped milk chocolate (I used semi-sweet)
1 stick (8 tablespoons) unsalted butter, cut into 8 pieces
2 large eggs, at room temperature
1 large egg yolk, at room temperature
6 tablespoons of sugar
Getting Ready
Center a rack in the oven and preheat the oven to 400 degrees F. butter (or spray – it's easier) 6 cups of a regular-size muffin pan, preferably a disposable aluminum foil pan, dust the insides with flour and tap out the excess. Put the muffin pan on a baking sheet.
Sift the flour, cocoa and salt together.
Set a heatproof bowl over a saucepan of gently simmering water, put the coarsely chopped chocolate and the butter in the bowl and stir occasionally over the simmering water just until they are melted – you don't want them to get so hot that the butter separates. Remove the bowl from the pan of water.
In a large bowl, whisk the eggs and yolk until homogeneous. Add the sugar and whisk until well blended, about 2 minutes. Add the dry ingredients and, still using the whisk, stir (don't beat) them into the eggs. Little by little, and using a light hand, stir in the melted chocolate and butter. Divide the batter evenly among the muffin cups.
Bake the cakes for 13 minutes. Transfer them, still on the baking sheet, to a rack to cool for 3 minutes. (There is no way to test that these cakes are properly baked, because the inside remains liquid.)
Line a cutting board with a silicone baking mat or parchment or wax paper, and, after the 3-minute rest, unmold the cakes onto the board. Use a wide metal spatula to lift the cakes onto dessert plates.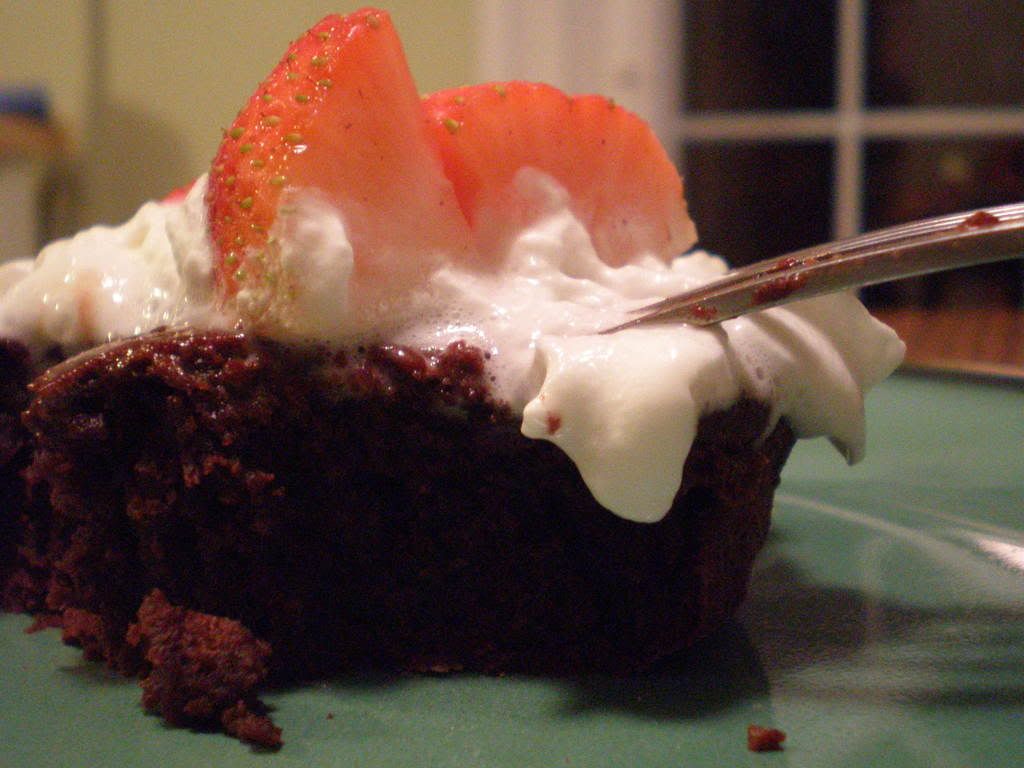 Nutrition Facts
Amount per serving
Calories 349
Calories from fat 214
% Daily Value


Total Fat 23.7g
37%


Saturated Fat 14.6g
73%


Cholesterol 150mg
50%


Sodium 246mg
10%


Total Carbs 30.8g
10%


Dietary Fiber 1.7g
7%


Sugars 22.6g


Protein 5.4g


Vitamin A 13%
Vitamin C 0%


Calcium 6%
Iron 8%