A little over a month ago, we found out the bad news that one set of our good "couple" friends was moving. To Texas. Forever far away. Sad day.
When you're not from the area originally, it's kind of nice to have other friends in the same boat as you that you can lament to about the horrible drivers, ridiculous roads, and Pittsburgh-ese accent. It's also nice when these friends will come over to help you finish getting ready for a
beer tasting party
or help you throw a baby shower or play soccer with you on Thursday nights.
We found out about their decision with not a ton of time before the husband left to begin training at his new job, so his going away party was unfortunately squeezed into the middle of a week when we knew everybody could make it. (I swear free weekends are like gold around here!) However, with the departure date for his wife looming at the end of this month, some of our other friends decided to throw one last small get together. I, of course, waited until the last minute to decide on what to bring, but I knew it had to be dessert.
After some scrolling through my recipes and pins on Pinterest, I opted to go with these Chocolate Peanut Butter Whoopie Pies. a) They're portable and easy to grab as you walk by, b) I knew she was a fan of the chocolate peanut butter combo as she's made a killer chocolate peanut butter pie before, and c)
I've been craving
baby girl loves her some chocolate and peanut butter together. What can I say? It was an easy decision.
Chocolate Peanut Butter Whoopie Pies
Adapted from:
2 cups
all-purpose flour
1/2 cup
Hershey's Special Dark cocoa powder
1 1/4 teaspoons
baking soda
1 teaspoon
salt
1/2 cup

unsalted butter

, at room temperature
1/2 cup
granulated sugar
1/2 cup

brown sugar

, packed
1
large egg
2 teaspoons

vanilla extract

, packed
1 cup
buttermilk
1/2 cup

unsalted butter

, at room temperature
7 ounces
marshmallow fluff
1/2 cup
smooth peanut butter
1/2 teaspoon
salt
1 cup
powdered sugar
1 teaspoon
vanilla extract
Preheat oven to 350 degrees F. Line two baking sheets with parchment paper (or silpats), set aside.

In a medium bowl, combine the first four ingredients (through salt).

In the large bowl of a mixer, cream together the butter, granulated sugar, and brown sugar until light and fluffy, 3 - 5 minutes. After scraping down the sides of the bowl, add the egg and beat on low for one minute. Stir in vanilla.

Add half of the flour mixture to the mixing bowl and stir at a low speed. Once ingredients have mostly combined, slowly pour in the buttermilk. As soon as the buttermilk is fully incorporated into the batter, add the remaining flour mixture. Stir until all ingredients are well blended.

Scoop a heaping tablespoon of batter onto the prepared baking sheets. Leave at least 1 inch of space between cookies. Bake for 12-14 minutes, or until centers of cookies are cooked, but still soft. Repeat with remaining batter. Allow cookies to cool for 10 minutes on the pan before transferring to a wire cooling rack to cool completely.

Meanwhile, in a large bowl, beat together 1/2 cup butter, marshmallow fluff, peanut butter, and salt. Once there are no more lumps, slowly add in the powdered sugar and vanilla. Increase mixer speed to medium and beat for 3 minutes, or until fluffy.

Once the cookies are completely cool, pipe the filling onto the upturned bottom of one of the cookies. Top with a second cookies. Repeat with remaining cookies and filling.
Makes:
18-22 whoopie pies
The problem with great dinners thrown by friends is that there is never enough room to eat everything you want. As was the case this time.
But
, after sitting around the awesome fire pit for a while, there seemed to be juuuust enough room for dessert. Several disappearing and one toasted whoopie pie later, and it was determined that these were a hit. You know they're good when people who have a ton of leftovers actually
want
to keep a few for later.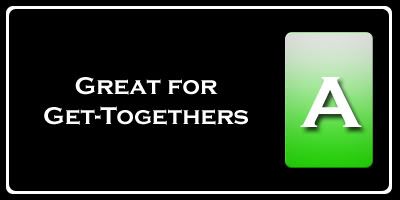 Nutrition Facts (1 batch = 18 whoopie pies)
Serving Size 81g
Amount per serving
Calories

301

Calories from fat 134
% Daily Value
Total Fat

14.8g

23%
Saturated Fat

7.6g

38%
Cholesterol

38mg

13%
Sodium 395mg
16%
Total Carbs

39.1g

13%
Fiber

1.2g

5%
Sugars 23.1g
Protein

4.1g

Vitamin A 7%
Vitamin C 0%
Calcium 3%
Iron 6%