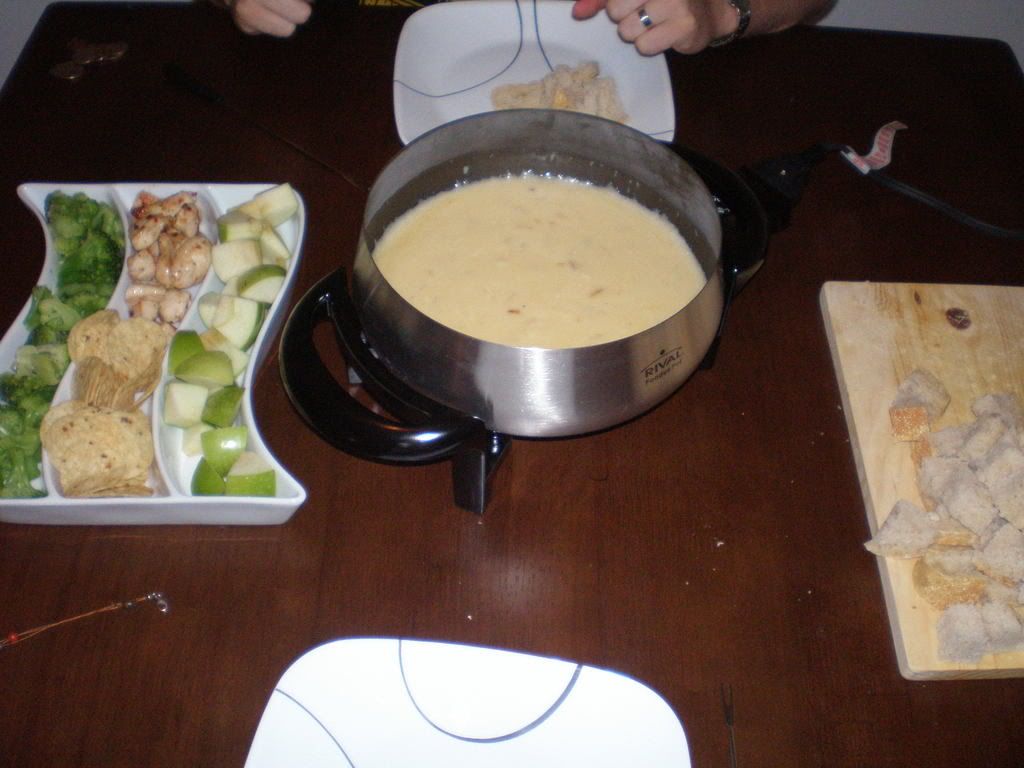 Right about a year before I made this dish, Adam whisked me away to an overlook of Pittsburgh and proposed to me. After I finished crying, and saying yes (of course), he then proceeded to treat me to my first trip to the Melting Pot. Mmm mmm. So delicious.
Since we were celebrating, we went for the whole kit and caboodle. We did the appetizer cheese dip, then the entree with the cooking broth, following it up with the wonderful chocolate fondue. And, we discovered an excellent sparkling beverage -- "Rosa Regale", which we loved so much, Adam and I toasted with it for our wedding. :)
However, such extravagant meals come with the corresponding price tag -- not one of which is in our day-to-day budget. Oddly enough, I decided to somewhat replicate a fondue dinner almost a year to the date after his proposal. As much as I wanted to enjoy gooey cheese slathered on top of an assortment of different foods, I really couldn't get into this dish.
Not only did my cheese fondue fall flat, but we also discovered that our fondue pot (which we were so graciously given as a wedding present) did not work. And of course, we had already threw away the box and all packaging items... so no returning said pot. Sucky way to learn that lesson...
1 tablespoon butter
1 1/4 cups thinly sliced shallots (about 6 ounces)
1 teaspoon sugar
1 1/2 cups (or more) dry white wine
14 ounces grated Gruyere cheese (about 3 1/2 cups packed)
2 tablespoons all purpose flour
Generous pinch of ground nutmeg

1 sourdough baguette, cut into 1-inch cubes

Melt butter in heavy medium skillet over medium heat. Add thinly sliced shallots and sauté 3 minutes. Reduce heat to low; sprinkle shallots with sugar, salt and pepper. Sauté until shallots are caramelized, about 15 minutes. Transfer shallots to small bowl. Add 1 1/2 cups wine to skillet; boil 1 minute.

Pour wine into heavy medium saucepan; set over medium-low heat. Toss cheese with flour in medium bowl to coat. Add half of caramelized shallots to wine; add cheese mixture by handfuls, stirring until cheese melts and is smooth before adding more. Thin with more wine if mixture is too thick. Season with nutmeg, salt and pepper.

Transfer cheese mixture to fondue pot. Set pot over candle or canned heat burner. Top fondue with remaining caramelized shallots. Serve with bread cubes.
Well, I will admit that I did not have all the shallots that the recipe called for, or the nutmeg. This dish definitely needed a little kick in it -- I was tired of the taste after about half way through. It wasn't begging me to keep going until I was way past full. Thus, I rate it: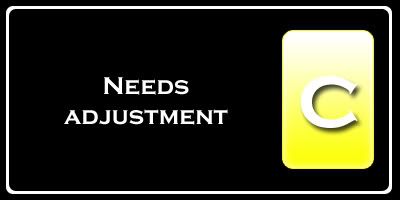 Nutrition Facts
Amount per serving
Calories 686
Calories from fat 323
% Daily Value


Total Fat 35.9g
55%


Saturated Fat 20.8g
104%


Cholesterol 117mg
39%


Sodium 641mg
27%


Total Carbs 39.2g
13%


Dietary Fiber 1.1g
5%


Sugars 3.2g


Protein 36.3g


Vitamin A 32%
Vitamin C 7%


Calcium 105%
Iron 16%