I know it looks like a fancy-schmantsy title to this dish, but translated, it's roughly "Chicken with White Wine, Grape Juice, and Cilantro." Or at least according to
Cooking Light
. Either way, I stumbled across this dish back in July (before I started working, when I had lots of time to peruse the internet...). I had some white wine I wanted to use up, and this looked like an interesting dish to me.
Grapes and chicken... not exactly the first combination that pops into my head, but I decided to try it out. And I am very glad I did. Adam really enjoyed this dish, and it's fairly easy to make. It definitely has a taste that is out of the ordinary (or at least for me), so it's something I feel like I need to crave in order to make it. Hence the "monthly rotation" rather than the "weekly."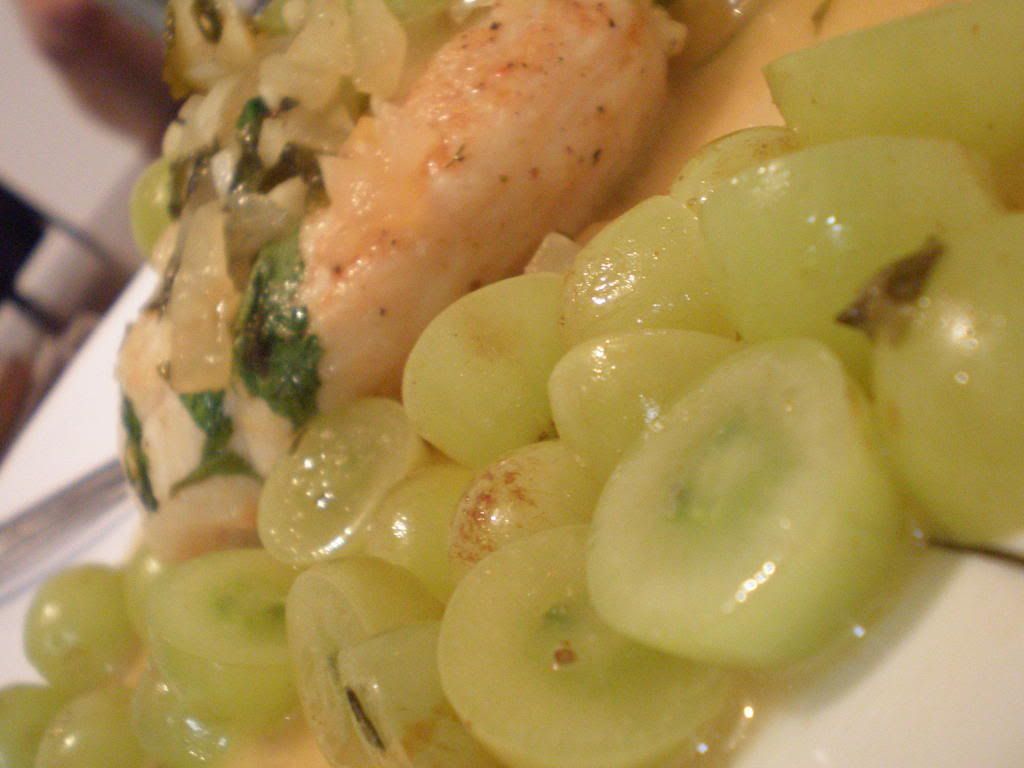 Chicken with White Wine, Grape Juice, and Cilantro
(Pollo a la Uva Blanco con Cilantro)

6 (6-ounce) skinless, boneless chicken breast halves
3/4 teaspoon kosher salt
1/8 teaspoon freshly ground black pepper
3 tablespoons olive oil
1 cup vertically sliced onion
2 garlic cloves, minced
3/4 cup dry white wine
6 tablespoons finely chopped fresh cilantro, divided
1/3 cup unsweetened white grape juice
1/2 teaspoon ground coriander
1/4 teaspoon ground cumin
1/4 teaspoon crushed red pepper
1 1/2 cups seedless green grapes, halved


Sprinkle chicken with salt and black pepper. Heat oil in a 12-inch nonstick skillet over medium-high heat. Add chicken; cook 2 minutes on each side or until lightly browned. Add onion and garlic; sauté 2 minutes or until onion is tender. Stir in wine, 3 tablespoons cilantro, and next 4 ingredients (through red pepper); bring to a boil. Cover, reduce heat, and simmer 30 minutes or until chicken is done.

Transfer chicken to a serving platter, and keep warm. Increase heat to medium-high; cook until sauce is reduced to 1 cup (about 5 minutes). Stir in grapes. Spoon sauce over chicken; sprinkle with remaining 3 tablespoons cilantro.

Serves: 6

As I said, this dish is fairly easy to make. I used only 2 chicken breasts, rather than 6 (as there are only 2 of us), but kept all the proportions the same. It worked out really well and still tasted great.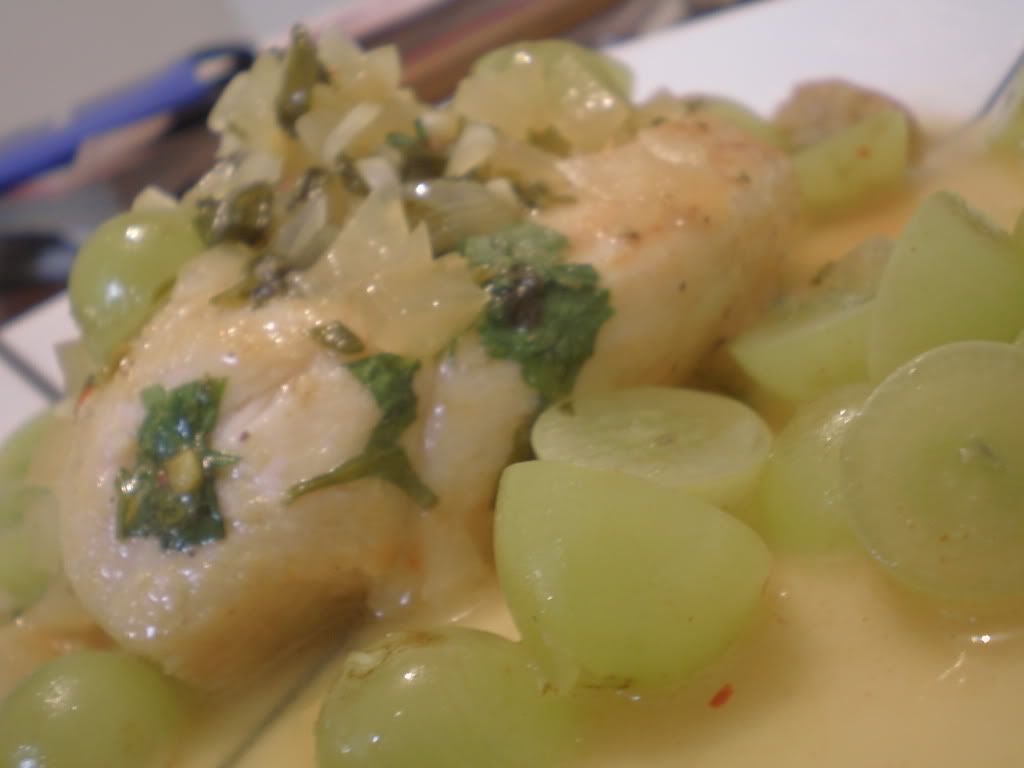 Nutrition Facts
Amount per serving
Calories 282
Calories from fat 96
% Daily Value


Total Fat 10.7g
16%


Saturated Fat 1.7g
9%


Cholesterol 99mg
33%


Sodium 568mg
24%


Total Carbs 8.3g
3%


Dietary Fiber 0.6g
3%


Sugars 6.1g


Protein 35.5g


Vitamin A 3%
Vitamin C 14%


Calcium 2%
Iron 2%