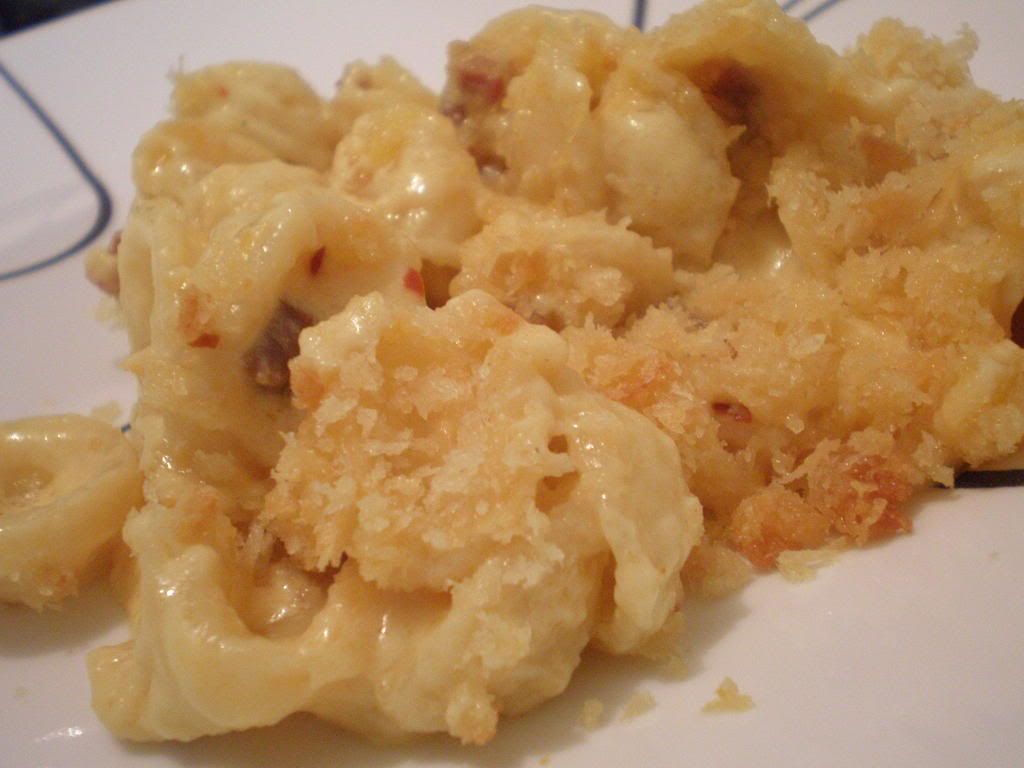 Mac and cheese -- one of my absolute favorite things to eat as a kid. You know, the stuff from the blue box? Yes, I was definitely a Kraft Mac n' Cheese kid, not Velveeta. Velveeta is just way too thick and sticky for me.
I always made my sister make it too. For some reason, most likely unfounded, it always tasted better when she made it. I never could seem to perfect the creamy cheese art from the blue box the way she did.
Well, years later, I still love me some Mac and Cheese, but I wanted to search for something a little outside the "box". Preferrably something with meat -- for Adam, of course. While flipping through last month's
Bon Appetit
, I came across this scrumptious sounding dish. Which, of course, included meat.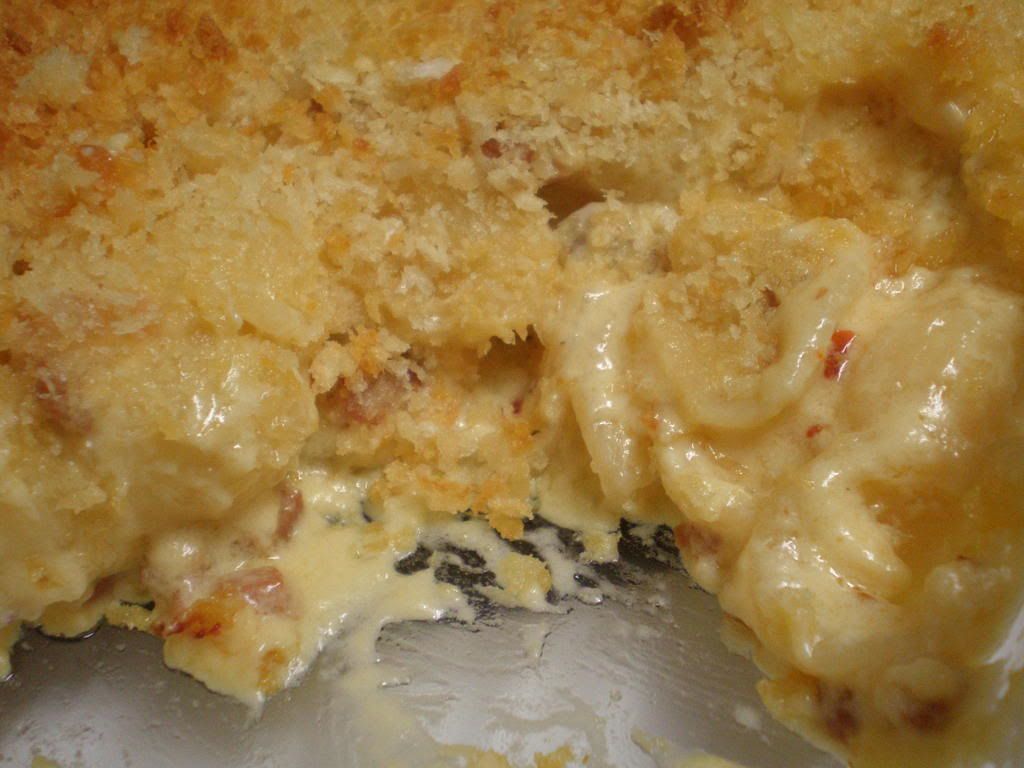 Mac and Cheese with Pancetta
8 tablespoons (1 stick) butter, divided
4 ounces thinly sliced pancetta, coarsely chopped (I used proscuitto)
1 cup finely chopped onion
3/4 teaspoon dried crushed red pepper
1 garlic clove, minced
1/4 cup all purpose flour
3 1/2 cups (or more) whole milk (I used 2%)
2 1/2 cups coarsely grated sharp cheddar cheese
1 cup finely grated Parmesan cheese
1 8- to 8.8-ounce container mascarpone cheese
1 1/2 cups panko
1/2 cup chopped fresh Italian parsley
1 pound orecchiette or large elbow macaroni
Melt 1 tablespoon butter in large deep skillet over medium-high heat. Add pancetta; saute until crisp, about 6 minutes. Add onion; saute until tender, about 5 minutes. Add crushed red pepper and garlic; stir 1 minute. Stir in 3 tablespoons butter; allow to melt, then add flour and stir 1 minute. Gradually whisk in 3 1/2 cups milk; simmer until thick enough to coat spoon thickly, stirring frequently, about 5 minutes. Remove from heat. Whisk in cheeses. Whisk in more milk by 1/4 cupfuls until sauce is thick but pourable. Season with salt and pepper. Do ahead: Can be made 1 day ahead. Chill uncovered until cool; cover and chill. Rewarm, stirring over medium heat.
Melt 4 tablespoons butter in large nonstick skillet over medium-high heat. Add panko and stir until very light golden, about 5 minutes. Remove from heat. Stir in parsley. Do ahead: Can be made 1 day ahead. Cover and chill.
Preheat over to 350 degrees F. Lightly butter 13x9x2-inch glass baking dish. Cook pasta in large pot of boiling salted water until just tender but still firm to bite, stirring occasionally. Drain well. Return pasta to pot. Add warm cheese sauce; toss to coat. Season with salt and pepper. Transfer mixture to prepared baking dish. Sprinkle crumb mixture evenly over. Bake mac and cheese until heated through and topping is golden brown, about 30 minutes.

Serves: 8

This dish was definitely tasty. The proscuitto definitely added the right bit of flavor to all the cheesey goodness. Both Adam and I were very happy with this dish, however my sister made it as well, and gave it a "just okay..."
I would for sure make this again, and give it an:


Nutrition Facts
Amount per serving
Calories 534
Calories from fat 251
% Daily Value


Total Fat 27.9g
43%


Saturated Fat 15.7g
79%


Trans Fat 0.0g


Cholesterol 80mg
27%


Sodium 694mg
29%


Total Carbs 45.7g
15%


Dietary Fiber 2.2g
9%


Sugars 6.3g


Protein 24.3g


Vitamin A 19%
Vitamin C 7%


Calcium 42%
Iron 15%