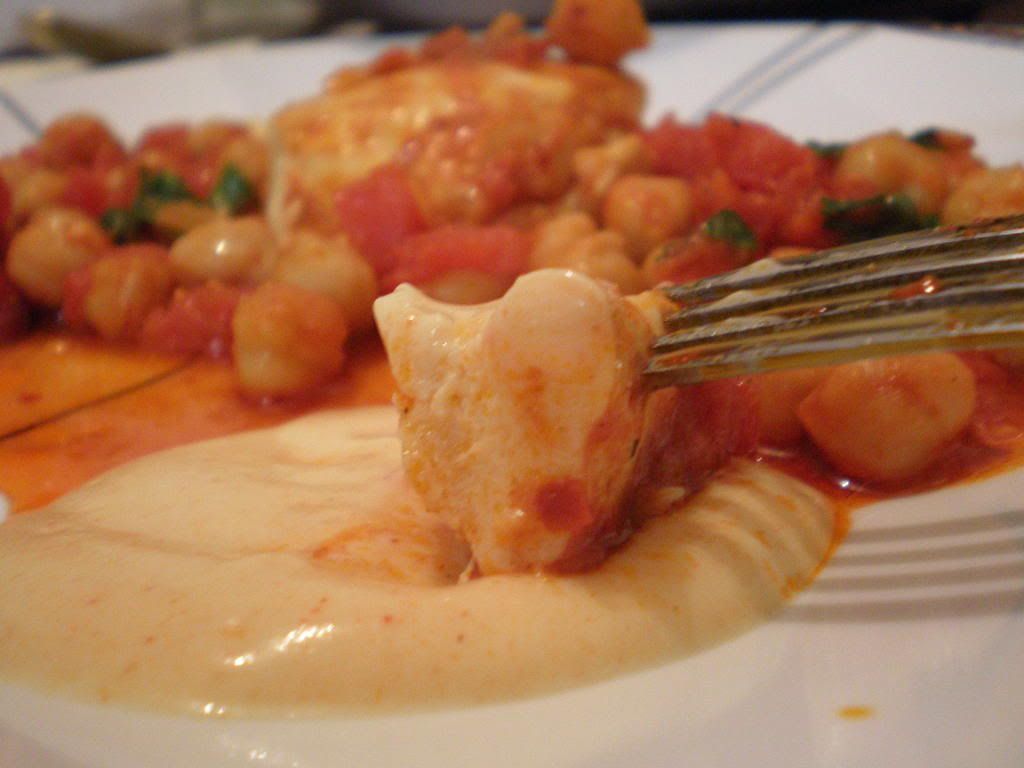 I have to admit, a year ago, I was pretty much in the stone age when it came to new and different food. I thought the Food Network was full of boring straight-forward cooking shows, and my cooking experiences were severely limited to very basic recipes with very average ingredients. Or frozen dinners.
Now, I will watch the Food Network with interest, and actually have gone outside my comfort zone with recipes. And I'm pretty sure my spice collection is several times bigger than I ever thought I needed.
I must admit, prior to moving in with my sister last year, I didn't really know what a chickpea was, much less what to do with it. However, good ol' sis introduced wonderful hummus to me, and I have garbanzo beans in a few recipes, and am always looking for more. Adam has yet to get used to their texture, but this recipe is winning him over. :)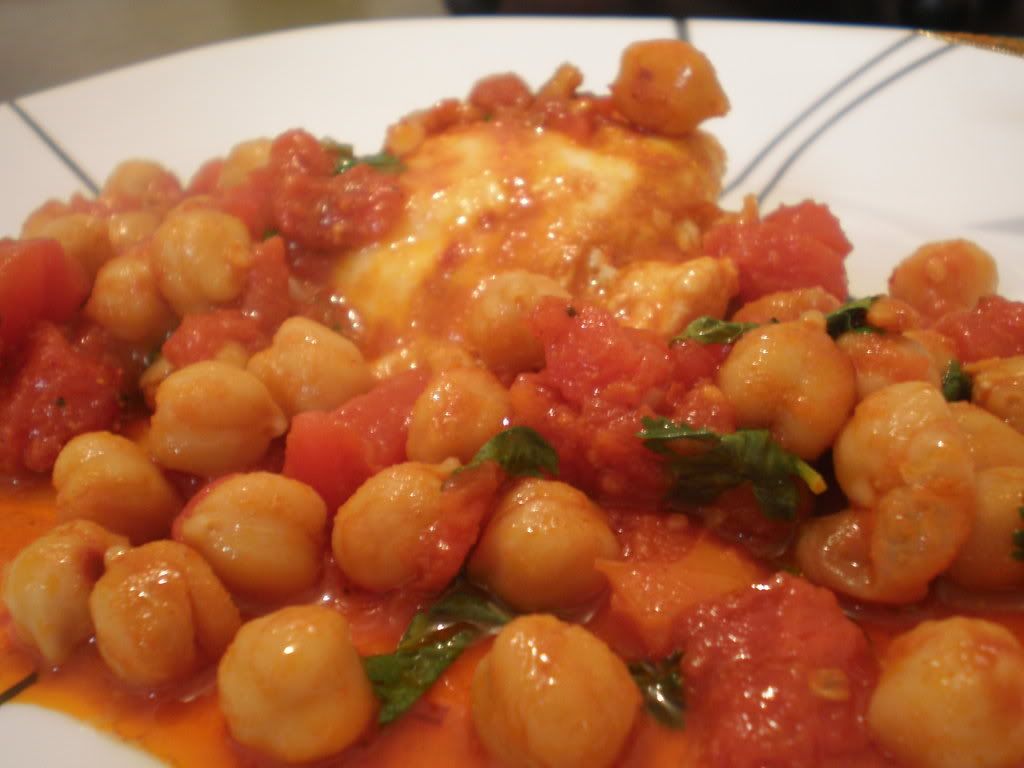 Roast Chicken Breasts with Garbanzo Beans, Tomatoes, and Paprika
1/4 cup extra-virgin olive oil
4 garlic cloves, pressed
1 tablespoon smoked paprika*
1 teaspoon ground cumin
1/2 teaspoon dried crushed red pepper
1/2 cup plain yogurt or Greek yogurt
4 chicken breast halves with bones
1 15-ounce can garbanzo beans (chickpeas), drained
1 12-ounce container cherry tomatoes
1 cup chopped fresh cilantro, divided
Preheat oven to 450°. Mix first 5 ingredients in medium bowl. Pour 1 teaspoon spiced oil mixture into small bowl; whisk in yogurt and set aside for sauce. Place chicken on large rimmed baking sheet. Rub 2 tablespoons spiced oil mixture over chicken. Add beans, tomatoes, and 1/2 cup cilantro to remaining spiced oil mixture; toss to coat. Pour bean mixture around chicken. Sprinkle everything generously with salt and pepper.

Roast until chicken is cooked through, about 20 minutes. Sprinkle with 1/2 cup cilantro. Transfer chicken to plates. Spoon bean mixture over. Serve with yogurt sauce.

*Sometimes labeled Pimentón Dulce or Pimentón de La Vera Dulce; available at some supermarkets, at specialty foods stores, and from tienda.com.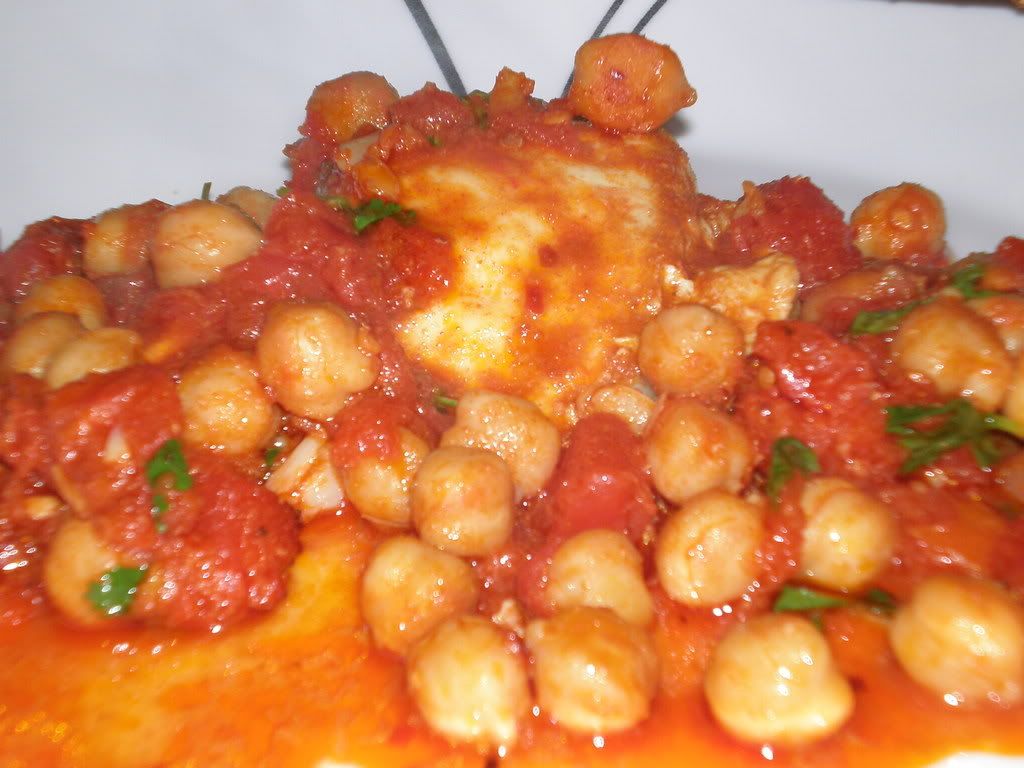 I did make a couple adjustments to the recipe -- I used diced tomatoes rather than the cherry tomatoes (I'm not a fan), and I used just regular yogurt, as I have yet to run across the Greek version.
I would definitely recommend using the smoked paprika rather than adding more of regular paprika since the dish's whole flavor is based around this spice. (Check the fancy McCormick spices in the glass bottles at your supermarket.)
This dish is really easy to put together and doesn't take that long to make, which just an added bonus to it's deliciousness. However, much like the chicken and grapes, this dish has a very unique flavor, so it's one of those dishes I have to be in the mood for. Thus, I rate it:
Nutrition Facts
Amount per serving
Calories 769
Calories from fat 264
% Daily Value


Total Fat 29.4g
45%


Saturated Fat 5.2g
26%


Cholesterol 103mg
34%


Sodium 153mg
6%


Total Carbs 72.4g
24%


Dietary Fiber 20.5g
82%


Sugars 16.1g


Protein 56.4g


Vitamin A 43%
Vitamin C 31%


Calcium 21%
Iron 51%