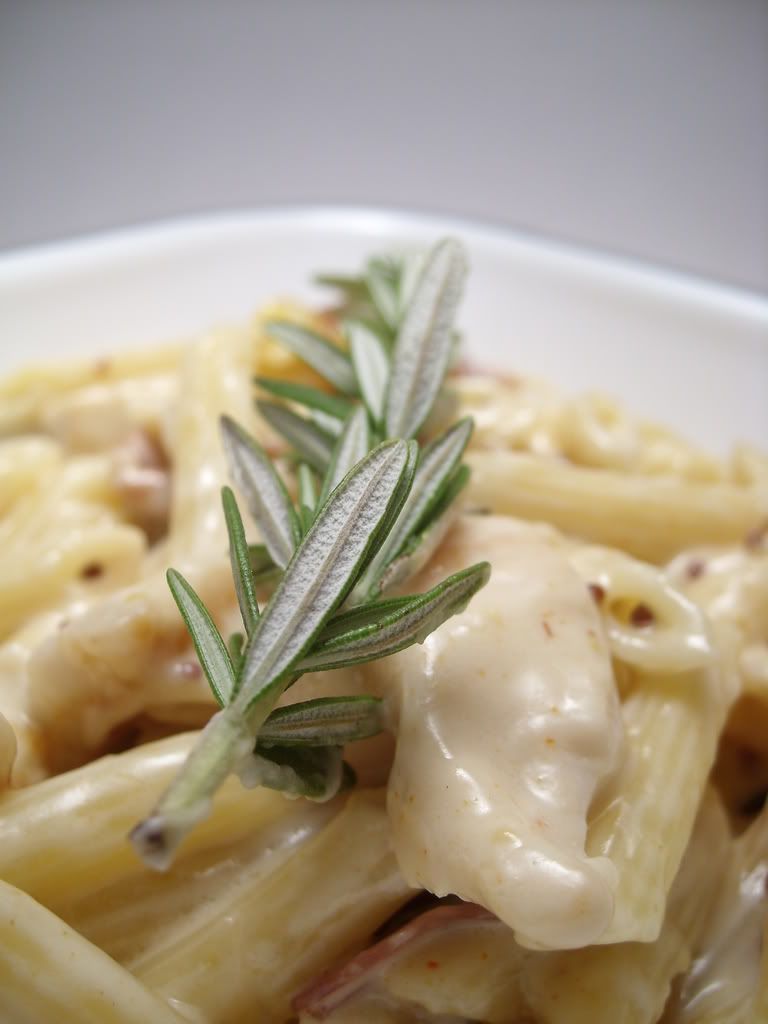 As I have mentioned before, I love Google Reader. However, I have the unfortunate habit of starring recipes and then completely forgetting about them. Such as this fabulous recipe from
Simply Tasty
I starred back in August, and didn't get around to making until November.
And all that time, I was definitely missing out. This dish is definitely rich and very tasty. I recommend having a nice loaf of bread with some dipping oil to break up the heaviness of the dish a bit.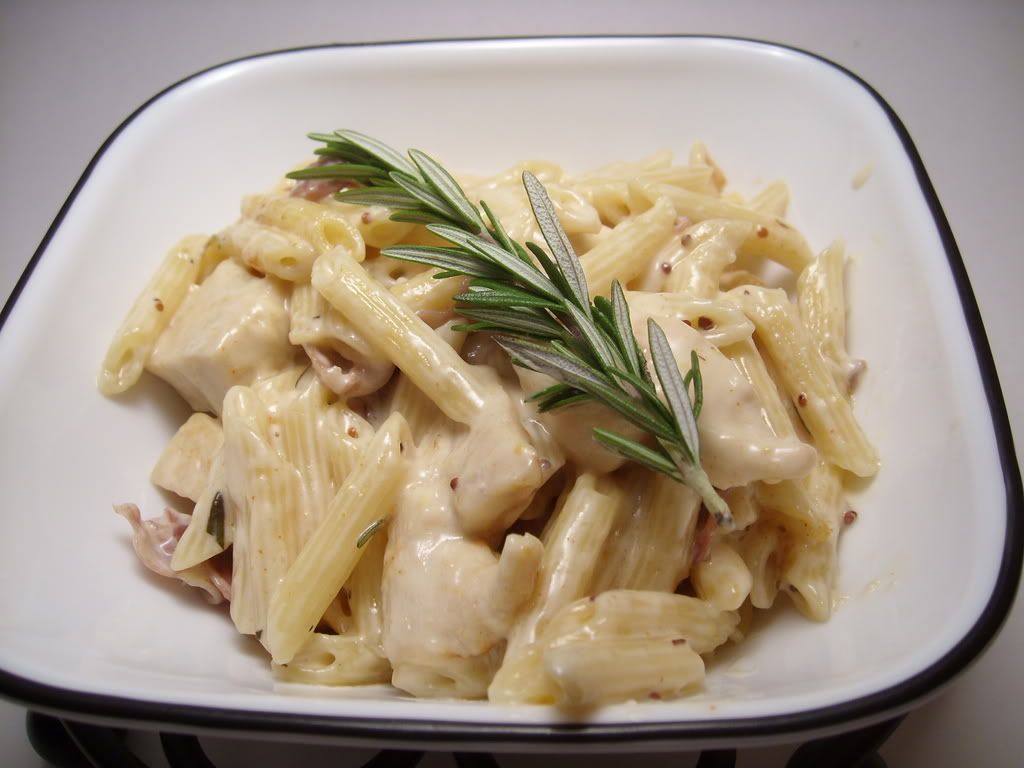 Ramano's Macaroni Grille Vodka Rustica
GRATINATA SAUCE
3 tbsp butter
2 tbsp minced garlic
3 tbsp marsala wine
2 cups heavy cream
1 cup grated Parmesan cheese
1/2 cup cold milk
1/4 cup vodka
1/4 cup water
1/2 tsp chicken bullion
1 tbsp cornstarch
1 tbsp Dijon Mustard
2 tsp minced fresh rosemary
1/2 tsp salt
1/2 tsp fresh minced thyme (used dry)
1/4 tsp ground cayenne pepper
1lb penne pasta cooked
12 medium shrimp (omitted)
2 skinless chicken breasts
1/2 cup Prosciutto, about 2 oz thick-sliced, chopped
TOPPING
3 tbsp grated Parmesan Cheese
1.5 tsp Paprika
GARNISH (omitted)
12 sliced pimientos
4 sprigs of rosemary
Preheat bbq grill to high.
Prepare gratinata sauce by melting 3 tbsp of butter over medium/low heat. Add garlic and sweat it for about 5 minutes. Be sure the garlic doesn't brown. Add the marsala wine and cook for another 5 minutes. Add the remaining ingredients for the sauce and whisk until smooth. Bring mixture to a simmer and keep it there for 10 minutes or until it's thick. Cover sauce and remove from heat.
Cook past following directions on the package (7-9 minutes in boiling water). You want the pasta tender, but not mush (al dente). Strain pasta and set it aside when it's done.
Pound the thick end of your chicken breast a bit with a kitchen mallet to make them a uniform thickness. Rub chicken with olive oil, then sprinkle on a bit of salt and pepper. Spear the shrimp on skewers (6 per skewer should work fine), then rub them with oil, and sprinkle with salt and pepper.Grill chicken for 5 to 6 minutes per side. Grill shrimp for 2 minutes per side. When chicken is done, slice each breast into strips.
Preheat oven to 500 degrees. Build each dish in a large shallow baking dish. Or you can use a 9 inch glass or ceramic pie plate. Load 3 cups of pasta into each baking dish. Add one quarter of the chicken, 3 shrimp, and 2 tbsp of prosciutto onto each serving. Spoon 3/4 of a cup of gratinata sauce on each serving and toss to coat. Combine 3 tbsp of grated Parmesan cheese with 1 1/2 tsp paprika, then sprinkle about 1 tbsp of this mixture over the top of each serving. Bake the dishes for 10-12 minutes, or until tops begin to brown. Arrange 3 pimentos on the top of each serving, then jab a sprig of rosemary into the center and serve.
Alterative cooking method: After straining the pasta, placed it in a 9x13 glass pan sprayed with Pam. Mix in the chicken and bacon, then stir in the sauce until the pasta is coated. Bake the dish for about 5 min, stir, and sprinkle on the topping. Bake it for another 5 or so minutes.

Serves: 8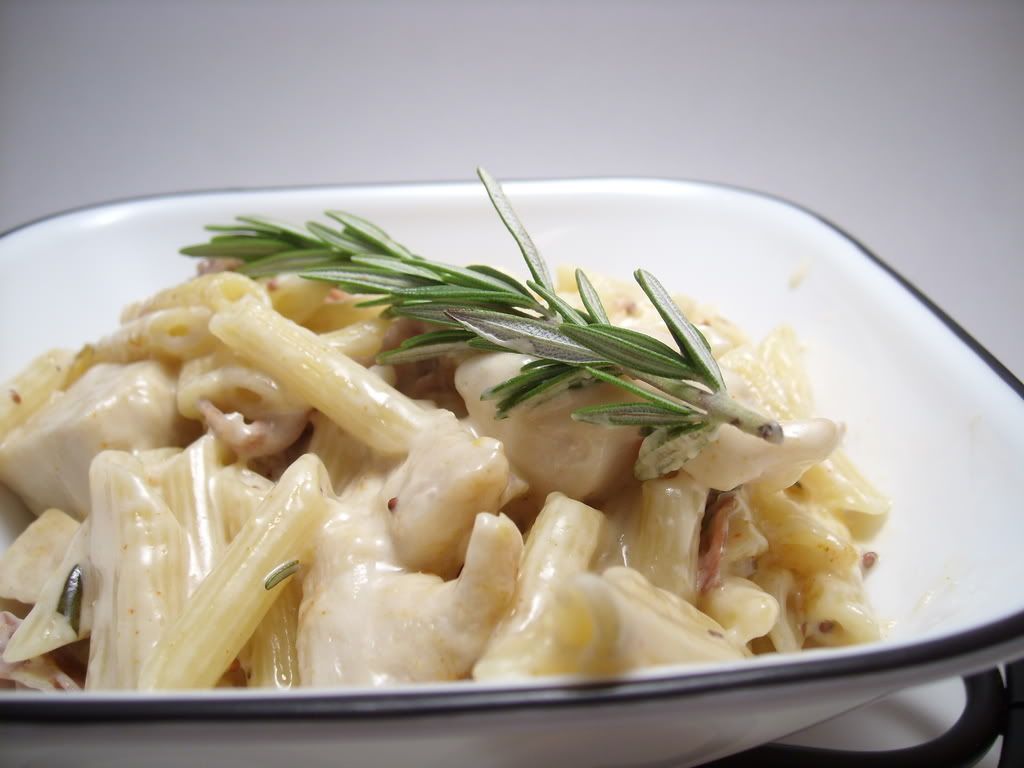 Well, as Stacey did, I cut out a couple things, such as the shrimp and the garnish. I also cheated with the chicken, and just sauted cubed chicken over medium-high heat instead of grilling it. (I'm all about saving some time, okay?) I also took her cooking suggestion (the alternative method) and baked it in a 9x13 pan instead of three separate dishes.
Adam for sure fell in love with this dish and instantly rated it:


Nutrition Facts
Amount per serving
Calories 591
Calories from fat 227
% Daily Value


Total Fat 25.2g
39%


Saturated Fat 13.6g
68%


Trans Fat 0.0g


Cholesterol 371mg
124%


Sodium 851mg
35%


Total Carbs 35.6g
12%


Sugars 1.1g


Protein 48.5g


Vitamin A 24%
Vitamin C 7%


Calcium 27%
Iron 36%