You know that Staples commercial with the easy button? I would
love
to have one of those. No, a real one --not the one that just sits there and talks. I could use that thing all over the place -- at work (all the patients would just magically clean themselves), getting accepted into school (those essays would write themselves), working out, and cooking really good meals (with no dirty dishes).
Unfortunately, the easy button doesn't really exist. Or at least someone is hiding it from me very very well. On the up side, this meal is really pretty easy to make. According to Kraft Foods, it only takes about 25 minutes to make (including prep and cook times), which means it would take me about 25-30 minutes to make and Adam about 35-40. ;)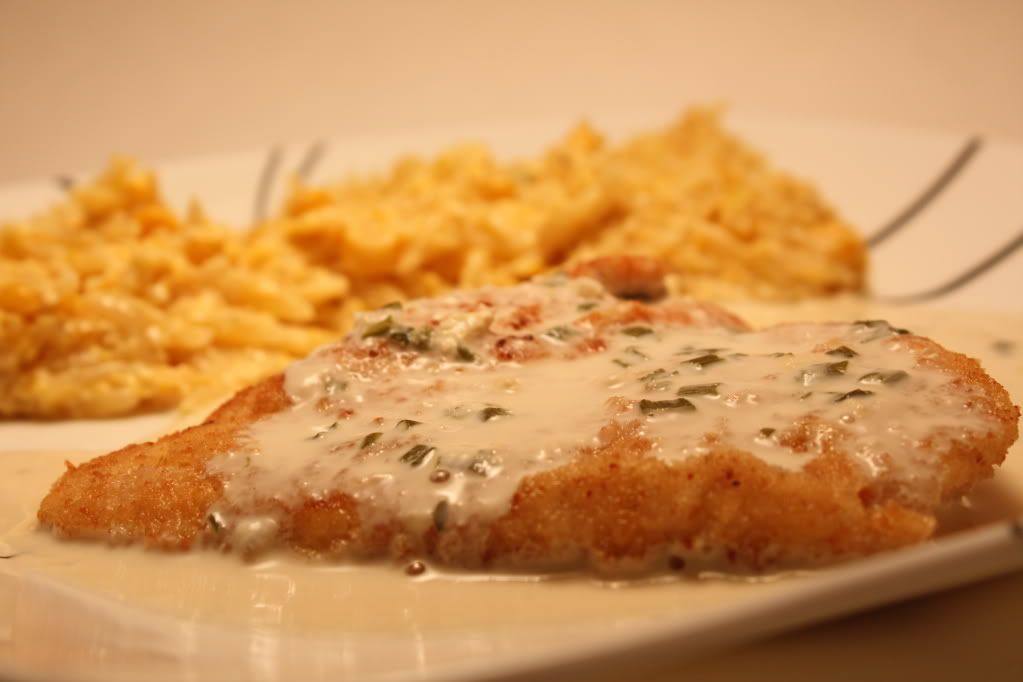 Parmesan Crusted Chicken with Onion & Chive Cream Sauce
From: Adapted from
Kraft Foods
,
1 generous cup chicken broth
1/3 cup bread crumbs
2 tbsp. grated Parmesan Cheese
1 egg, beaten
2 chicken breasts, pounded thin
2 tsp oil
1/2 cup reduced fat Cream Cheese with Chive & Onion
Mix bread crumbs and Parmesan on plate or in a small bowl. Rinse chicken with cold water; gently shake off excess. Dip chicken in egg and then in crumb mixture, turning to evenly coat both sides of each breast. Discard any remaining crumb mixture.

Heat oil in large nonstick skillet on medium heat. Add chicken; cook 5 to 6 min. on each side or until done (165°F).
Meanwhile, in a separate skillet, add broth and cream cheese to skillet; bring just to boil, whisking constantly. Cook 3 min. or until thickened (get it fairly thick), stirring frequently; spoon over chicken.
As you can tell by the pictures, my sauce ended up a little on the runny side, but it was still pretty good. And hey, it was pretty dang simple too. Too bad there were still dirty dishes...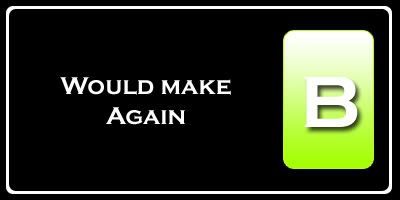 Nutrition Facts
Amount per serving
Calories 559
Calories from fat 290
% Daily Value


Total Fat 32.2g
50%


Saturated Fat 13.9g
69%


Trans Fat 0.0g


Cholesterol 248mg
83%


Sodium 1018mg
42%


Total Carbs 17.8g
6%


Dietary Fiber 0.8g
3%


Sugars 5.7g


Protein 48.3g


Vitamin A 20%
Vitamin C 0%


Calcium 24%
Iron 16%