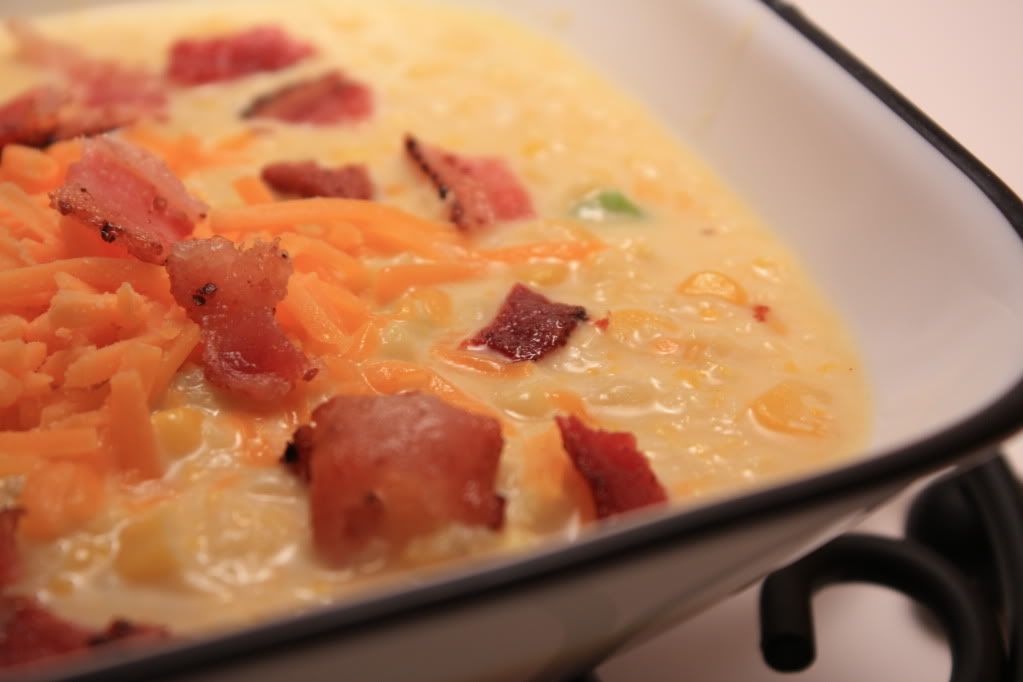 I consider myself a fairly lucky newbie cook -- my taste-testing hubby likes pretty much anything and everything and doesn't really complain about what I feed him. I actually haven't recieved the "where's the meat?" comment in a while, which is surprising. (Although I have tried to be good about including meat in the meals and throwing in some steak/red meat every once in a while.)
Every once in a while though, I can tell when I've missed the mark. This corn chowder ended up being in that category. Now, before you blow this recipe off, I happened to enjoy it. And well, he did too, his excuse happened to be that he doesn't really care for corn chowders because they get too sweet after a while. And I forgot to give him any type of bread with it. (So demanding!) So if you're a fan, I'd give it a go, seeing as it's out of Cooking Light's Fresh Food Fast so it's easy and fast to throw together.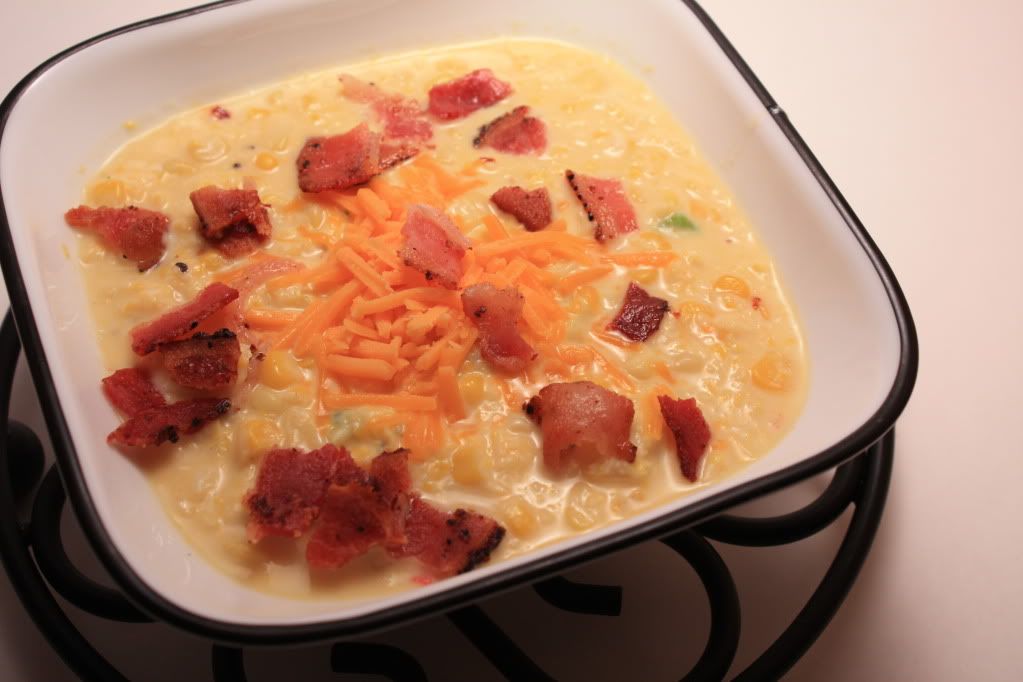 2 bacon slices
1/2 cup refrigerated prechopped celery, onion, and bell pepper mix
2 (16-ounce) packages frozen baby gold and white corn, thawed and divided
2 cups 2% milk, divided
1/2 teaspoon salt
1/4 teaspoon freshly ground black pepper
3/4 cup (3 ounces) reduced-fat shredded extra-sharp cheddar cheese
Freshly ground black pepper (optional)
Cook bacon in a Dutch oven over medium heat until crisp. Remove bacon from pan; crumble and set aside. Add celery mixture and 1 package corn to drippings in pan; sauté 5 minutes or until vegetables are tender.
Place remaining 1 package corn and 1 cup milk in a blender, and process until smooth. Add pureed mixture to vegetables in pan; stir in remaining 1 cup milk, salt, black pepper, and cheese. Cook over medium heat (do not boil), stirring constantly, until cheese melts. Ladle chowder into bowls. Top each serving evenly with reserved crumbled bacon. Sprinkle with additional black pepper, if desired.
Serves: 6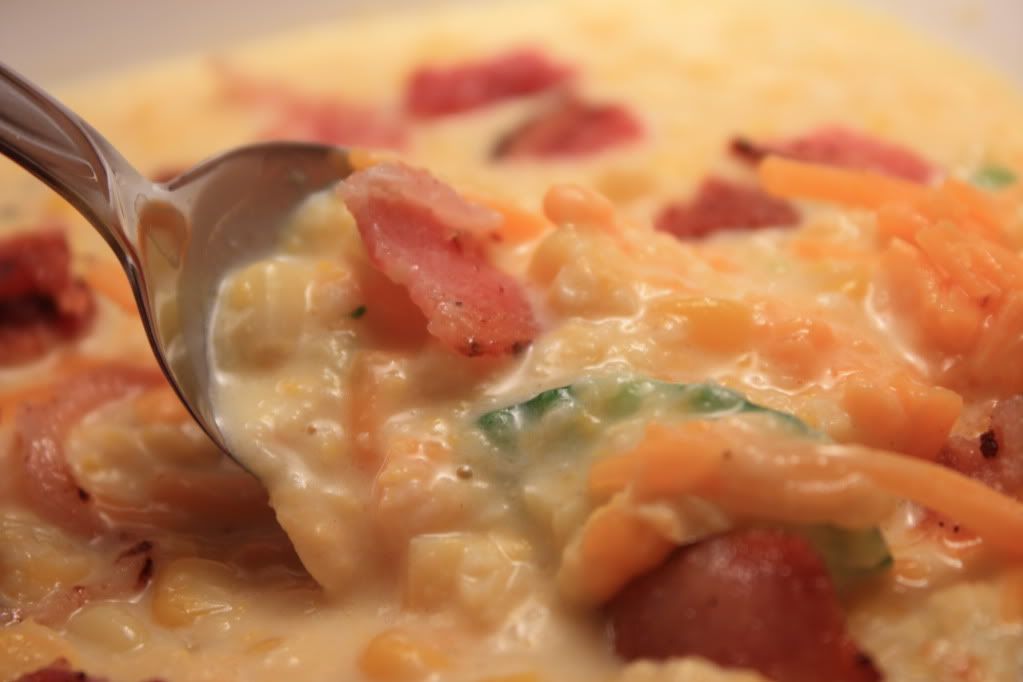 Overall, it was pretty good. I added in more bacon than the recipe originally called for, and next time, I'd probably add even more. Bacon always makes everything better. :)
The recipe calls for a "prechopped celery, onion, and bell pepper mix", which I'm pretty sure means that you prepare it ahead of time. Because I looked all over that dang grocery store and I couldn't find it. Since I didn't feel like making the mix at that point, I opted for a mix that had red peppers, onions, corn, and maybe peas in it. Or something like that. It worked. I'm pretty sure that this recipe is flexible when it comes to adding the veggies, so just throw in some of your favorites.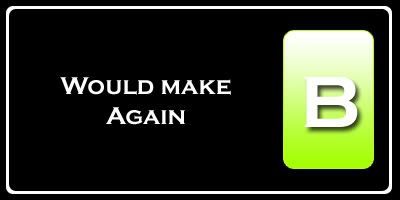 Nutrition Facts
Amount per serving
Calories 289
Calories from fat 108
% Daily Value


Total Fat 12.0g
19%


Saturated Fat 5.6g
28%


Trans Fat 0.0g


Cholesterol 32mg
11%


Sodium 561mg
23%


Total Carbs 34.9g
12%


Dietary Fiber 4.8g
19%


Sugars 9.5g


Protein 15.0g


Vitamin A 25%
Vitamin C 18%


Calcium 21%
Iron 7%