Over the last couple weeks I have had an on-again-off-again relationship with Asian cuisine. There are some days I craved it, but just didn't have the right recipe, and then there were other days that Asian food was the last thing on my list of things I was in the mood for.
I got lucky at the beginning of the month and my craving and having the right recipe coincided. I still have a few untried Asian recipes sitting around, but this one looked like it would do the trick.
1 tablespoon dark sesame oil, divided
1 tablespoon grated peeled fresh ginger
2 garlic cloves, minced
2 (4 ounce) chopped skinless, boneless chicken breasts (roasted, cooked, etc.)
1/2 cup chopped green onions
1/4 cup chopped fresh cilantro
3 tablespoons soy sauce
2 tablespoons rice vinegar
2 tablespoons hoisin sauce
2 teaspoons sambal oelek (ground fresh chile paste)
1 (6.75-ounce) package thin rice sticks (rice-flour noodles)
2 tablespoons chopped dry-roasted peanuts (
oops, forgot these
)
Heat 2 teaspoons oil in a small skillet over medium-high heat. Add ginger and garlic to pan; cook 45 seconds, stirring constantly. Place in a large bowl. Stir in remaining 1 teaspoon oil, chicken, and next 6 ingredients (through sambal).
Cook noodles according to package directions. Drain and rinse under cold water; drain. Cut noodles into smaller pieces. Add noodles to bowl; toss well to coat. Sprinkle with peanuts.
Serves: 4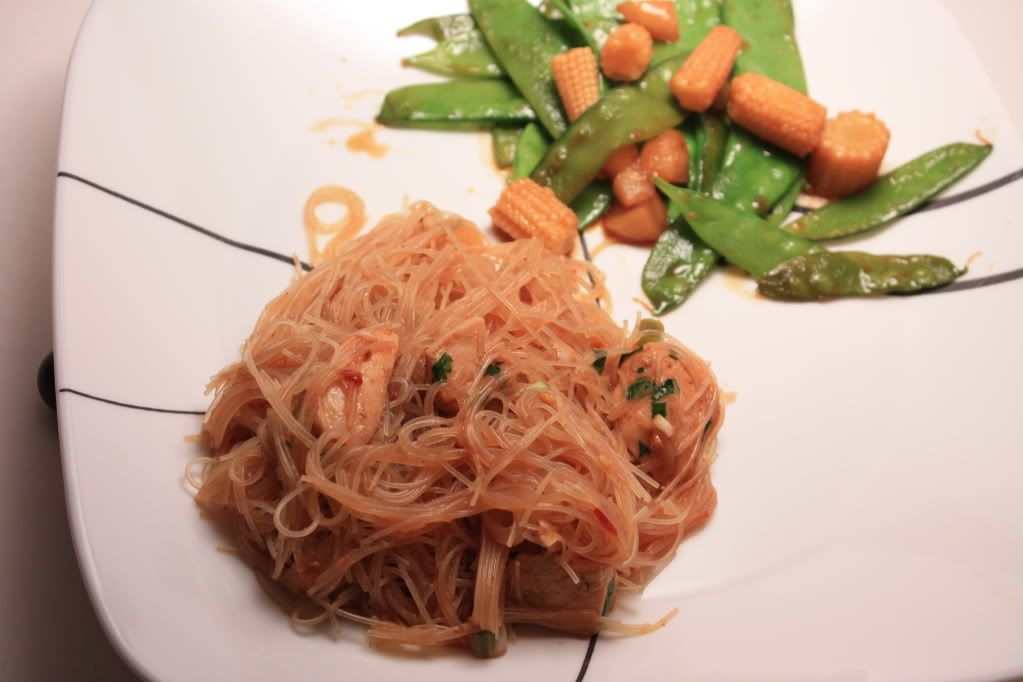 Well, I'm not sure if they completely hit the spot. But they were definitely NOT kidding when they labeled it "Spicy". Even Adam (who loves him some hot hot wings) had to stop a few times. I was proud of myself though -- I actually cooked these noodles correctly. Me and chinese-type noodles don't really go together so well. It typically ends up in a sticky mushy ball.
I give it a "B" -- mostly because the spiciness caused us to put it down a few times. (Maybe I just need a lighter hand when making things...)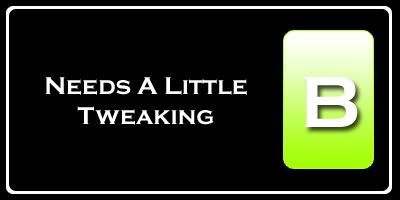 As a side, I made a quick
stir fry
with just snow peas, baby corn, and water chestnuts. But those
Sichuan Green Beans
would go pretty good with this too (if you can handle all that heat).
Nutrition Facts
Amount per serving
Calories 204
Calories from fat 67
% Daily Value


Total Fat 7.4g
11%


Saturated Fat 1.1g
6%


Cholesterol 33mg
11%


Sodium 926mg
39%


Total Carbs 19.6g
7%


Dietary Fiber 1.8g
7%


Sugars 3.0g


Protein 14.8 g


Vitamin A 4%
Vitamin C 7%


Calcium 3%
Iron 6%