Wait! Wait! Don't run off on me after seeing the word pâté! I promise it's not what you think. It definitely wasn't what I thought. I'm actually surprised that I even stopped to check out the ingredient list after seeing that word. Usually, the first thing one thinks of when pâté is mentioned, is some sort of paste made of liver (okay, maybe that's what I think of). And that is where I draw the line -- no offal for this kid. I just think some things are not meant to be eaten...
Anyhoo. This does NOT have any such things hidden in it. Just ground chicken, veggies, and some spices. That's it.
We'll do a walk through on the steps on this one as every once in a while pictures work a little better than words. :)
Haitian Chicken Pâté Puffs
Adapted From: Cooking Light, May 2010
1 habanero pepper
Cooking spray
1/4 cup chopped yellow onion
2 teaspoons minced garlic
1/2 pound ground chicken breast
1/4 cup shredded carrot
2 teaspoons tomato paste
2 teaspoons lime juice
1 teaspoon cider vinegar
1 tablespoon chopped green onions
1 teaspoon dried parsley
1/3 teaspoon dried thyme
1/2 teaspoon ground black pepper
1/4 teaspoon salt
1/8 teaspoon ground cloves
1/8 teaspoon ground nutmeg
1 package (2 sheets) frozen puff pastry, thawed
1 large egg
1 tablespoon water
Cut habanero in half. Seed and mince both halves. Heat a large nonstick skillet over medium-high heat. Coat pan with cooking spray. Add minced habanero, onion, and garlic to pan; sauté 3 minutes or until tender, stirring frequently. Add chicken; cook 5 minutes or until browned; stirring to crumble. Add carrot; cook 2 minutes. Add tomato paste; cook 1 minute, stirring constantly. Add lime juice and vinegar, scraping pan to loosen browned bits. Add green onions, parsley, thyme, black pepper, salt, cloves, and nutmeg; stir well. Remove from heat. Allow to cool to room temperature.
Place cooled chicken mixture in a food processor. Process until almost smooth (will turn clumpy).
Preheat oven to 400 degrees.
Roll each puff pastry into a 15x12-inch rectangle on a floured surface. Cut each pastry puff sheet into 10 squares (20 squares total).
Combine egg and water, stirring with a whisk. Brush egg mixture along edges of pastry squares.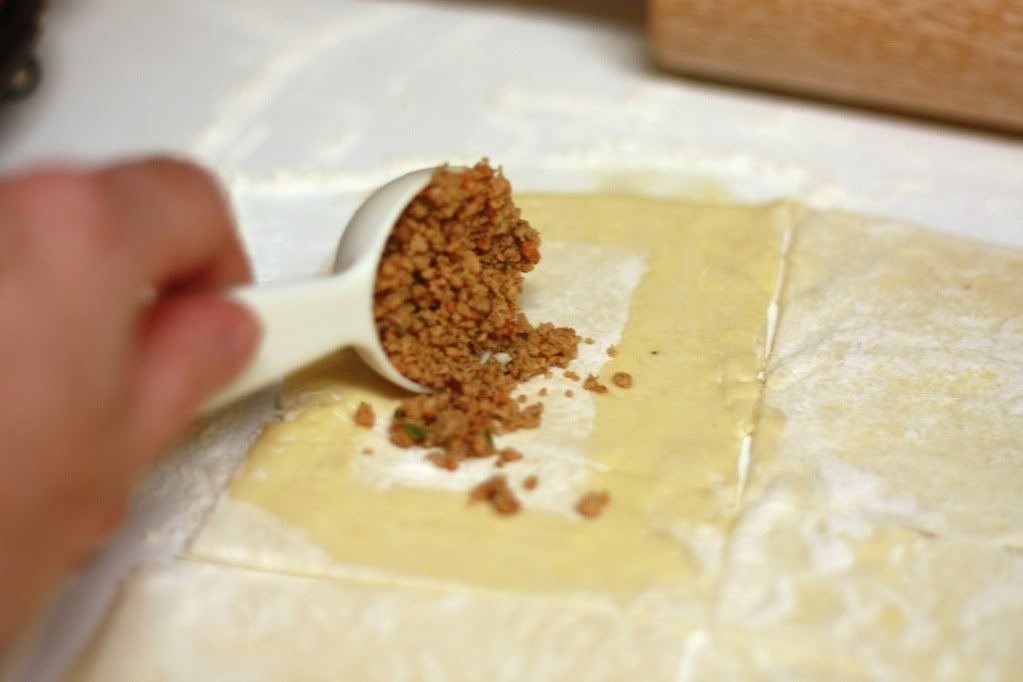 Spoon about 1 tablespoon chicken mixture in center of each pastry square.
Fold each pastry square in thirds like a letter.
Press edges closed with tines of a fork.
Brush top with egg wash and arrange 1 inch apart on a baking sheet.
Bake at 400 degrees for 20 minutes of until puffed and golden brown.
Yields: 20 puffs
The process to make these is fairly similar to making
Chicken Pillows
, just with different ingredients.
These were originally designed as appetizers, although staying true to form, Adam and I just ate them as an entreé. We both enjoyed these, although if you aren't a fan of spicy things, I would recommend switching out the habanero for a jalapeno. This would definitely be something a little on the different side when hosting a party.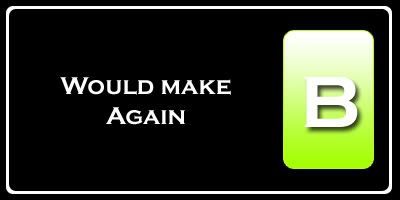 Nutrition Facts
Amount per serving
Calories 27
Calories from fat 8
% Daily Value
Total Fat 0.9g
1%
Trans Fat 0.0g
Cholesterol 18mg
6%
Sodium 46mg
2%
Total Carbs 1.4g
0%
Protein 3.4g
Vitamin A 6%
Vitamin C 7%
Calcium 0%
Iron 1%