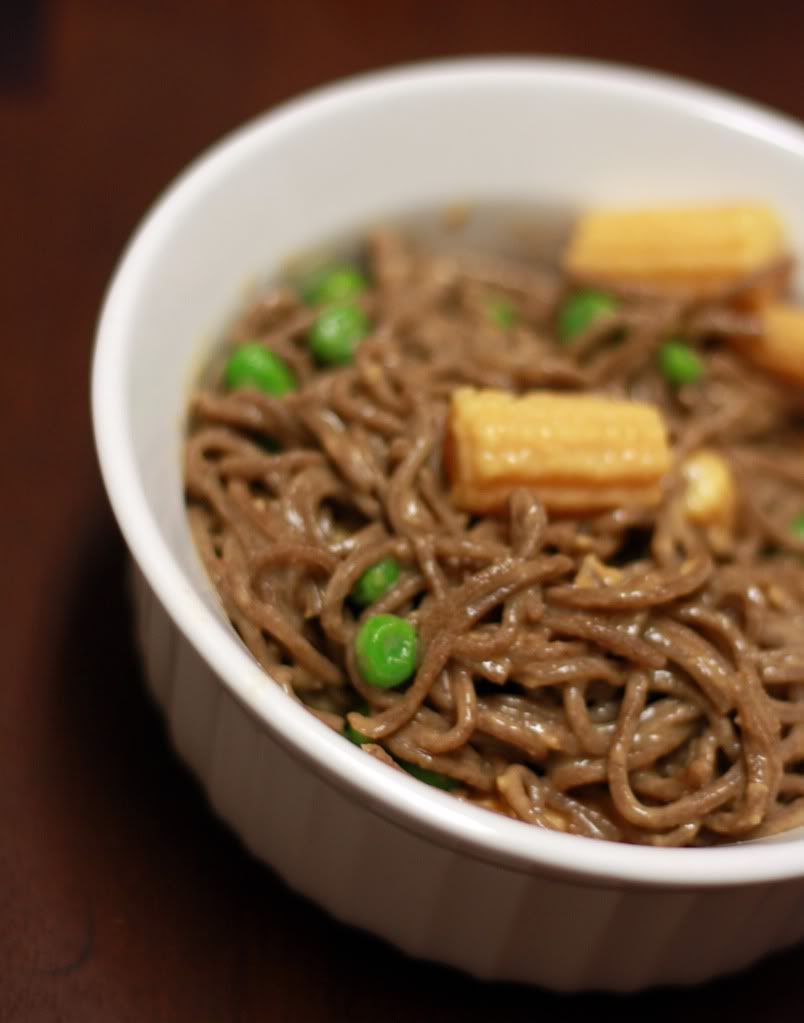 I am such a sucker for things with peanut butter in them. Growing up I loved peanut butter sandwiches. Not peanut butter and jelly sandwiches, just peanut butter. Never really was a fan of jelly, and honestly, I'm still not. Sure, I experimented with other add-ons -- marshmallow fluff, honey, banana slices, Nacho Cheese Doritos, you get the ideas. But I always came back to my peanut butter. Not only is it tasty, but extremely versatile. I love it in desserts (
Peanut Butter Brownies
), drinks (
Green Monster Smoothies
or Peanut Butter Chocolate Milkshakes from Johnny Rocket's), and especially in sauces (
Udon Noodles with Asian Vegetables and Peanut Sauce
).
Occasionally the peanut butter in sauces comes across very strong and in-your-face. This recipe throws a twist on it by including tahini. The tahini mellows out the peanut butter flavor a bit while still maintaining that nice thick creamy texture.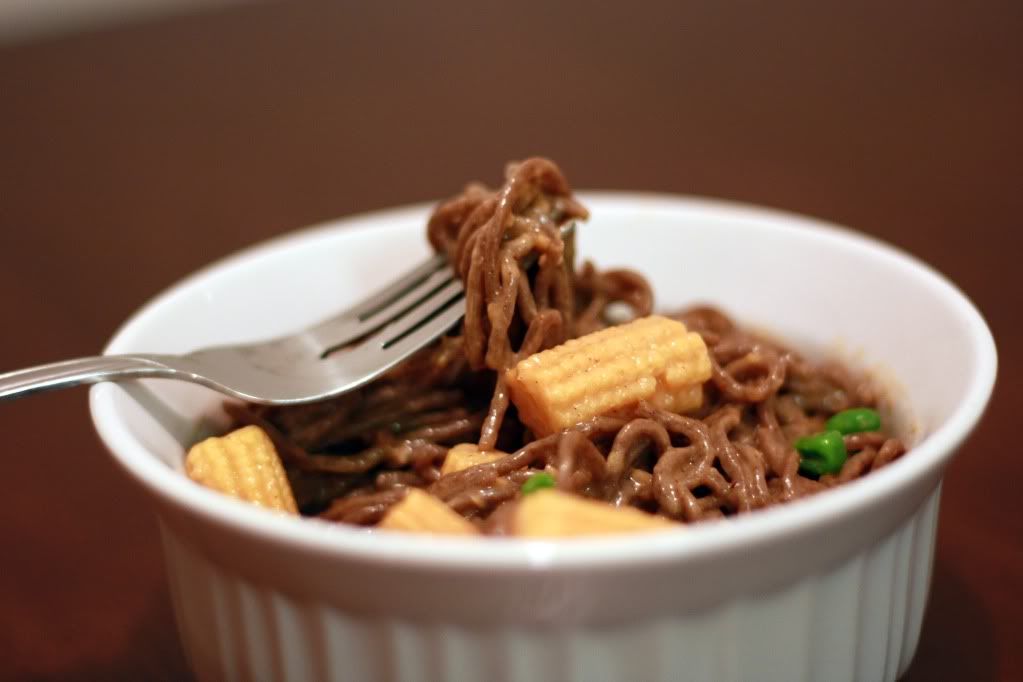 For the dressing:
6 cloves garlic, peeled and roughly chopped
1/4 cup fresh ginger, peeled and roughly chopped
1/2 cup vegetable oil
1/2 cup tahini
1/2 cup creamy peanut butter
1/2 cup soy sauce
1/4 cup dry sherry
1/4 cup red wine vinegar
1/4 cup honey
1/2 teaspoon garlic chili sauce
1 tablespoon dark sesame oil
1/2 teaspoon black pepper
1/4 teaspoon cayenne pepper
For the salad:
1 pound buckwheat soba noodles
1/2 bag frozen peas
1 can baby corn
Bring a large pot of water to boil. Cook the soba noodles to al dente according to the package directions. Drain the noodles. Thaw peas in the microwave according to the package directions.
Meanwhile, place the garlic and ginger in the bowl of a food processor fitted with the steel blade. Process until finely minced. Scrape down the sides of the bowl, then add in remaining dressing ingredients and puree until smooth.
Place the noodles in a large serving bowl and mix with about half of the dressing. Add the baby corn and peas; toss. Add remaining dressing to taste. Store remaining dressing in an airtight container in the refrigerator.
Serves: 8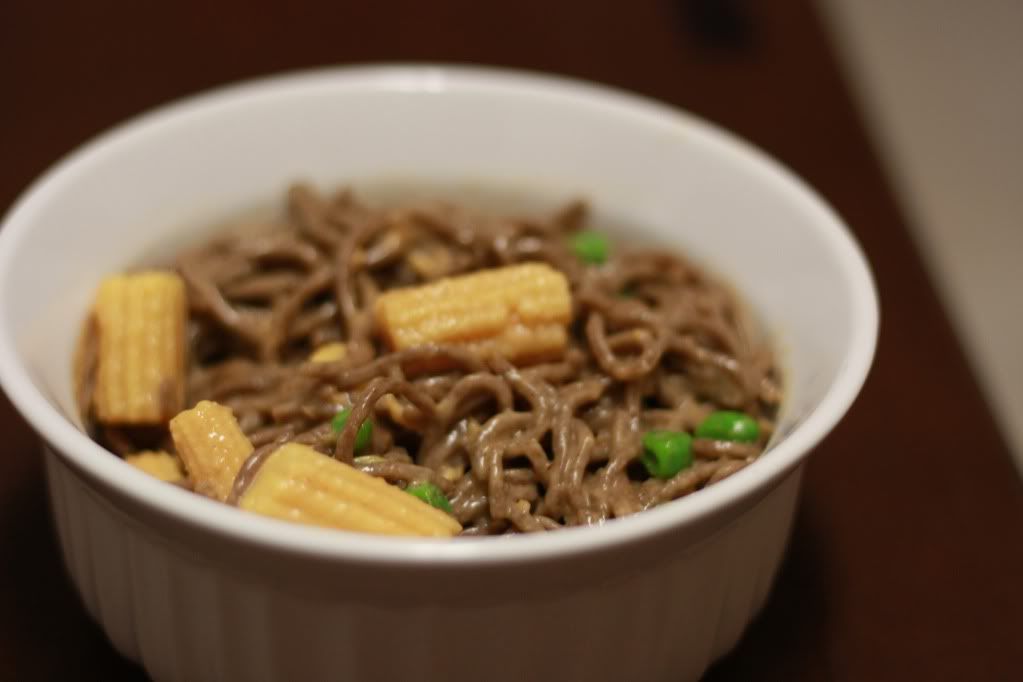 I made quite a few adaptations to this recipe based on what I had on hand and what I could and could not find in the store. If you can't find soba noodles, or don't like them, you can always opt for another variety of asian noodles or even spaghetti. Also feel free to mix up the veggies in this dish -- the original called for bell peppers and scallions. Since I know just how much Adam
loves
bell peppers, I decided we should skip out on those and try something else. Even with the changes I made, this was delicious, and it's definitely going on our list of "usual suspects".
Nutrition Facts
Amount per serving
Calories 640
Calories from fat 295
% Daily Value


Total Fat 32.8g
50%


Saturated Fat 6.0g
30%


Trans Fat 0.0g


Cholesterol 0mg
0%


Sodium 1470mg
61%


Total Carbs 75.8g
25%


Dietary Fiber 6.0g
24%


Sugars 13.8g


Protein 19.4g


Vitamin A 15%
Vitamin C 12%


Calcium 11%
Iron 26%