These have been on my to-make list for a year. A year people.
Last year, while we were still at home, I had purchased a bag of the candy cane kisses, and thoroughly enjoyed most of the bag before stumbling across this recipe. "Oh, well, I'll just make them for Christmas when we're out at Adam's parents."
Fast forward a couple weeks, much hair-pulling, and at least 4 grocery stores later -- there were absolutely no candy cane kisses to be found in the Kansas City area. I'm pretty sure his parents thought I was out of my mind. Well, more-so than normal anyways.
I will admit I felt slightly vindicated this year when I easily found them taking up shelf space at their local grocery store over Thanksgiving. Yes, they
do
exist.
As soon as I got my tush home from Kansas City I went out and bought a package. Then made these cookies. And became even more depressed that I had to wait an.entire.year to make these. Don't make the same mistake.
Chocolate Peppermint Kiss Blossoms
Adapted from:
1/2 cup

butter

, at room temperature
1/2 cup
vegetable shortening
1 cup
sugar
1
egg
1 teaspoon
vanilla extract
2 cups
all-purpose flour
1 teaspoon
baking powder
1/4 teaspoon
salt
2 tablespoons

cocoa

, such as Hershey's Special Dark
36

Hershey's Candy Cane Kisses

, unwrapped
Preheat oven to 350 degrees F. Line baking sheets with parchment paper; set aside.

In the large work bowl of a mixer, cream together the butter, sugar, and shortening until light and fluffy. Add the egg, continue to beat until well mixed. Mix in vanilla.

In a medium bowl, stir together the flour, baking powder, salt, and cocoa. Slowly mix dry ingredients into the large bowl, a little bit at a time until fully incorporated.

Roll dough into 1-inch balls (about 1 tablespoon). Place on prepared baking sheets 1-2 inches apart. Bake for 10-12 minutes. Remove from oven and let sit on the baking sheet for 2 minutes. Press a candy cane kiss into the center of each cookie. Transfer cookies to a wire rack to cool completely.
Makes:
3 dozen
While still absolutely tasty when eaten the next day, or a few hours after baking for that matter, these are absolutely a.w.e.s.o.m.e. almost right out of the oven. Okay, give them like 10 minutes or so, then they're awesome. The kisses hold their shape upon first inspection, but after the first bite they turn into a molten mess on the top of the cookie, which is just divine.
Microwaving is the next best thing when they're not straight-out-of-the-oven, but I have yet to find the right time to get that kiss to start getting gooey on the inside. Don't worry. I'm still trying.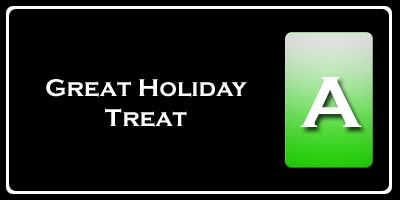 Nutrition Facts
Serving Size 25g
Amount per serving
Calories

122

Calories from fat 63
% Daily Value
Total Fat

7.0g

11%
Saturated Fat

3.3g

17%
Cholesterol

12mg

4%
Sodium 42mg
2%
Total Carbs

14.0g

5%
Sugars 7.9g
Protein

1.3g

Vitamin A 2%
Vitamin C 0%
Calcium 2%
Iron 2%