Originially, I had planned to try out a tasty-looking Ham and Macaroni Bake recipe from my new
Cooking Light
magazine, but as I ended up being the only one around for dinner... You know, casseroles just don't work for one person. So what was I to do with all this leftover ham from Easter? My housemates have run off, leaving it up to me to eat it all.
A few days ago, a post for ham recipes prompted me to start thinking about what all I could use the leftover ham for. I immediately thought of Kentucky Hot Browns, before remembering that the base meat is turkey -- not ham. Now, I must admit, even though I grew up in Kentucky I have never had a Kentucky Hot Brown, much less even heard of one until a few months ago (thanks to
Throwdown with Bobby Flay
).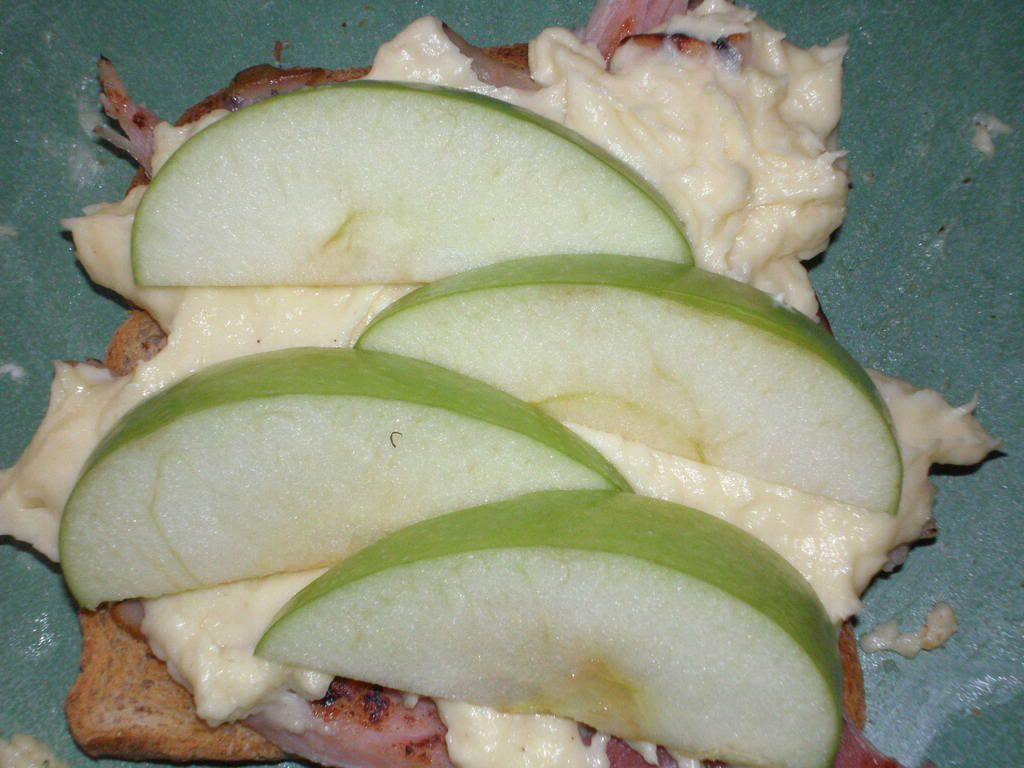 An original
Kentucky Hot Brown
consists of toast topped with turkey, tomato, cheese gravy, and two strips of bacon. Well, I had ham. Not turkey. And I don't like tomatoes. So instead, I put a little spin on the good ol' Hot Brown and ended up with something pretty fantastic.
The D.C. Hot Brown

Start with a piece of toast.
Fry up a little bit of ham and place on
top.
Fry thin-sliced turkey, and add to top. I used regular deli-style turkey slices.
Smother with cheese gravy.
Top with a sliced apple. I used a quarter
of an apple per Hot Brown.

In other words, this basically isn't a Hot Brown at all. But I honestly have no idea what to call it. Therefore, it becomes the D.C. Hot Brown.
I wasn't really sure about the whole apple-on-top idea, but I was looking for something to replace the tomato on the original Hot Brown. Turns out, it was an excellent idea. I used Granny Smith apples, and I would definitely recommend using them, as they add just the right amount of sweetness and bite to the dish.
While I did come up with the ingredients, I borrowed the cheese gravy recipe from the
Original Hot Brown
from Allrecipes.com.
Original Hot Brown
(just the Cheese Gravy part)
2 Tbsp. butter
2 Tbsp. flour
3/4 c. milk
1 Tbsp and 1 1/2 tsp. parmesan cheese, grated
1 egg, beaten
1 1/2 tsp. heavy cream
salt and pepper to taste
Melt butter in a saucepan over medium heat. Stir in flour with a whisk or fork, and continue to cook and stir until it begins to brown slightly. Gradually whisk in milk so that no lumps form, then bring to a boil, stirring constantly. Mix in the parmesan cheese and then stir in the beaten egg to thicken. Do not allow the sauce to boil once the egg has been mixed in. Remove from heat and stir in cream.
**I added in about 1/2 an egg (since 1 egg is used in the full recipe for 4 servings) and I probably added in too much.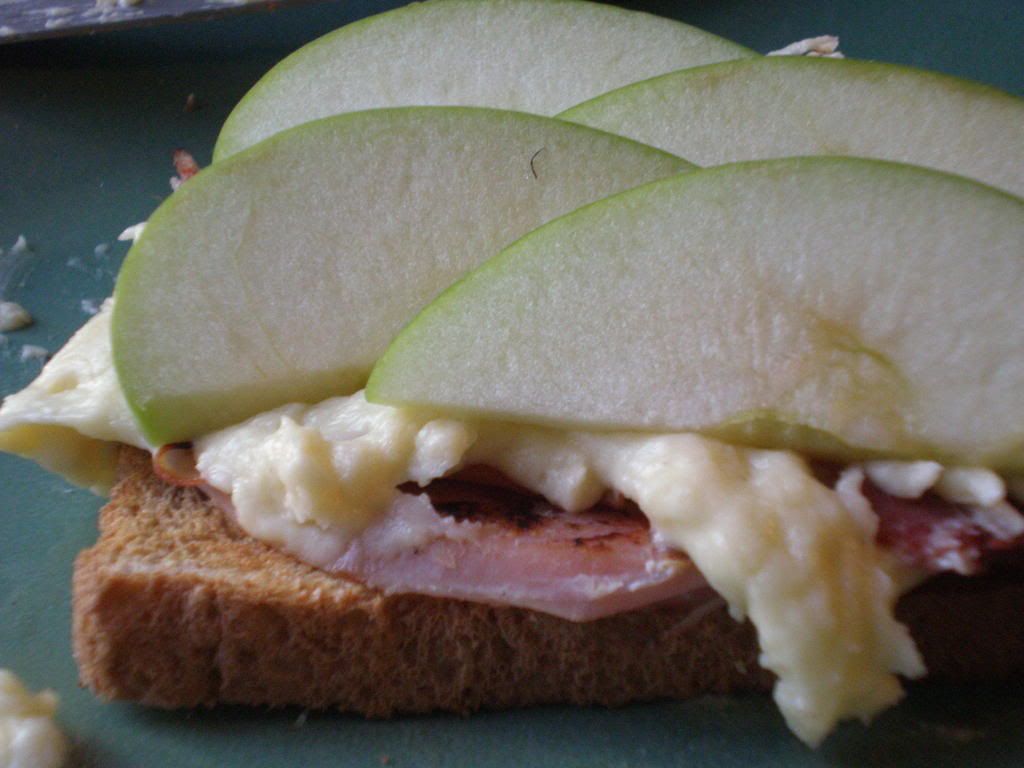 Nutrition Facts
Amount per serving
Calories 626
Calories from fat 269
% Daily Value


Total Fat 29.9g
46%


Saturated Fat 14.3g
72%


Trans Fat 0.0g


Cholesterol 308mg
103%


Sodium 1987mg
83%


Total Carbs 46.6g
16%


Dietary Fiber 3.2g
13%


Sugars 11.0g


Protein 41.5g


Vitamin A 17%
Vitamin C 7%


Calcium 30%
Iron 28%